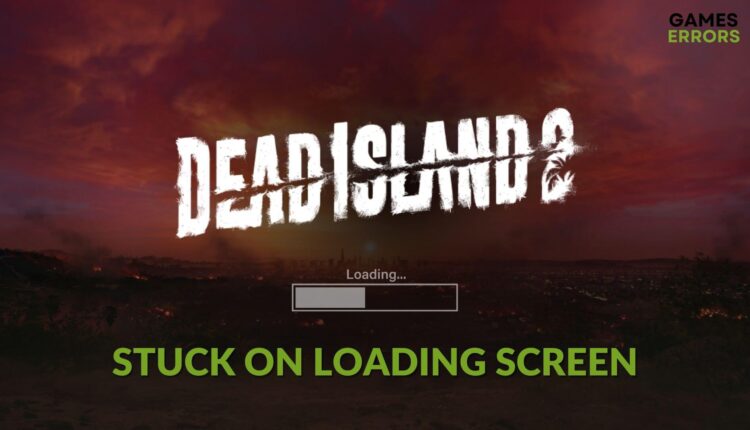 Dead Island 2 Stuck on Loading Screen: Most Effective Fixes
If Dead Island 2 freezes while loading update the graphics driver to the latest version 🎯
After launching Dead Island 2 on your PC, you may notice that it's totally stuck on the loading screen. It can be a temporary problem. If it doesn't go away automatically, then there is something wrong, and you must take the necessary steps.
This action horror zombie game is not just an ordinary item. It has an excellent storyline. But, if it always remains stuck or takes forever to load, you will not be able to explore the adventure.
Why is Dead Island 2 taking forever to load on my PC?
If Dead Island 2 takes an infinite amount of time on the loading screen or it remains stuck, it may be because of these reasons:
Graphics driver problem: If you are using a very old version of the display driver or there is something wrong with the current version, Dead Island 2 will not load and will remain stuck forever.
System requirements: In case your PC doesn't have the necessary specifications to run this game, you may experience this situation.
Corrupted components: Corrupted game components, installation files, and cache files are very common reasons behind this type of issue. This is also the reason why Dead Island 2 won't launch on your PC.
Disk performance issue: Poor disk performance and too many bad sectors can also cause this launch screen stuck issue on Dead Island.
Else, third-party apps and services and some other things also can work behind this trouble situation. Luckily, there are solutions.
How do I fix Dead Island 2 stuck on the loading screen?
First, ensure that your PC meets Dead Island 2's system requirements. Then do these things before taking the actual steps:
Disable your antivirus and firewall temporarily to see if it helps.
Make sure that you have installed DirectX Runtime and Visual C++ redistributables.
Ensure that high-performance mode is enabled on Windows.
Restart your PC.
Now, take the following steps if Dead Island 2 is stuck on the loading screen on your Windows 11 or 10 PC:
1. Update the display driver
Time needed: 2 minutes
If Dead Island 2 becomes stuck in the loading screen and nothing happens, update the GPU driver to the latest version to fix this problem.
Click on the arrow icon next to the Display adapter, as shown in the screenshot.

Select Search automatically for drivers and go ahead.
Finish the updating process.
Restart your PC.
To update drivers more accurately and conveniently, we suggest you use Outbyte Driver Updater. This tool is also capable of finding the game-ready GPU driver which is extremely helpful in boosting gaming performance.
⇒ Get Outbyte Driver Updater
2. Clear cache
Press Win + I on the keyboard to open Run.
Enter into the EpicGamesLauncher directory.
Go to Saved folder.
Find the folder names starting with webcache, and delete them.
Restart Windows.
3. Repair the game files
Open the Epic Games Launcher and go to Library.
Locate Dead Island 2, click on the three horizontal dots under this title, and then click on Manage.
Click on Verify.
Keep patience until Epic Games Launcher finishes the scanning and repairing process.
Now, launch Dead Island 2 and see whether it still remains stuck on the loading screen or not.
4. Repair common disk problem
Open File Explorer.
Navigate to This PC.
Right-click on the disk drive where Dead Island 2 is installed, and then click on Properties.
Go to the Tools tab.
Wait for a few moments until Windows finishes the repairing process.
Repairing common disk problems will help if Dead Island 2 freezes while loading.
5. Run in clean boot
Open Run like before.
Open the System Configuration window by using the following Run command: msconfig
Navigate to the Services tab.
Click on Apply and OK.
Restart your PC.
Now, run Dead Island 2 and see what happens. If the clean boot fixes the problem, try to find out which third-party app is the root of the problem. Then, uninstall it for permanent resolution.
Extra tips:
If Dead Island 2 is still freezing on the loading screen, consider doing the following things:
Update Windows to the latest version.
Uninstall your antivirus program.
Re-install the game.
Re-install Epic Games Launcher.
Learn how to fix Dead Island 2 crashing if necessary.
This article has described what to do when Dead Island 2 remains stuck on the loading screen. If you have any questions, let us know in the comment box.