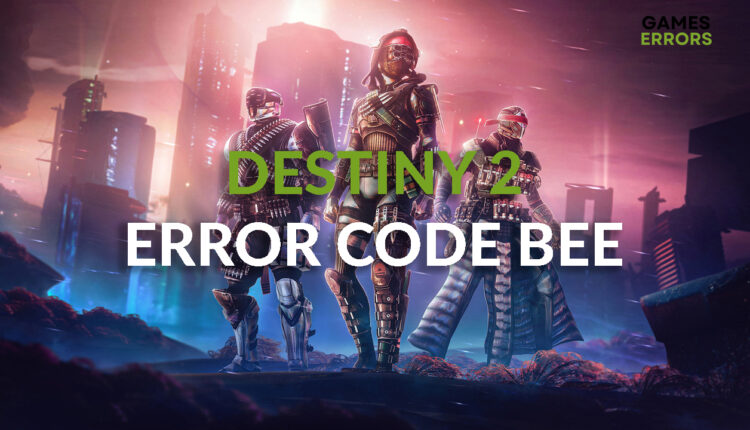 Error Code Bee in Destiny 2: How to Fix It in a Flash
Destiny 2 error code bee occurs due to network related issues 🌐 🐝
X
INSTALL BY CLICKING THE DOWNLOAD FILE
The Destiny 2 error code bee is a connection-related error that appears when a player is trying to connect or already playing the game. Error code bee may occur due to problems in Wi-Fi setup, faulty wiring, and other network-related issues. Destiny 2 can get stuck on connecting screen due to the error code bee.
🐝 What does Destiny 2 error code bee mean?
Error code bee means your game can't communicate with the Destiny 2 servers due to packet loss. This means that one or more packets of data traveling across the internet failed to reach their destination, in this case, Destiny 2 servers.
How do I fix the error code bee in Destiny 2?
1. Disable bandwidth-intensive processes
The programs that usually take a lot of bandwidth are the ones used for file-sharing and video streaming. Turning them off while playing Destiny 2 can fix the error code bee. However, there are some processes that you don't know about, yet they cause bandwidth problems.
Open the Task Manager (CTRL + Shift + ESC).
Review the list and find the processes that use a lot of bandwidth.
Note: Don't disable processes that you are not familiar with. This can result in Windows-related issues and security vulnerabilities. Once you discover that a specific program is using a lot of bandwidth, you can also close it from the program interface.
2. Restart your network
Your home network might not work properly, which can cause bandwidth issues. The fastest way to fix it is by restarting it.
Locate your router and modem. Sometimes it is one device.
Unplug the electricity adapter(s) from the device(s) and electricity.
Wait at least one minute and plug the adapter(s) back in the device(s) and electricity.
This is the most effective way to restart your home network and to remove the suspicion that the error code bee is caused by it.
3. Use a wired connection
Sometimes, problems with connectivity happen only on devices that use a wireless connection. Follow the steps below to check if the problem is hidden behind a bad Wi-Fi signal.
Disconnect from the wireless network by clicking on the Wi-Fi icon in the right part of the Windows taskbar and clicking the Disconnect button.

Plug an Ethernet cable into your router or modem on one end and your PC on the other.
Restart your PC.
Open an internet browser and check if the connection works. If the connection is not working, you should update your drivers.
4. Update network drivers
Whether you use a wired or wireless connection, having up-to-date network drivers guarantees that your system will function as it should.
Click on the Windows icon in the left part of the taskbar and type Device Manager.
Click on the Device Manager app from your search results.
After the scan, Double-click on Network adapters. A list with all network devices will appear.
Update the drivers of all of the devices on the list. To do so, right-click on them and select the Update driver option from the menu.

Select Search automatically for drivers option.
After you repeat the process for every network device, restart your PC and test your internet connection.
If installing network drivers manually seems like too much of a hassle, we recommend using DriverFix! It will automatically scan and install necessary drivers quickly and efficiently.
5. Contact your ISP
Contact your internet service provider if you still encounter an error code bee while playing Destiny 2.
Find a phone number for technical support of your ISP. It is usually located on the monthly bill.
Call the number and explain that you encounter network-related issues while playing an online game.
Provide information on the steps you already took to resolve the issue.
ISP representative will navigate you through the necessary steps to resolve your issue.
We hope these five steps helped you solve Destiny 2 error code bee. Share with us what solution worked for you, even if we didn't mention it on the list.
If you encounter any issues or errors while playing your favorite games and require support, feel free to contact us here. Our team is always ready to assist you and ensure your gaming experience is seamless and enjoyable.