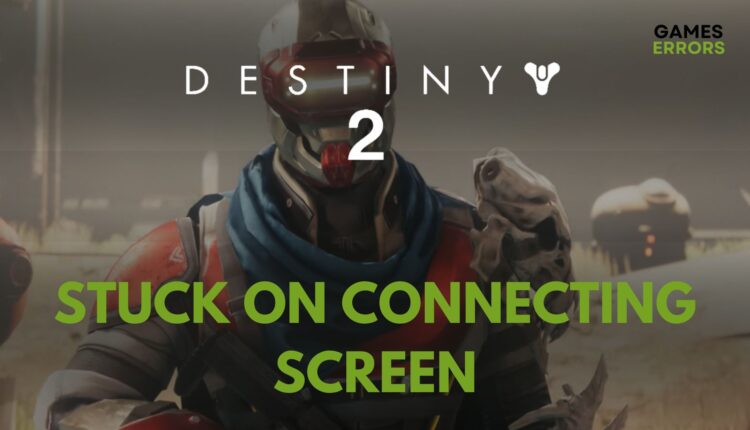 Destiny 2 Stuck on Connecting Screen: Fix it Quickly
Our solutions will help you quickly fix Destiny 2 stuck on connecting screen both on PC & console
Bungie Inc, the developers of Destiny 2, has constantly released new updates to improve players' gaming experience. However, the game is still not error-free as players are still complaining about Destiny 2 getting stuck on the connecting screen. 
In addition to PC users, players using PS4, PS5, and Xbox have also complained about experiencing this problem.
Why is Destiny 2 stuck on connecting screen?
Outdated Game

: If Destiny 2 is outdated, the game will be stuck on the connecting screen. Bungie introduces new updates to the game frequently and it is important to update to the latest version to have the best gaming experience.

Inactive Server: If Destiny 2 server is down or overcrowded, the game will get stuck on the connecting screen. When the server is down, Bungie provides players with the information and reports the next course of action.
Cache files or corrupt game data

: corrupt game data or cache files in your console can cause Destiny 2 to get stuck on the connecting screen.
How to Fix Destiny 2 stuck on connecting screen?
The steps below will help you solve Destiny 2 stuck on the home screen. However, before moving to the somewhat complex steps, make sure you carry out the following preliminary checks;
Confirm that the Destiny 2 server is active

Ensure you have a stable internet connection

Update and restart your PS5 or Xbox

Restart your router and/or modem
1. Update your GPU drivers (PC)
To prevent Destiny 2 from stuck on the connection screen, visit your graphic driver manufacturer's website to update the GPU drivers, or follow these steps to update it on your Windows PC using Device Manager:
Click

Windows + X

keys and choose

Device Manager

from Menu

Click and expand the

Display adapters

option which will lead to the graphics card option

Right-click on the

graphics card

and select

Update driver

Select

Search automatically for updated driver software

Windows will automatically search for available graphics card updates.

Restart your PC.
Sometimes updating your GPU driver manually might be a bit hard or time-consuming, just know that you can update your drivers automatically with a dedicated third-party app like Outbyte Driver Updater. You can use it for any driver that you want to update, and it works in just a couple of clicks.
⇒ Get Outbyte Driver Updater
2. Verify the Integrity of the game file (PC)
Verifying the integrity of the game file on Steam can help you resolve Destiny 2 stuck on connecting screen. Here is how you do it:
Open Steam client

Under

Library

right-click on

Destiny 2

Select

Properties

and then click on

local files
Click Verify integrity of the game files
3. Update Destiny 2
Open the Steam client on your computer.
Click on Library to view your games list.
Right-click on Destiny2 and select "Properties."
Head to the "Updates" tab.
Make sure "Always keep this game up to date" is selected.
Click "Close" and the game will update automatically when new updates are available.
Locate

Destiny 2

and highlight the game.

Click on the

Options

button on your controller.

A drop-down menu will appear, click Check for Updates

from the menu.
Turn on your Xbox Console and press the

Xbox

button on your controller to access the

Menu.

Select

My Games and Apps

on the dashboard.

Click on Destiny 2 icon and go to manage games.



Click on

Updates to see available updates and install them.

4. Clear Destiny 2 Game Data (PS/XBOX)
Corrupt game data can be the reason Destiny 2 gets stuck on the connecting screen. Here is how to clear it:
Click on

Settings

from the menu and select

Application Saved Data Management.

Select

System Storage

or

USB Storage

and click Delete.

Choose

Destiny 2

and click

Select All

to clear all data.

Click

Delete

and then

Ok

to confirm it has been deleted.

Reboot your PS4 OR PS5 console to confirm.
Select My

Games and Apps.

Select

See All

and highlight

Destiny 2.

Choose

Manage game and add-ons.

Scroll down to Saved data and select the

Delete All

button.

Download a new game data file.

Restart the game and observe if the issue persists.
5. Hard Reset your Console (PS/XBOX)
Ensure your PS4 or PS5 is properly turned off.

Press and hold the

Power button

of your console till you hear two beep sounds that will come up in a few seconds.

Select the

Reset

option to reset your PS console.

After completing this process, sign into your PlayStation account and Reinstall Destiny 2.
Note: Hard resetting your PlayStation console will erase all data and restore the system to its original factory settings.
Press the

Xbox Button

on your controller to navigate to Guide.

Select

Profile and System

and choose

Settings.

Click on

System

and select

Console Info

.

Select

Reset

and wait for the process to be completed.

Sign into your Xbox account.

Re-install the Destiny 2

game.
Note: Hard resetting your Xbox console will erase all data and restore the system to its original factory settings.
Conclusion
Destiny 2 stuck on the connection screen is a common problem among gamers, however, these solutions should help you get it fixed immediately so you can enjoy a better gaming experience.
You can also read our guide on how to fix Destiny 2 stuck on loading screen if you're experiencing the problem as well.
Make sure to drop a comment down below and share your experience with other users.