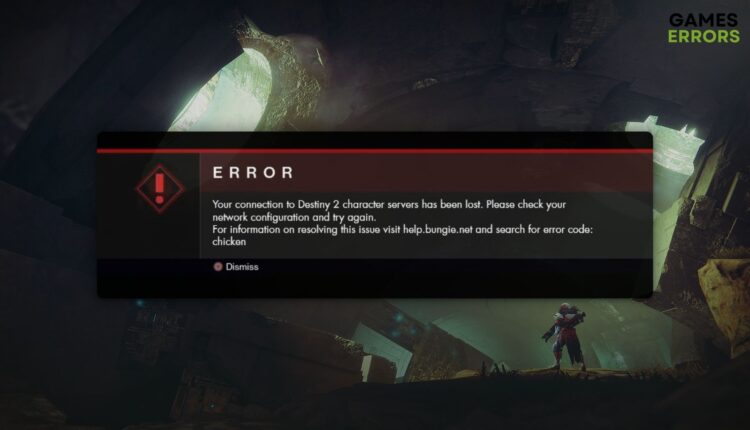 Destiny 2 Error Code Chicken: How to Fix It [PC, Xbox, PS4/PS5]
Clear cache or troubleshoot your connection if Destiny 2 keeps showing the error code: chicken 🎯
If the Destiny 2 Error Code Chicken keeps bugging you, you can take some effective steps to get rid of it. This article is all about its solutions and the reasons why this problem happens.
After the Lightfall update, many Destiny 2 gamers have been encountering this new error code: chicken. Particularly, DLC users are discussing this problem more. If you want to play this open-world multiplayer FPS by avoiding this error, this article will help you.
What is the chicken error code in Destiny 2?
The Error Code Chicken is a common issue that occurs when there is a network problem, a server error, or if the player has lost connection. Usually it happens during maintenance or when the game is unavailable. It mostly goes off by itself. However, there are some quick fixes if you encounter it for a long period of time. Unlike many other games, it requires you to have a stable internet connection, even for single-player campaigns.
When you launch or try to play this title, it may fail by showing you the following message:
Your connection to Destiny 2 character servers has been lost. Please check your network configuration and try again.

For information on resolving this issue, visit help.bungie.net and search for the error code: chicken.
Why do I keep getting error chicken in Destiny 2?
Usually, you may encounter this problem due to any of the following reasons:
Unstable internet connection: The first thing that may cause this problem is your internet connection. If it's not stable, you may end up encountering other errors like Destiny 2 Error Code Anteater.
Network configuration problem: Problems with your network configuration in your PC/Console or router is another reason behind this problem.
Firewall and antivirus: Your Antivirus and Firewall can prevent the connection to the character server, which may be why this error code chicken appears.
Problems with Bungie servers and corrupted cache on your PC or Console can also cause this error code.
How do I fix the Destiny 2 error code: chicken?
Before going through the main methods, we suggest you make these quick checks:
Visit the Destiny 2 Server status page and see if everything is OK or not.
Ensure you have a stable internet connection and are not using any proxy or VPN.
Power cycle your router and PC or Console.
Rather than using WiFi, use a wired connection and see if it helps.
Now, if necessary, follow these methods to fix Destiny 2 error code: chicken:
1. Whitelist your Firewall
Open the Start Menu, type Windows Security, and hit Enter.
Navigate to Firewall & network protection.
Go to Allow an app through the Firewall.
Click on Change settings.
Tick the boxes for Private and Public for Destiny 2.
Save the settings.
Restart Windows.
Now, launch Destiny 2 and see if the chicken error code still exists or not. If the problem is still there, disable your antivirus and firewall to see if it helps.
2. Clear download cache
Open the Steam app.
Relaunch Steam.
After that, try to play the game. It should fix Destiny 2 error code chicken.
3. Change DNS
Press Win + I on the keyboard to open Windows Settings.
Select Manual.
Enable IPv4 or IPv6, depending on your DNS type.
Restart your PC.
4. Reset the Network
Launch Windows Settings like before.
Go to Network Reset.
Restart your PC.
After resetting, you may need to reconfigure your internet connection.
5. Run internet troubleshooter
Time needed: 2 minutes
If the Destiny 2 error code chicken keeps appearing or you encounter it frequently, run the internet connection troubleshooter to fix this problem.
Follow any onscreen steps to finish the process.
Now, play the game and see if the error code is still there or not.
🎮 How to fix Destiny 2 error code chicken on PS5?
Go to the PS5 Settings, and then Users and Accounts.
Go to Other, tap on Restore Licenses, and then tap on Restore.
If it doesn't help, completely shut down PS5, unplug everything, and wait for 5 minutes. Then, plug in the power cable.
Press and hold the power button until you hear the beep sound for the second time after a few seconds.
Using your controller's Dpad, go to Clear cache and rebuild the database and tap on it.
🕹️ How to fix Destiny 2 error code chicken on Xbox?
Change DNS from your network settings.
If it doesn't work, go to Advanced network settings, tap on Alternate Mac address, and then tap on Clear.
If the problem persists, go to Devices and Connections from the Xbox Settings, then go to Blu-ray, and then clear the Persistent Storage cache.
Are you still getting the error on your PC or Console? We suggest you re-install Destiny 2 and see if it helps. Also, consider updating the network adapter using Outbyte Driver Updater. If possible, update Windows 11/10 or Console firmware to the latest version. You also can reset the network router.
If necessary, learn how to solve Destiny 2 Lightfall keeps crashing.
This article has described the ways to fix Destiny 2 error code chicken. Hopefully, any of these methods will help.