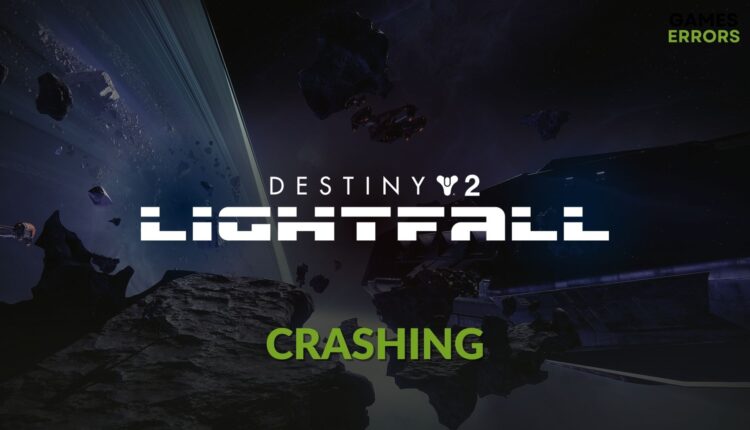 Destiny 2 Lightfall Crashing: Here's How to Fix It Quickly
Update GPU driver, modify graphics preference, exclude in antivirus if Destiny 2 Lightfall keeps crashing ✅
X
INSTALL BY CLICKING THE DOWNLOAD FILE
Crashing issues on Destiny 2 Lightfall may occur if your PC or the game itself has something wrong. But, if you take the proper steps, this type of problem won't be an issue.
Destiny 2 is an action-adventure free-to-play game. The new DLC Lightfall has come with new campaigns and exciting in-game locations. Even though unlike the main game, it's not free, it has still grabbed its place among gamers. But, for some of you, it may suddenly stop working and crash on your PC.
Why does my Destiny 2 Lightfall keep crashing?
Graphics driver problem:

Outdated or problematic GPU driver is one of the common reasons behind Destiny 2 Lightfall's crashing problem.

The server is down:

If the server is down or has some issues, the game may crash on your PC.

System requirement:

The PCs that lack the recommended specifications for this game won't be able to run it properly. You will experience Destiny 2 Lightfall stuck on the loading screen or crashing problems with various error messages.

Corrupted game files:

Destiny 2 Lightfall will stop working and crash on the desktop if the game files become corrupted or something alters the installation.

Connection problem:

The stability of your internet connection is another thing that may affect this game.

Antivirus and Firewall:

Else, antivirus or Firewall may interfere with the game process, which can trigger crashing issues.
How do I fix Destiny 2 Lightfall crashing problem on my PC?
Before going through the recommended solutions, you should do these things:
If everything seems OK, to fix Destiny 2 Lightfall crashing, go through the methods mentioned below:
1. Update the graphics card driver
Press Win + X on the keyboard and go to Device Manager.

Expand

Display adapters.

Choose

Search automatically for drivers

and complete the update.
We recommend you use DriverFix to update any driver on Windows 11 or 10. Unlike other options, it doesn't require you to go through multiple options for updates. Also, this tool can automatically keep your GPU driver up to date without your manual interactions.
2. Exclude in the Firewall
Open the Windows search box, type Windows Security, and press Enter.
Click on Change settings.
Check both Private and Public networks next to Destiny 2.

Click on

OK

.
3. Set graphics preference to High performance
Press

Win

+

I

to go to

Windows settings

.

Scroll down and click on Graphics.
Find and select Destiny 2 there and click on Options.
Tick High performance and click on OK.
Now, Windows will allow this game to use more GPU power. Doing this on your PC is extremely helpful in solving problems like Destiny 2 Lightfall crashing.
4. Clear shader cache
Go to

Windows settings

.

Click on

Temporary files

.

Click on

Remove files

.
Now, launch the game and see if it still crashes or not.
5. Reduce background services
Right-click on the Taskbar and click on Task Manager.

Ensure that you are on the

Processes

tab.

Disable every other suspicious service in this way.
6. Disable in-game overlay
Open the Steam app.
Go to its Settings, as shown in the screenshot.
Go to the In-Game tab.
Relaunch Steam.
7. Repair the game files
If you start getting Destiny 2 crashing issues on your PC after installing the Lightfall DLC, it may be because the main game has been corrupted. If you take the below-mentioned steps to repair, it will solve the problem.
Go to the Steam game library.

Right-click on

Destiny 2

, and click on

Properties

.

Navigate to the

Local Files

.

Wait for a while until it finishes the process.
On your PC, you will get a repair option for Epic Games Launcher and Xbox games, as well.
8. Re-install Destiniy 2
After that, click on the Install button to download and install it again.

Complete the installation process.
Now, launch the game. It may fix Destiny 2 Lightfall crashing problem.
Extra steps:
The problem still persists, you should consider doing these things:
Uninstall any recently installed or suspicious apps, including game or FPS booster, overclocking apps, etc.
Update Windows to the latest version.
Install the DirectX Runtime and Visual C++ Redistributables.
Try to find out if the RAM you use is OK.
Destiny 2 Lightfall Crashing PS5
1. Check for updates
Ensure you have the latest updates for Destiny 2 Lightfall and your PS5 installed. Sometimes updates can handle issues and enhance stability.
To check for updates on your PS5, follow these steps:
Go PS5 home screen, and select the Settings icon.
Select System from the settings menu.
Select System Software and check if there are any updates available.
If updates are available, download and install them.
After installing the updates, try relaunching the game and see if the issue is fixed.
2. Clear cache
Clearing the cache of your PS5 can occasionally fix crashing issues. To accomplish this, turn off your PS5, unplug it for a short period of time, plug it back in, and turn it back on.
3. Reinstall the game
By Reinstalling Destiny 2 Lightfall you may sometimes fix crashing issues. Ensure to back up your saved data before doing this.
If necessary, learn more about how to stop games from crashing.
This article has explained why the Destiny 2 Lightfall crashing on PC problem occurs and how to fix it easily. If you have an opinion or suggestion, you can write it down in the comment box.
If you encounter any issues or errors while playing your favorite games and require support, feel free to contact us here. Our team is always ready to assist you and ensure your gaming experience is seamless and enjoyable.