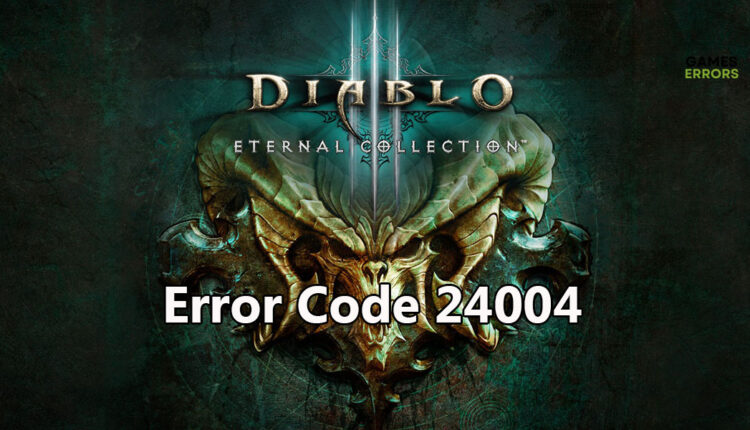 Diablo 3 Error Code 24004: Causes and Solutions
Diablo 3 Error Code 24004 is holding your progress in the game? Try these solutions to get around it 🚀
X
INSTALL BY CLICKING THE DOWNLOAD FILE
When you're progressing well in the new release of a beloved game then you reach a difficulty level full of bugs that can take all the fun and joy out of the game. This is exactly the case with the Diablo 3 error code 24004. It's as of yet an unexplained error that got many players stumped. But we'll try to find a workaround for this error.
What is Diablo 3 Error Code 24004?
If you have reached difficulty level T16 in Diablo 3, congrats. You obviously know your way around the Diablo 3 world. The only drawback is that you are likely to encounter the Diablo 3 error code 24004, which you haven't experienced so far on any difficulty level. This is a connectivity issue that keeps you from accessing the game servers. Sometimes it would happen while playing, and you won't be able to do bounties, rifts, or even greater rifts. In short, none of the public lobbies become accessible or allow you to get around this error.
As of this writing, Blizzard Entertainment has not come up with a solution to this error. Their Twitter page acknowledges the problem and promises a patch to fix it.
How to Fix Diablo 3 Error Code 24004?
1. Lower the Difficulty Level
Many gamers would face Diablo 3 error code 24004 once they've reached level T16. As I mentioned, the game developers have not come up with an explanation for why the error only hits gamers playing T16. So one way to avoid this error is to go back to level T15. Admittedly this difficulty level is not as challenging as T16, but at least you'd be able to join all the public lobbies you like and have a smoother and uninterrupted gaming experience throughout.
2. Restart the Game
Some gamers reported that restarting Diablo 3 helped them fix the error. However, this doesn't always work and most often, the error will pop up in the middle of the game. But it's worth a try. Go ahead and close the game along with any open browsers that could hog your internet connection. After you restart the game, try to join a public lobby and see if that fixes the issue.
3. Check Installation Files Integrity
Time needed: 3 minutes.
As with other errors in any game, there's always a chance that the game installation files are corrupted. This could happen due to an abnormal shutdown of the system or exiting the game without saving your progress. You can verify Diablo 3 installation files and repair them through these steps.
Launch the Battle.net game launcher and click All Games at the top.
Select My Games in the left panel to open your library.
Choose Diablo 3 from the list of games.
Open Settings

At the bottom left next to the Play button, you'll see a gear icon. Click it to open a menu.

Select Scan and Repair and wait for the process to finish.
Relaunch Diablo 3 and see if that fixes the problem.
4. Reinstall the Game
As a last resort, you might try to reinstall the Diablo 3 game. You can do that from the Battle.net game launcher. Here's how to do it.
Start the Battle.net game launcher if it's not already running.
Click All Games > My Games > Diablo 3.
Click the gear icon to open the settings menu and select Uninstall.
Once the game is uninstalled, type Diablo 3 in the sear bar under All Games.
Select Diablo 3 to install it.
5. Wait for a Patch
As I mentioned, both the Blizzard Entertainment Twitter page and official Diablo 3 forum are well aware of error code 24004 and have promised to release a patch soon.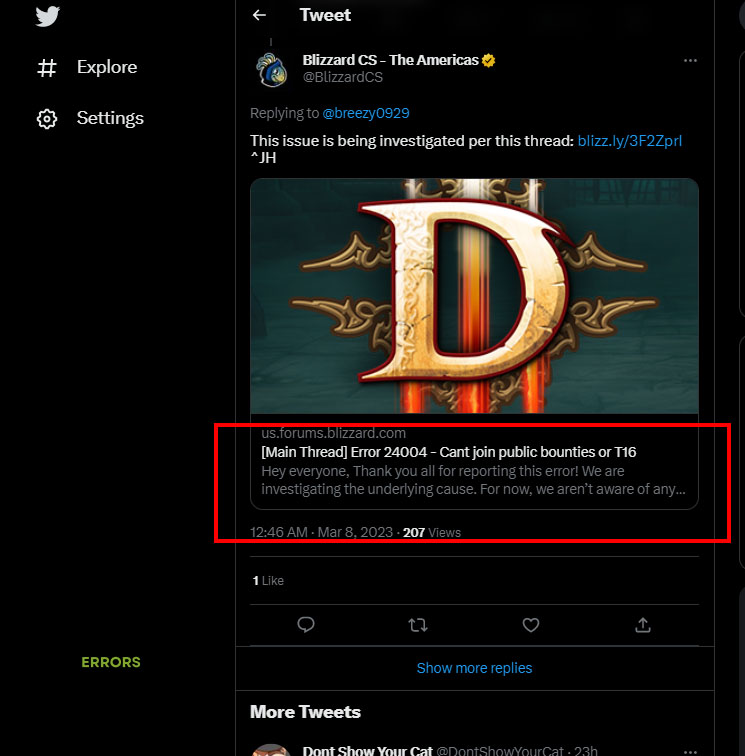 So if none of the above solutions work, you can play lower levels until the game developers release the promised patch.
Related Articles:
Let us know in the comments section if you have found a different solution to this error.
If you encounter any issues or errors while playing your favorite games and require support, feel free to contact us here. Our team is always ready to assist you and ensure your gaming experience is seamless and enjoyable.