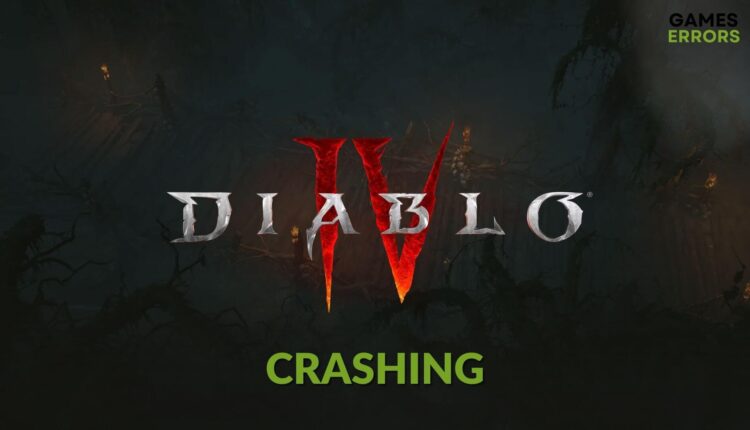 Diablo 4 Keeps Crashing PC: How to Fix This Annoying Issue
If Diablo 4 keeps crashing..this is really annoying..Update the graphics driver if it still keep crashing on your PC 💥
X
INSTALL BY CLICKING THE DOWNLOAD FILE
To fix the Diablo 4 crashing problem on your PC, you must follow some specific methods. This article will explain these methods in detail.
Diablo 4 is a role-playing action game that has a huge fan base. Like its predecessors, you can expect an excellent gameplay experience from this title. But, if this item crashes or stops working during the gameplay or while loading, it will completely ruin your experience.
Why is Diablo 4 crashing on PC?
Experiencing issues with Diablo 4 crashing on your system? One common culprit behind this problem is potentially corrupt files within the Diablo 4 installation directory. To address this, navigate to the Battle.net client, select Diablo 4, head to its settings, and choose the "scan and fix" option. This process can identify and rectify any file inconsistencies, enhancing your gameplay experience and reducing the likelihood of crashes.
You may wonder, 'Why is Diablo 4 crashing so much?'. Well, Diablo 4 keeps crashing on your device with or without showing any specific error codes or messages because of the following reasons:
System requirements: Diablo 4 doesn't need a high-end PC, unlike other recently released titles. But, still, if your PC is missing something, then the game may randomly crash.
Corrupted game files: Corrupted game files are also a very common reason behind the crashing problem.
Improper settings: Improper settings and configurations also can cause Diablo 4 to crash.
Overheating: Blizzard Support said that the game might crash due to the system overheating; therefore, check the temperature of your components and the state of your PC. Maybe your components need a new thermal paste, or maybe your PC accumulated dust in hard to reach areas.
You may find other reasons as well. But the above ones are the most common ones. However, whatever is responsible for this problem with Diablo 4 is not a matter. You can always solve it.
How to fix Diablo 4 crashing on PC?
Before getting started, you should do the following things if Diablo 4 keeps crashing on your PC:
Ensure that your PC meets the system requirements of Diablo 4.
Disable your antivirus and firewall and see if it helps.
Make sure that you have not enabled overclocking.
Restart your PC.
🚀 Now, follow these solutions one by one to fix Diablo 4 keeps crashing on PC:
1. Update graphics card driver
Time needed: 3 minutes
If the Diable 4 keeps crashing on your PC, you should update the graphics driver immediately.
Select Search automatically for drivers and follow any other on-screen steps to finish the process.
Restart your PC.
To update the GPU driver, you should use Outbyte Driver Updater. This tool can find and install the most appropriate driver on your PC. It helps to solve crashing problems in games like Diablo IV.
2. Clear shader cache
Press Win + I on the keyboard to launch Windows Settings.
Go to Temporary files.
Tick DirectX Shader Cache and uncheck every other item.
Click on Remove files.
After clearing the shader cache, launch Diablo IV. Now, you may encounter some laggy performance issues for a while. But, over time, it will be OK, and you will no longer encounter crashing issues.
3. Set high performance in graphics preference
Go to Windows Settings.
Navigate to Graphics.
Select Diablo IV from the list and click on Option.
Tick High performance in the graphics preference window.
If it's a laptop, enable high performance from power settings too. Then, run the game and see if it has worked or not. Diablo 4 crashes should disappear.
4. Install missing game components
Some game components are necessary for gaming. If these become corrupted or there is something wrong, Diable IV will crash randomly or while launching. To get rid of this situation, follow these steps:
Visit the DirectX download page.
Download the installer.
Install it on your PC.
Similarly, visit the Microsoft Visual C++ Redistributables page.
Download the installer for X64 architecture.
Install it and restart your PC.
5. Clear cache
Press Win + R on the keyboard to open Run.
Find the Blizzard Entertainment folder and delete it.
If you encounter permission-related issues while deleting this folder, you should open Task Manager. Then, end any batte.net and Blizzard-related processes. After that, try to delete the folder. It should solve crashing or launching-related issues with this action RPG.
6. Scan and repair Diablo 4
To fix the Diablo 4 keeps crashing problem, the Battle.net application offers a game Scan and Repair installation tool to correct possible errors, bugs, and issues related to corrupted game files found in the installation directory. It is a great way to fix the game because it uses direct Blizzard Technology to deal with the problem at hand and makes sure that your files are installed correctly. To do it, follow these steps:
Go to the Diablo 4.
Finish the process.
7. Disable the Firewall or enable Diablo IV through it
Sometimes the Windows Firewall prevents applications from running smoothly due to conflicts created between it and other processes. The easiest way to test this solution is to allow Diablo 4 through it manually or to shut it down.
Let Diablo IV through Firewall
To allow an application all you have to do is to press Win + S and to type Firewall.
Click on Firewall and Network Protection.
Press on allow an application through Firewall and check the list for Diablo IV.
If it is not there click Change Settings and go to Allow another app.
Find the folder of Diablo IV and look for the .exe.
Once added, look for the game once again and tick both boxes.
Press Ok and you're good to go.
Shut down your Firewall
Press Win + S once again but type Control Panel.
Go to System and Security.
Click on Windows Defender Firewall.
Find the Turn Windows Defender Firewall on or off button and select it.
Turn off both options and press Ok.
Now run Diablo to see if it worked.
8. Disable your Antivirus
Just like the Windows Firewall, your antivirus might cause Diablo to keep crashing because it might block some processes the game greatly needs to run. The easiest way to deal with this problem is to right-click your antivirus and look for a solution to pause it for 10-minutes.
9. Re-install Diablo 4
In case the previous methods fail, you should re-install the game and see whether it solves the problem or not. To do it, follow these instructions:
In the Battle.net app, click on the gear icon for Diablo 4, like the previous method.
Now, click on Uninstall.
After finishing the uninstallation process, install the game again.
Now, launch Diablo 4 and play the game. You should no longer experience the same problem again.
Additional solutions:
If this latest Diablo game still keeps crashing, you can follow these solutions:
Uninstall any overclocking, FPS booster, game booster, and similar apps.
Update Windows to the latest version.
Update every component on your PC.
Try to play the game in clean boot to determine if any third-party service is causing the problem or not.
If you have enabled XMP, learn how to solve the game crashing problem after enabling XMP.
For additional suggestions, you also can check out this ultimate guide to stop games from crashing.
This article has explained how to fix Diablo 4 crashing and why it happens. If you have any suggestions or questions, feel free to write them down in the comment box.