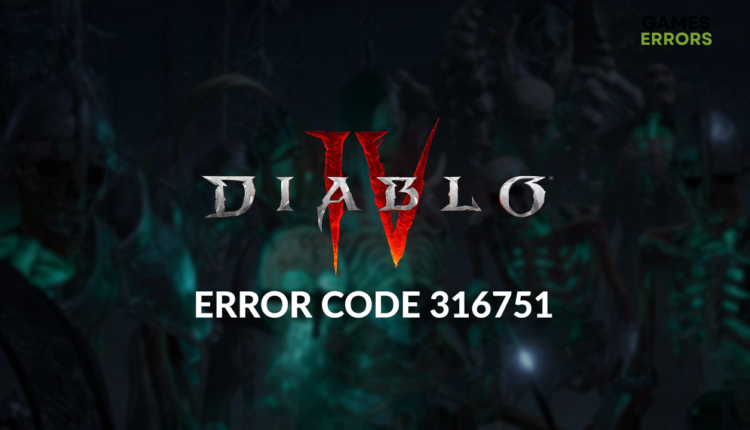 Diablo 4 Error Code 316751: What is & How to Fix It With Ease
All of your friends are waiting for you, but you are late! We know it's not your fault, so we decided to help you! 🤝
Getting the Diablo 4 error code 316751 can be annoying as your game client cannot connect to the Diablo 4 server. We were decisive in finding the cause of this problem and delivering the ultimate list of reasons and suitable fixes so you don't experience error code 316751 when you intend to play Diablo 4.
Are you having problems opening the game? Learn how to fix Diablo 4 black screen.
What is error code 319047 on Diablo 4?
Diablo 4 error code 316751 indicates problems with your internet connection, temporary issues with home network devices, problems with your game account, an outdated network driver, an unreliable DNS server, or poor VPN service.
How to fix Diablo 4 error code 316751?
Fix this network-related error by performing some simple checks and applying easy fixes:
Check your internet connection: Head to the Google Speed Test and check if your connection works. Pay attention to download/upload speeds and latency.
Restart network devices: Find your router or modem and hit the restart button, usually located on the device's back panel.
Re-add your account: This one works as a fix, not a prevention. When you experience the issue, log out from your account and log in again.
Get invited by another player: Some gamers notice that the error doesn't occur for everyone, and if you play with somebody who doesn't experience it, ask them to invite you to the game.
Proceed with the list of step-by-step solutions for resolving the error code 316751 in Diablo 4.
1. Update the network driver
Time needed: 5 minutes
An outdated network driver will cause issues when your PC communicates with a home network, internet, and the Diablo 4 server. That's why you should keep it updated at all times!
Click the Windows icon, type Device Manager, and open it.

Double-click on the Network Adapters section.

Right-click on your internet adapter and select Update driver.

Select the Search automatically for drivers option.
Install the driver update if the Update Driver Wizard finds one.
Restart your PC.
If you find this process difficult, check out Outbyte Driver Updater. It is a driver updater tool that can automatize the whole process, saving time and guaranteeing an issue-free online gaming experience.
⇒ Get Outbyte Driver Updater
2. Use the Google DNS
DNS is automatically assigned by Windows, mainly based on your location. Although these DNS server addresses are suitable for most cases, we recommend you use Google DNS to ensure a reliable connection with the Diablo 4 server.
Using the Windows Key + R shortcut, open the Run dialog, type control, and hit OK.

Click on View network status and tasks.

Click on the Change adapter settings.

Right-click the internet network you use and select Properties.

Double-click Internet Protocol Version 4 (TCP/IPv4).

Enable Use the following DNS server addresses and add:
➡ 8.8.8.8 for the Preferred DNS server
➡ 8.8.4.4 for the Alternate DNS server

Click OK and restart your PC.
3. Restart network settings
Some network settings are stored on your PC, and they can cause problems when connecting to a Diablo 4 party. We advise you to use Command Prompt and a few standard commands for restarting these network settings.
Click on the Windows icon, type Command Prompt, and open it.
Paste the following commands and hit Enter after each one:
ipconfig /flushdns
ipconfig /registerdns
ipconfig /release
ipconfig /renew
netsh winsock reset

Restart your PC.
Extra steps
Here are some additional fixes for Diablo 4 error code 316751:
⏳ Give it some time: Some gamers claim that the issue stopped reoccurring after some minutes, so it's worth waiting a while and checking if the problem resolves on its own.
❌ Disable or change VPN: Diablo 4 server might not like the fact you are connecting through a VPN server. You shouldn't have a problem if you are using a reliable VPN provider.
⬆ Update Windows: Click on the Windows icon, type Check for updates, find and open these System Settings. If any Windows components are outdated, install them and restart your PC.
Related articles:
Conclusion
These were our findings regarding the Diablo 4 error code 316751. Let us know how it went and if you resolved this network-related problem and are enjoying a Diablo 4 party with your friends.