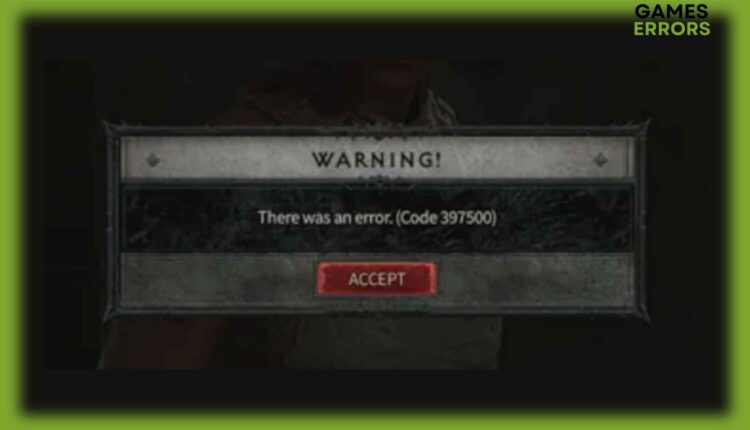 Diablo 4 Error Code 397500: Fix This Now [Gamer's Guide]
If you are repeatedly getting error code 397500 in Diablo 4, try these fixes ✅
X
INSTALL BY CLICKING THE DOWNLOAD FILE
A group of users is experiencing Diablo 4 error code 397500. This article will tell you what you should do if this error pops up.
This game is currently in a beta state. Diablo 4 early access beta end time is 20 march. However, a lot of users are getting various problems with this title on PC, PS5, and Xbox.
Some errors only occur when you try to log in or during the game startup. Previously we have shown the ways to fix Diablo error 300008. This article is all about the error code 397500.
What is causing Diablo 4 error code 397500?
This error 397500 is related to server connectivity and authentication. If it keeps occurring repeatedly, it is because of these reasons:
Server issues: In almost every case, you will find Blizzard's server as the root of the problem. If you have logged in previously and later try to play Diablo 4 again, you may get this error.
It is mostly the server's inability to handle the session properly due to some internal issues. Else, due to ongoing maintenance, it also may occur.
Net problem: Your internet connectivity issues can also be the reason why Diablo 4 is triggering the error code 397500.
Third-party services: Else, due to third-party services like your Antivirus and Firewall, you also may encounter this problem.
How do I fix Diablo 4 error code 397500?
First of all, you must do these quick checks before going through the actual troubleshooting methods:
Visit the Battle.net support page to check any server maintenance updates.
Also, check the DownDetector pages for Blizzard Battle.net and Diablo to know if it is a widespread problem or not.
If you are using any cheating or hacking tools, completely uninstall or disable them.
Now, you can take certain steps to fix Diablo 4 error code 397500. These are:
1. White-list Diablo 4 in your firewall/antivirus
Open the Windows Search Box.
Type Windows Security and press Enter.
Navigate to the Firewall & network protection from the sidebar.
Click on Allow an app through the Firewall.
Click on Change settings.
Check the Private and Public for Diablo 4 and Battle.net app.
Click on OK to save it.
Restart Windows.
2. Disable your antivirus/firewall
Open Windows Security like before.
Go to Firewall & network protection.
Click on Private Network.
Toggle the switch to off under the Microsoft Defender Firewall section.
Do the same for the Public Network.
Restart your PC.
3. Play another Blizzard game and relaunch Diablo 4
Time needed: 5 minutes.
Right now, playing another Blizzard game and then playing Diablo 4 again is the most effective steps you can take to fix the error code 397500.
Exit the game.
Launch the Diablo 4.
4. Change DNS
Press Win + I on the keyboard to open Windows Settings.
Choose Manual.
Enable IPv4.
Restart Windows.
Changing DNS is another excellent way to solve there was an error code 397500 in Diablo 4. You can use any high-performing DNS addresses you want if you don't want to use the one we have suggested.
5. Perform a network reset
Open Windows Settings like before.
Go to the Network Reset.
Click on the Reset.
Restart your PC.
Now, play this Diablo IV beta and see what happens. If you still face the same problem, you should try from a different network. You should also consider repairing or re-installing the game file to see if it helps. If nothing works, update Windows to the latest version.
This article has explained the best ways to fix Diablo 4 error code 397500. In the comment box, you can tell us which method has worked for you.
If you encounter any issues or errors while playing your favorite games and require support, feel free to contact us here. Our team is always ready to assist you and ensure your gaming experience is seamless and enjoyable.