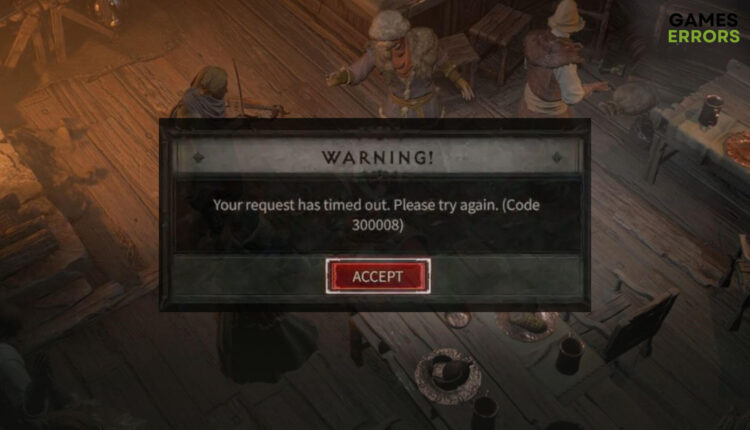 Diablo 4 Error Code 300008: What Is & How to Fix it – Explained
If you face Diablo IV error code 300008, troubleshoot the connection issues or keep waiting until the game server is stable again 🎯
X
INSTALL BY CLICKING THE DOWNLOAD FILE
While playing Diablo 4, the error code 300008 may suddenly pop up and disconnect you. A lot of users are currently having this problem. This article has the best suggestions to overcome this problem.
Usually, this error code may appear while playing this title, creating a character, or starting a new game. In some cases, you may lose in-game progress because of this error. If you are a Diablo fan, the current 4th edition of this game can only disappoint you if this error occurs repeatedly.
What is error code 3000008 on Diablo 4?
The error code 300008 in Diablo 4 is a server connectivity problem that may appear anytime while you are in this game. If you encounter the problem, you will see the following message:
Your request has timed out. Please try again. (Code 300008)
Usually, the root of this problem is the server. There is very little chance that this issue is occurring due to a problem on your side. In very small cases, connection problems and problematic game files may have a role in this.
How can I fix the error code 300008 in Diablo 4?
Right now, there are no official solutions for this problem. But, you can try a few things from your end which may help. Before getting started, we suggest you do these quick checks:
Check the Diablo 4 server status from DownDetector or any other medium you prefer.
Disable your antivirus and firewall.
Ensure you have a stable internet connection and are not using any proxy or VPN.
Restart your PC and internet router.
Now, follow these methods one by one to solve Diablo 4 error code 300008:
1. Update the network driver
Press Win + X and go to Device Manager.
Expand Network adapters.
Right-click on the network driver for the adapter you are currently using, and click on Update driver.
Click on Search automatically for drivers and finish the updating process.
We suggest you use Outbyte Driver Updater to install the latest network adapter drivers on your PC. It will help to reduce the chance of encountering various gaming connection-related issues like Diablo 4 code 300008.
2. Change DNS
Press Win + I to open Windows Settings.
Select Manual.
Enable IPv4 or IPv6, depending on your connection type.
Restart your PC.
For poor DNS, you may encounter longer response times and server disconnection issues with the error code 30008 in Diablo IV. Using a better DNS service, as mentioned above, will help.
3. Reset the Network
Launch Windows Settings, as shown in the previous method.
Navigate to the Network Reset.
Click on the Reset.
Restart Windows.
Now, you may need to reconfigure your internet connection. Resetting the network will help to overcome any misconfiguration issues. It will help your PC to connect to the Diablo IV server in a better way. As a result, you will be less likely to encounter error codes like 30008.
4. Run internet troubleshooter
Time needed: 2 minutes
Running the internet connections troubleshooter is the best idea now if you encounter error code 300008 in Diablo 4.
Follow any on-screen instructions to finish the process.
Restart your PC.
5. Repair the game files
Open the Battle.net launcher.
Go to the Diablo IV.
At last, click on Begin Scan.
Wait for a while until it finishes the process.
Now, run the game and see if the error code 300008 still pops up on Diablo 4 or not.
If nothing helps, you may need to wait until the developers release a patch or fix their server issues. A large number of users said They just kept waiting, and the problem was automatically solved.
You can learn how to fix Diablo 4 crashing if necessary.
This article has suggested the things you should do if you are repeatedly getting the error code 300008 in Diablo 4. If you have any better suggestions or if any of the above methods have helped, feel free to let us know in the comment box.