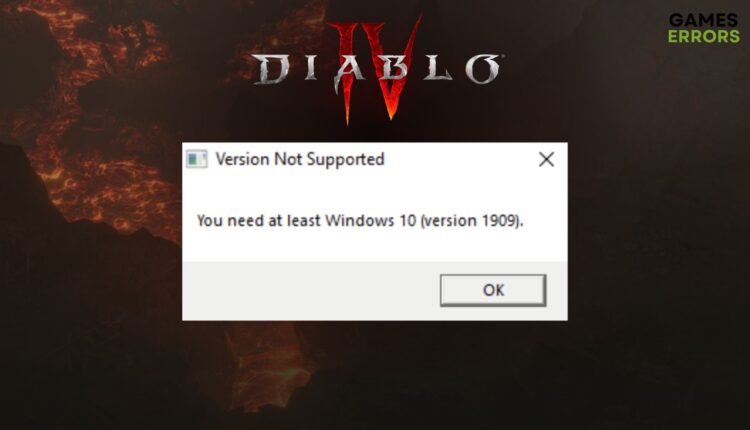 Diablo 4: You Need at Least Windows 10 [Best Fixes]
If Diablo 4 says that you need at least Windows 10 version 1909, update the OS and follow these tricks to fix the problem 🎯
X
INSTALL BY CLICKING THE DOWNLOAD FILE
After launching Diablo 4 on your PC, you may see a message that you need at least Windows 10 to run this game. This article will explain this problem and will also give the solutions.
You may get this issue even though you are on the right edition of the operating system. But Microsoft updates its OS in a different way. Every year, it releases a major update with a lot of internal changes. So, when you try to run Diablo 4, the following error message may stop you:
Version Not Supported

Error: You need at least Windows 10 (version 1909)
You see, it's clearly indicating a specific version. It means maybe you are not on a compatible OS. But, you may also face this problem without any valid reason as well.
If you are interested, learn how to make Diablo 4 run better on a PC.
What causes you need at least Windows 10 problem on Diablo IV?
In most cases, Diablo 4's version not supported error on Windows 10 occurs due to any of the following reasons:
Incorrect version of Windows: Diablo will not run on any Windows 10 OS with 1809, 1709, or whatever earlier than 1909. If you are on Windows 7 or on a very old version of Win10, you will surely encounter this problem.
Corrupted OS: If you are on a more recent version of the OS and still getting the same problem, it may indicate that your operating system is not genuine or it's corrupted.
Corrupted game files: Problematic game files also can be why this problem keeps appearing.
How can I get rid of Diablo 4 you need at least Windows 10 error?
We suggest you ensure the following things before taking the main steps to get rid of Diablo 4's Windows 10 version compatibility error:
Ensure that you are using the genuine version of the game.
Make sure your Windows OS is genuine, and it's not a pirated copy.
Then, take the following steps to solve this problem in Diablo 4:
1. Update Windows 10
Time needed: 5 minutes
The best way to fix you need at least Windows 10 error on Diablo 4 is updating this Microsoft operating system to the latest build.
Visit the Windows 10 update download page and click on Update Now to download the upgrade assistant.

Follow any onscreen steps to complete the process.
Restart your PC.
2. Run as an administrator
Go to the Diablo 4 installation directory.
Right-click on this game's exe file, then click on Properties.
Click on the Compatibility tab.
Then, click on Apply and OK.
Now, launch Diablo 4 and see whether it has solved the version not supported error or not.
3. Repair the game files
Open the Battle.net desktop app.
Navigate to Installed Games, as shown in the screenshot.
Go to Diablo 4.
Finish the process.
Now, verify whether the above method has solved the Windows 10 compatibility error on Diablo 4 or not.
4. Re-install Diablo 4
Navigate to the Battle.net app's game library like before.
Go to Diablo 4.
Then, click on the gear icon next to the Play button, and then click on Uninstall.
After that, install the game again.
Then, see whether it has fixed you need at least Windows 10 error on Diablo 4 or not.
Extra methods:
For some users, the problem may still persist. In this case, these methods may come handy:
Update all of the PC drivers, particularly the GPU driver, using Outbyte Driver Updater.
Take steps to repair the corrupted system files.
Create a second administrator account and restart your PC. Then, play the game on that profile and see if it has worked.
Reset Windows 10.
Upgrade to Windows 11.
You can check out this Diablo 4 tag page to get more troubleshooting guides.
The above suggestions are enough to solve Diablo 4 you need at least Windows 10 error. If you have any better suggestions, write them down in the comment box.