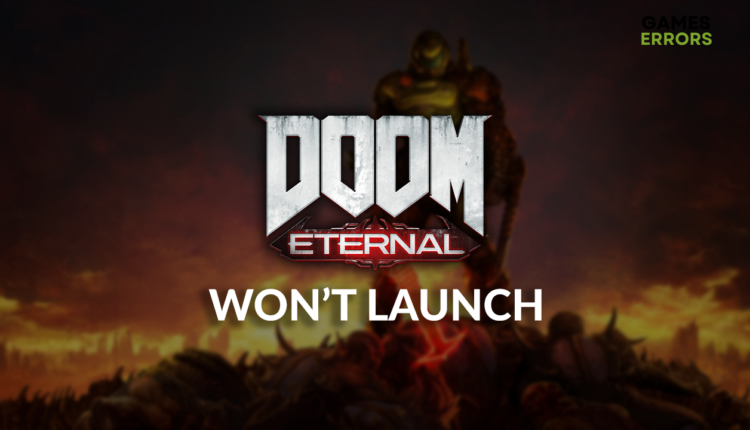 Doom Eternal Won't Launch: Fix It Quickly
You press Play, and you get nothing? This is a common issue, so we prepared a list of solutions you can apply to fix it! 🚀
X
INSTALL BY CLICKING THE DOWNLOAD FILE
You were ready to play your first-person shooter when you realized Doom Eternal won't launch. This common problem makes many gamers struggle and even give up playing this game. Luckily for you, this will not be the outcome since you found our list of the most efficient ways to troubleshoot the issue.
If you get an error related to your graphics card, learn how to fix GPU driver error in Doom Eternal.
Why is my Doom Eternal not launching?
Doom Eternal is not launching due to compatibility issues with the game controller, lack of hardware resources, low disk memory on your PC, outdated GPU driver, corrupted game files, problems with Visual C++ dependencies, or resource-consuming background apps.
How to fix Doom Eternal won't launch?
Fix the issues with Doom Eternal launching with these quick fixes and checks:
Unplug the controller: If you prefer to play PC games with a controller, we recommend you unplug it before launching Doom Eternal.
Check the system requirements: Your PC must meet at least the minimum system requirements to launch the game.
Check the disk space: Some gamers report they couldn't launch Doom Eternal if they didn't have at least 10GB of free disk space.
If you still experience issues when launching the game, proceed with the step-by-step solutions.
1. Update the GPU driver
Time needed: 5 minutes.
Your graphics card requires a GPU driver to run on your system. The graphics card manufacturer regularly patches the driver and introduces new features for optimization and stability. To receive these patches, you have to update the GPU driver.
Click the Windows icon, type Device Manager, and open it.

Double-click on the Display Adapters section.

Right-click on GPU and select Update driver.

Select Search automatically for drivers.

Update Driver Wizard will search the database for suitable driver updates.

Install driver update.

If a driver update is not found, you can use another method to double-check.

Restart your PC.
DriverFix is a swift and reliable driver updater tool that can handle complete driver management. This will give you more time to enjoy your favorite games, worry-free that an outdated driver will ruin the experience.
2. Verify game files
Corrupted game files will prevent the game from launching and running correctly. Doom Eternal comes on Steam which offers a quick system to verify the game files.
Launch Steam and go to the Library.
Right-click on DOOM Eternal and select Properties.
Click on the Local Files tab.
Click on Verify integrity of the game files.

3. Install Visual C++ dependencies
Games are built on libraries and dependencies, allowing developers to do more with less work. The downside is that gamers also need these dependencies to play the game on their PC.
Open the Visual C++ Redist Packages download page.
Download the installation package.
➡ x64 is for 64-bit Windows
➡ x86 is for 32-bit Windows

Launch the installation and install packages.
Restart your PC.
4. Close background apps
Even if you try to run Doom Eternal in fullscreen, some background apps will continue to work in the background and consume resources. Additionally, these apps can cause compatibility issues which prevent Doom Eternal from launching.
Use the CTRL + Shift + ESC shortcut to open Task Manager.
Find an app that you want to close.
Right-click on it and select End task.

⚠ Warning: Never disable Windows-related background processes or your antivirus software.
Extra steps
Some players will have more difficulties making Doom Eternal launch. Luckily, there are a few other things to try:
💻 For portable gamers: Click on the battery icon in the taskbar and select Best Performance. This will make your battery life shorter and your game performance better.
🎮 Enable Game Mode: This is a Windows feature that optimizes your system for games. Click on the Windows icon, type Game Mode, open it, and enable this feature.
🛡 Whitelist Doom Eternal: Your security software can prevent the game from starting. We recommend you add it as an exclusion on the so-called whitelist.
⬆ Update Windows: Click the Windows icon, type Check for updates, and open these system settings. If any updates are available, install them and restart your PC.
Related articles:
Conclusion
Let us know what fixed the Doom Eternal won't launch problem for you. If you still struggle to launch the game, comment, and we will do our best to assist you.
If you encounter any issues or errors while playing your favorite games and require support, feel free to contact us here. Our team is always ready to assist you and ensure your gaming experience is seamless and enjoyable.