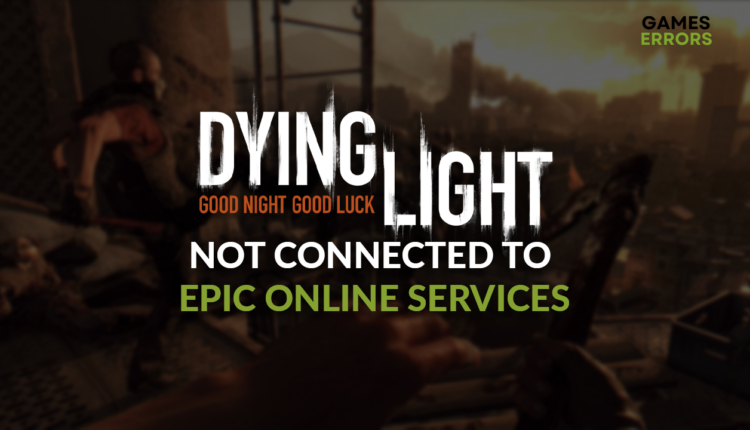 Dying Light Not Connected to Epic Online Services [Quick Fix]
The only real horror you can see when you run Dying Light is the network-related issue. Luckily, we know how to fix it! 👾
X
INSTALL BY CLICKING THE DOWNLOAD FILE
You wanted to enjoy your favorite first-person survival, but suddenly the Dying Light not connected to Epic online services message popped up. We advise you to follow all the solutions in this article, as these answer the most common causes of this network-related problem.
If you have general latency issues, learn how to fix lag in Dying Light.
Why is Dying Light not connected to Epic online services?
Dying Light isn't connected to Epic online services due to a faulty internet connection, temporary problems on your PC, misconfigured time and date settings, outdated network driver, issues with Windows Firewall, or defective cache files.
How to fix Dying Light not connected to Epic online services?
Fix this connection-related issue by applying the following fixes and checks:
Check your internet connection: The first thing that might be responsible for your problem is the internet connection. Use the Internet Speed Test if your internet works.
Restart your PC: The next step is to get rid of temporary issues on your PC by performing a quick restart. Do this at least once per day if you put your PC to sleep.
Set the time on your PC: Check the time on your PC. Epic online services will deny your connection if there is a mismatch between the time on your device and your timezone.
After completing everything from the previous list, proceed with the step-by-step solutions.
1. Update the network driver
Time needed: 5 minutes.
The network driver is the software that ensures your internet adapter can adequately communicate with your home network, through which your PC connects to the internet. If this driver is outdated, you can expect several issues, including problems connected with Epic online services.
Click the Windows icon, type Device Manager, and open it.

Double-click on Network Adapters.

Right-click on your internet adapter and select Update driver.

Select Search automatically for drivers.
Install the driver update.
Restart your PC.
Make your life easier by using a driver updater tool that will handle driver updates whenever needed. Our choice is DriverFix, a swift tool that will save you a lot of time that you can dedicate to enjoying your favorite games.
2. Allow Dying Light through the Firewall
Windows Firewall is a great security feature that keeps your system safe from various threats from different sources. The only flaw is that it is known for falsely flagging your games and apps as threats. To solve this, add Dying Light to the Firewall exception list.
Click on the Windows icon, type Windows Defender Firewall, and open it.

Click on Allow an app or feature through Windows Defender Firewall.

Click on Change Settings and Allow Another App.

Select Browse, and navigate to the Dying Light installation folder.
Click on the game executable file (.exe) and select Open.
Check the checkbox in columns Private and Public in the Dying Light row and hit OK.
Restart your PC.
3. Clear cache files
Games and programs on your PC create cache files to store details which allows the app to start and run smoother. However, if these files are corrupted, they will cause issues when you launch your app.
Use the Windows Key + R shortcut to open the Run dialog, type %localappdata%, and hit OK.

Use the CTRL + A shortcut to select all files in the folder.
Hit the Delete Key to delete all of the files in the folder.
▫ If prompted to confirm, click on Yes.
▫ If some files can't be deleted, click on Skip.

Extra steps
If you still didn't solve the issue, try to:
📞 Contact your ISP: If you have a general issue with the internet, and it's not only related to the Epic online services, explain to your ISP the problem and steps you already took to solve it.
🔙 Rollback the drivers: Some of your drivers might have compatibility issues, so we advise you roll back them to the previously installed version. Usually, this happens with GPU and network drivers.
Conclusion
We hope you resolved issues caused by the fact that Dying Light is not connected to Epic online services. If you discover any additional solutions, comment with the information so we can spread the word and help other gamers.
If you encounter any issues or errors while playing your favorite games and require support, feel free to contact us here. Our team is always ready to assist you and ensure your gaming experience is seamless and enjoyable.