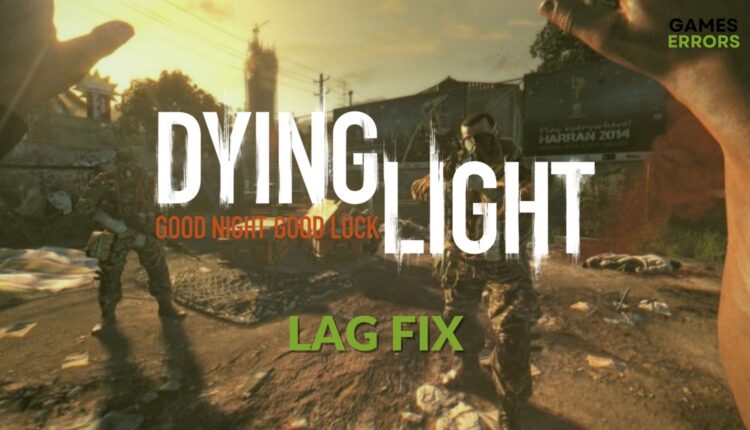 Dying Light Lag Fix: How to Stop Stuttering & Run Better
Going crazy due to Dying Light laggy gameplay? We have the right fixes to stop the pain🧟
X
INSTALL BY CLICKING THE DOWNLOAD FILE
Dying Light bugs were reported by a lot of players after the game launched. The game is zombie apocalypse themed, and it was released on January 27th on the Steam Platform.
The most common errors that users reported after they tried to play the game are Dying Light lag, FPS drops, and stuttering and all of these errors are making the game unplayable at this moment.
Below you can find these issues detailed, and you can fix them using our efficient and time-saving methods to solve Dying Light lagging on high-end PC, stuttering, or lagging on laptops.
💻 Does Dying Light run well on PC?
This aspect depends on your device and how advanced are your PC specifications. So, the game is developed to run on PC but it demands considerable CPU and graphics resources.
Why is Dying Light so laggy?
Well, the gameplay can give you laggy performance due to multiple factors, starting with the minimum game system requirements, draining game settings, or system problems like outdated drivers or launch configurations.
Before applying our solutions, don't forget about checking your PC specs in order to follow our Dying Light lag fix.
How to make Dying Light run better?
1. Get the latest graphics driver
Enter Device Manager in the search box.
Restart your PC to apply the changes.
If updating your drivers is too much of a headache, the best alternative is
DriverFix
. You will lots of time and effort into using this tool to manage and update all your drivers in less than 3 minutes with a few clicks.
2. Reduce the game graphics settings
It's known that overly advanced game settings contribute to big lag spikes or stuttering, so you should consider modifying the graphics settings. Here are the modifications you can make:
Set the resolution to Maximum
The Fullscreen is On
For the frame rate cap, set Uncapped
On Shadow Map Size, keep it low
Foliage Quality: low as well
Nvidia-related settings: Off
3. Repair the game files
Select Dying Light in your Steam Library.
Wait for the automatic checking and repairing process.
4. Run the game as an administrator
Find the game installation folder and right-click on the game icon.
Click on Properties and select the Compatibility tab.
Finally, click OK and Apply to save.
Why is my FPS so low on Dying Light?
Shortly, you can get low FPS rates if you're playing the game on the highest video settings or due to background processes that interfere with the game.
If you want to fix this, make sure to apply our solutions above and improve your game performance.
⚙️ More detailed Dying Light issues
Dying Light Low FPS, FPS Drops. Some players are having constant FPS Drops or a very low frame rate when they try to play the game.
"Is anyone else getting huge drops in framerate? It seems to happen pretty often. I also feel I should be getting better framerates. It's usually 50-60, but it drops down to 30ish briefly. I'm running on max(excluding view distance) and I have a GTX 970 and an Intel i5-4690k."
To fix the FPS issues follow the steps below.
First, go to Task Manager.
Then go to the Details tab.
Now, find the .exe file of Dying Light.
Then right-click on it and select the Set Priority option and set the priority to Real-time or high.
Dying Light Stuttering, freezes or stuttering issues are making the game unplayable for some users.
"I think my System shouldn't have issues with the Game on the performance side, and as far as I see I get clean 60 Fps but its highly Stuttering."
Those who are playing Dying Light on SLI, and are facing stutter while doing so, can try this method to avoid the problem.
Go to [Steam path]\userdata\[user ID]\remote\out\logs
Then select Properties.
Now, mark "Read only option". You may need to click on it twice for this to work out.
Dying Light Random Crashes, you may get crashes when you try to start the game or randomly while playing.
Workaround: To avoid random game crashes you need to change the game resolution from settings. Dry different resolutions until you find the perfect one.
If you are encountering crashes in the new Dying Light DLC or the enhanced version of the game, follow the guide to find your resolution.
Have fun playing the game after you fixed the Dying Light lag and if you have any questions or you don't know how to use the solutions, comment below and we will help you fix your game. – GamesErrors.com Team
If you encounter any issues or errors while playing your favorite games and require support, feel free to contact us here. Our team is always ready to assist you and ensure your gaming experience is seamless and enjoyable.