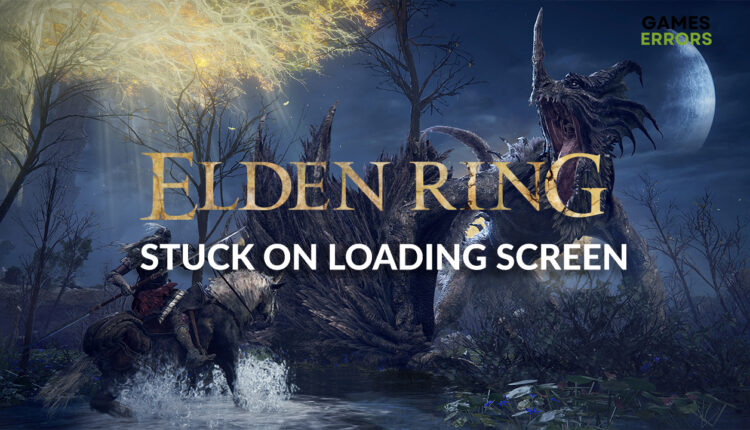 Elden Ring Stuck on Loading Screen: How to Make it Work
Elden Ring gets stuck on loading screen due to corrupted files, outdated drivers and lack of resources. Follow our solutions to fix it once and for all! 😎
Elden Ring stuck on loading screen, and now you cannot play this amazing action RPG title? The chances are that after applying the solution from this article, your problem will be in the past, and Elden Ring will once again be part of your gaming sessions!
If you are a new player, check out our Elden Ring beginner's guide.
Why is Elden Ring not booting?
Elden Ring booting problems are caused by faulty game files, outdated graphics or network drivers, lack of hardware resources, and piled-up cache files. There are other less probable reasons for this problem, but we will share the most frequent solutions you can implement.
How to fix Elden Ring stuck on loading screen?
To begin troubleshooting, check if the hardware specifications of your PC meet Elden Ring system requirements. If your device can handle the game, restart your PC and try to load Elden Ring again. If the problem persists, follow the solutions from the list.
1. Verify game files
Launch Steam and navigate to the Library.
Right-click on Elden Rings and select Properties.
Click on the Local Files tab.
Steam will now analyze files and fix them if there is a need to do so. Wait for a couple of minutes for the process to conclude.
2. Update your GPU driver
Click on the Windows icon and type Device Manager.
Select the Device Manager tool from the search results.
Double-click on the Display adapters section to expand it.
Select the Search automatically for drivers option and wait for the process to be completed.
If drivers are found, follow any additional steps prompted by the driver installation.
Some players experience
connection errors when summoned in Elden Ring
due to a faulty internet connection. This can happen if network drivers are outdated, so we suggest you
update network drivers
using the same steps to avoid such issues. Network devices can be found under the
Network adapters
section.
To scan, monitor and update drivers for all devices conveniently and effectively, use Outbyte Driver Updater. This driver updater tool will save you time and ensure you always have the latest drivers on your PC.
⇒ Get Outbyte Driver Updater
3. Close background apps
Apps running simultaneously to Elden Ring can cause a variety of issues. This is especially applicable to apps that create screen overlays. Ensuring that no unnecessary apps are running is the best way to go.
Open the Task Manager by using CTRL + Shift + ESC shortcut.
Find an app that is running and you don't need while playing Elden Ring.
Repeat this process for all the apps you don't need when playing Elden Ring or any other game.
When closing background apps, pay close attention to apps that create overlays on your screen, these can create problems. If it is an app you use when playing the game (Discord, for example) and you don't want to close it, disable the overlay in the app settings.
Important: Never close apps or processes related to your security software or operating system. Doing so might result in system crashes and security vulnerabilities.
4. Delete temporary files
Programs and games create temporary cache files stored on your PC, allowing them to start quicker. However, these files can create problems while the software is loaded so that we will delete them.
Click on the Windows icon and type Run.
Use CTRL + A shortcut to select all files in the folder
Some files might not be eligible for deletion. If prompted to Try again, select option Skip. Next time you launch a program or a game, new cache files will be created.
Conclusion
We hope Elden Ring stuck on loading screen is not occurring anymore. If this is not the case, and you still have similar issues, we recommend you use Reset this PC option for Windows to get a clean installation of the system.
Let us know what fixed the problem for you and which solution was the most useful.