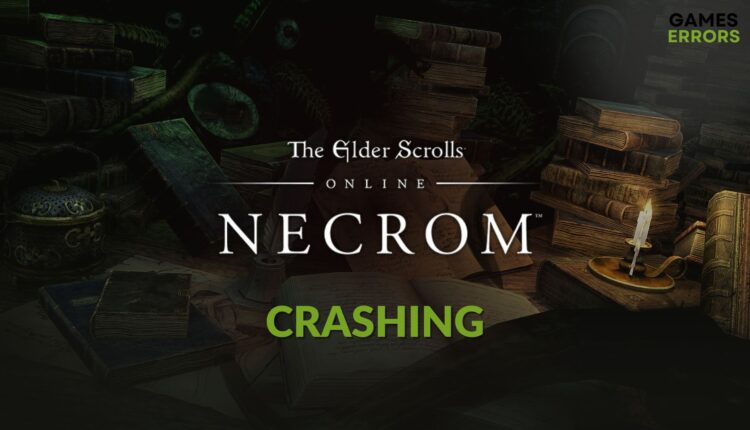 Elder Scrolls Online: Necrom Crashing: Best Fixes
Update GPU driver and Windows, and also repair the game files to fix crashing issues on ESO: Necrom 💥
If you are experiencing Elder Scrolls Online: Necrom crashing issues on your PC, go through this article. Here, you will get the most effective solutions.
The award-winning online multiplayer RPG has got the new DLC Necrom to extend your adventure in the overwhelming Elder Scrolls world. Battle, chaos, puzzle, everything can give you a super gaming experience. But, if it stops working after a while during gameplay or startup, the enjoyment will turn into a big disappointment.
What causes crashing issues on ESO: Necrom?
It's a pretty decent game. If it keeps crashing on your PC or even Mac, these are the most common reasons:
System requirements: If, anyhow, your computer lacks the system requirements, you may be able to play, but ESO: Necrom will crash randomly.
Driver problem: Driver issues, particularly the GPU driver problem, can be why this game is stopping working after installing the latest Necrom DLC.
Third-party services: Some third-party services may be responsible for this issue.
Corrupted components: Outdated, corrupted, or faulty components related to the game can also make Elder Scrolls Online: Necrom crashes with or without showing error messages or codes.
How do I fix Elder Scrolls Online Necrom crashing problem?
You should check the Elder Scrolls' system requirements and understand if your PC is well capable or not. Then, you can take a few quick steps before going through the main solutions for this ESO crashing issue. These are:
Ensure that you have a stable internet connection.
Disable your antivirus and firewall.
Install Visual C++ and DirectX Runtime and restart your PC.
Make sure that you have not enabled any overclocking.
Enable game mode and high-performance mode.
Now, follow these methods one by one to fix the problem:
1. Update the GPU driver
Time needed: 2 minutes
If Elder Scrolls Online: Necrom keeps crashing, updating the GPU driver to the latest version is the most effective idea.
Click on Search automatically for drivers.
Finish the process.
Restart your computer.
You should use Outbyte Driver Updater to update the GPU driver more accurately. This tool has an extensive database. As a result, it can find the most compatible driver for your graphics card. Moreover, it can install game-ready drivers, which is extremely helpful in improving the gaming experience.
2. Update Windows
Go to Windows Settings by pressing Win + I on the keyboard.
Download and install any available update.
Restart your PC.
3. Tweak graphics preferences
Setting graphics preferences to high performance can resolve crashing issues on the ESO: Necrom. To do it, follow these steps:
Open the Windows Settings like before.
Navigate to the Graphics.
Select Elder Scrolls Online from the list and click on Options.
Restart your PC.
If you don't see ESO in the list, you can manually add it.
4. Repair the game files
Repairing the game files is another effective way to fix Elder Scrolls Online: Necrom crashing problem on a Windows 11 or 10 PC. For this, go through these instructions:
Open the Steam desktop app.
Go to the game library.
Right-click on Elder Scrolls Online and then click on Properties.
Go to the Local Files tab.
Then click on Verify integrity of game files.
Wait for a while until it finishes the process.
5. Re-install the game
Go to Steam library.
Right-click on the game, navigate to Manage, and then click on Uninstall.
After uninstalling, click on the Install button.
Choose the preferred location located in an SSD and then click on Next.
Give it a few moments to download and install the ESO on your PC.
Also, install the latest Necrom DLC.
Now, run the ESO: Necrom and see whether it still crashes or not.
Extra methods:
For some gamers, the problem may still exist. In this case, the following methods may help:
Run the game in a clean boot. If it works, identify the problematic third-party service and uninstall it from your PC.
If it's a known bug, wait for the next patch update.
Update the Steam game client.
Repair the ESO launcher.
Uninstall any extra mods or add-ons and see if it helps.
If you are interested, learn the methods to stop any game from crashing.
From this article, you have just learned how to fix Elder Scrolls Online: Necrom crashing. In case you have a question or suggestion, let us know in the comment box.
If you encounter any issues or errors while playing your favorite games and require support, feel free to contact us here. Our team is always ready to assist you and ensure your gaming experience is seamless and enjoyable.