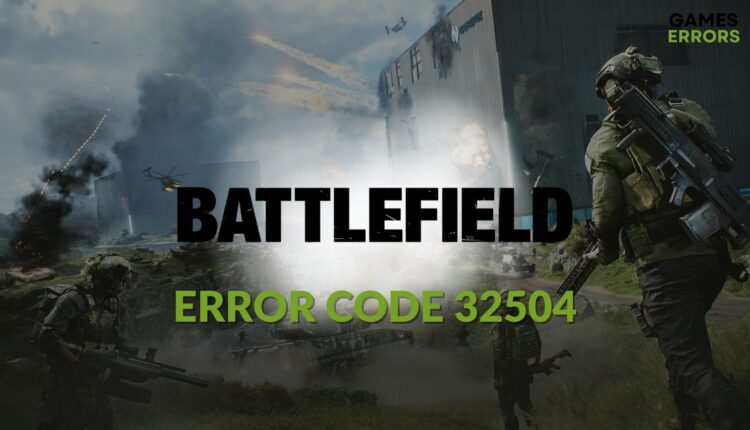 Error Code 32504 Battlefield: 6 Best Ways to Fix
Do these things if the error code 32504 is bugging you in the Battlefield game
X
INSTALL BY CLICKING THE DOWNLOAD FILE
The error code 32404 in Battlefield games may prevent some gamers from playing multiplayer. If you are fed up and trying to get rid of this problem, this article is for you.
The BF is one of the industry's most successful video game series. But, for some users, specific problems like Battlefield Low FPS, DirectX error, error code 32504, etc., may ruin the gameplay experience. The last one can completely prevent you from playing with others online. Luckily, there are ways to get rid of this problem.
Why is matchmaking not working in Battlefield?
The error code 32504 usually appears when you try to Matchmake. It happens mostly because of these reasons:
No other players are online:

Many users who try to Matchmake and use Quick Match end up getting into empty lobbies and get the error code -32504 because there is no other player available.

A known bug:

In some cases, this is a problem related to a specific version of Battlefield.

Connection problem:

For some users, the error code 32504 occurs because of a poor internet connection or wrong configuration.

Your Firewall is interfering:

Your antivirus or Firewall can also interfere and cause this error in this game.

Problem with the platform:

Steam or EA, whatever platform you are using, doesn't matter. If there is a problem with it, you may face an error in Battlefield.
How can I fix the Battlefield error code 32504?
If you want to get rid of this problem, first, you will need to do the following things:
Rather than using Quick Match, use the server browser to search for the game modes and see if it helps.
Ensure that you have a stable internet connection.
Disable cross-play and see if it helps.
If you still get the Battlefield error code 32504, go through the following methods to fix it:
1. Whitelist the game in Firewall
1.1 Allow in Windows Firewall
In

Start Menu

, type 

Windows Security

, and press

Enter

.

Click on 

Change settings

.

Now, check the empty boxes for Private and Public networks next to the

Battlefield

.

Click on 

OK

.
1.2 Allow in third-party Firewall
Open the AV or Firewall you are using.

Go to 

Protection

or a similar option where you will get Firewall.

Allow Battlefield game there.
We have used Bitdefender Total Security to show you the above instructions. If you have anything else like ESET Internet Security, you will need to figure out similar options. However, the instructions are mostly similar.
After whitelisting, try to play the Battlefield multiplayer and see if it works.
2. Clear cache
2.1 Clear EA App or Origin cache
Open the EA app.

Click on the three vertical lines icon in the top left corner to open the dropdown menu.
2.2 Clear Steam cache
Open Steam.
After clearing the client cache, restart it. Then, launch the game. It should fix error code 32504 in Battlefield.
3. Update the client
3.1 Update Steam
Open the Steam app.

Done.
3.2 Update the EA app
Both Steam and EA apps are designed to auto-update themselves. However, unlike Steam, the EA app doesn't have the manual option. So, we suggest you relaunch the client. It should automatically check for the update and install if anything available.
4. Update the network adapter
A stable internet connection will not be helpful unless you have a proper working driver for the network adapter. So, it is better to update it by following these steps:
Open the Start Menu.

Type 

devmgmt.msc

and press

Enter

.

Expand Network adapters.

Follow any onscreen steps to complete the process.
If the device manager cannot find the latest update, it doesn't mean you are using the most recent version of the driver. We suggest you use DriverFix, which is a dedicated driver updater. It can automatically install the most recent version of the network driver you need.
5. Repair the game
5.1 Repair on Steam
Open 

Steam

.

Right-click on the

Battlefield

game you prefer

 and go to 

Properties

.

Go to the 

Local files

 tab.

Wait until it finishes the process.
5.2 Repair on EA app
Wait for a while to complete the process.
6. Try in a different network
If you still encounter the error code 32504 in Battlefield games, it may be there is something wrong with your connection. So, we suggest you try a different network. For example, you can use a different ISP or your smartphone hotspot.
Also, consider using a gaming VPN like ExpressVPN. It may solve your problem.
Else, you also can try to disable the Firewall completely and see if it helps. If not, re-install the game with a fresh copy.
This article has explained how to fix error code 32504 in Battlefield. If you know any better method, feel free to let us know in the comment box.
If you encounter any issues or errors while playing your favorite games and require support, feel free to contact us here. Our team is always ready to assist you and ensure your gaming experience is seamless and enjoyable.