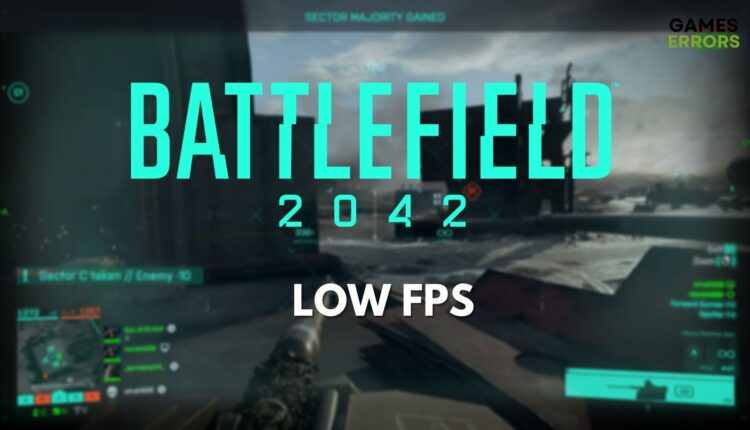 Battlefield 2042 Low FPS: How to Fix It & Run Without Lag
Lots of players reported low FPS and lag on Battlefield 2042, and have the right fixes 🎯
Battlefield 2042 latest installment in the Battlefield franchise is released with the action set in the year 2042, featuring large-scale multiplayer battles with up to 128 players on PC and next-generation consoles.
Although many gamers enjoy playing this game, they have been constantly frustrated by issues such as Battlefield 2042 stuttering, low FPS, as well as lag.
To make sure you can play this game smoothly, make sure that you also meet the system requirements to run the game properly on your PC.
🐌 Why is Battlefield 2042 so laggy?
Lagging on Battlefield 2042 can be caused by various reasons as the following ones:
High graphics settings – It c

an put a strain on the hardware and cause lagging especially on older systems.

Network performance – This could

also be the reason behind the lag as well. Multiplayer games like Battlefield usually rely on a stable network connection to run smoothly.

High video settings –

Playing the game on high video graphics settings will consume system resources and cause the game to lag.
How to fix low FPS in Battlefield 2042
1. Adjust in-game video settings
High graphics settings such as resolution, textures, shadows, and anti-aliasing can be demanding on a computer's resources and cause low FPS. By lowering these settings, you can increase the FPS and improve the overall performance of the game.
Launch Battlefield and click on Accessibility →

Click on

Display

, then go ahead and reduce your video settings.
2. Update the graphics driver
Updating your GPU allows you to access the latest security fixes and performance improvements to enjoy the game without Battlefield 2042 low FPS issues.
Click and expand the

Display adapters

and right-click on your graphics

card.

Windows will automatically search for available graphics card updates.

Restart your PC.
If you want to avoid the manual steps, there is expert software to install and update your drivers automatically using a driver managing tool like Outbyte Driver Updater. The tool will scan your PC and detect all outdated drivers and update them accordingly, which will help you resolve gaming performance troubles.
⇒ Get Outbyte Driver Updater
3. Repair game files
Corrupt or damaged game files can lead to performance issues such as Battlefield 2042 low FPS. So, if you keep having low FPS when playing Battlefield, this is another method to fix it.
On Steam:
Open the Steam client.

Under the

Library

tab, right-click on

Battlefield 2042.
On Origin:
Open

Origin

and click

My Game Library

on the left side.

Right-click

Battlefield 2042

and select

Repair.

Restart the game to see if the issue has been fixed.
4. Disable unnecessary programs
Close any unnecessary apps running in the background that may be using system resources and causing FPS drops on your gameplay. You can proceed like this:
Quickly open Task Manager on your desktop.


Click on

Processes

and check for applications that are utilizing a lot of CPU or RAM.

Highlight and right-click the

Applications.
Is Battlefield 2042 badly optimized?
Since the release of Battlefield 2042 in November 2021, a lot of players have reported so many technical issues, bugs, and glitches. EA Sports and DICE have admitted there are issues with the game, and have also promised to work on this issue.
Nonetheless, some players have found a way to enjoy despite the poor optimization.
Players who suffer the most are those who play the game on a low-end PC. You can still enjoy Battlefield 2042 if your system meets the minimum requirement to play the game, and your hardware and network are in good condition.
⚡How do I make Battlefield 2042 run better on a low-end PC?
1. Activate game mode on Windows
If you're playing on the latest version of Windows 10, you can capitalize on the Game Mode feature to enhance gaming performance and provide a better gaming experience.
By activating Game Mode, Windows optimizes the system resources for gaming and ensures a smooth and responsive gaming session. To activate Game Mode, simply go to the Game Mode Settings using Windows search and enable it.
2. Modifying Power Settings in Windows
Another way to make Battlefield 2042 run better on low-end PC is to modify your power settings in Windows. PCs usually have multiple power settings that can affect your gaming performance.
These settings determine the amount of power that is supplied to different components of your laptop, which can have a significant impact on how well your game runs.
To do this, simply search for "Choose a Power Plan" in the Windows search bar. From there, you can select either the "High Performance" or "Balanced" power plan, depending on what options are available to you.
If nothing still works after trying out all these solutions, you should consider reinstalling the game to bypass such issues on Battlefield 2042.
Conclusion
Despite being riddled with bugs, glitches, and other technical issues, we can't take away the fact that Battlefield 2042 is a fascinating game to play.
If you're having issues with other Battlefield versions, we covered as well the Battlefield 1 DirectX function error, so have a look to fix it efficiently.
Many players have found ways to get around these performance issues and enjoy the game regardless, so you too can. With the solutions provided here, you can fix Battlefield 2042 low FPS and enjoy the game even on a low-end PC.