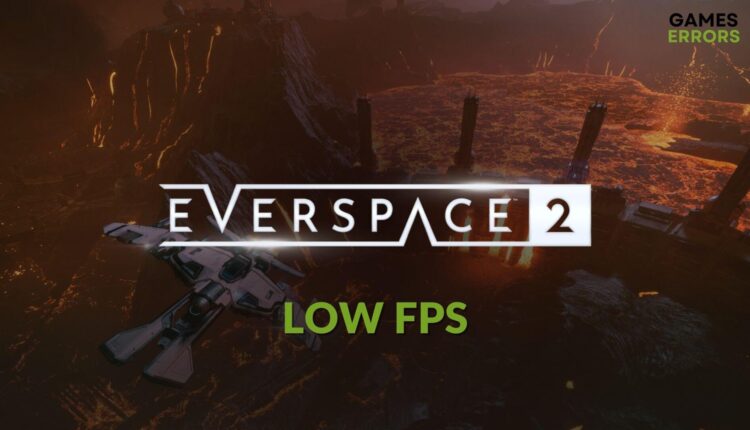 Everspace 2 Low FPS: Effective Ways to Improve Performance
Update the GPU driver and tweak a few settings to boost performance and FPS on Everspace 2 🚀
Are you getting very low FPS from Everspace 2 on your PC? You can easily solve this problem and increase the frame rate. This article will tell you how to do it.
A spaceship shooter game like Everspace 2 is not just a shooter game. It has RPG and tons of gaming elements that have made it a unique title. But, if you experience frame dropping, stuttering, lagging, and poor performance issues, you will not enjoy this item at all.
Why is my FPS so low on Everspace 2?
Here are the most common reasons why you may get laggy performance issues on Everspace 2:
Graphics driver: Buggy or outdated graphics card driver may prevent the Everspace 2 from utilizing the GPU properly, which will cause poor FPS problems.
System requirements: If your PC doesn't meet the system requirements properly, this game will not run smoothly.
Excessive background services: Too many services active in the background occupies a significant amount of system resources. As a result, Everspace 2 may not be able to utilize enough computing power to deliver the best FPS.
Problematic game components: Outdated and problematic game files and components also can be a reason why you are getting poor performance issues.
Improper settings: Else, problematic settings on Windows and the game itself also may trigger this type of problem.
How do I fix the Everspace 2 low FPS problem?
If the low frame rate issue continues, you must follow the methods we have featured in this article. But, before that, you should do these quick things to make the troubleshooting process a lot easier and hassle-free:
After that, follow the methods mentioned below to improve FPS on Everspace 2:
1. Update GPU driver
Time needed: 2 minutes
To solve low FPS problems on Everspace 2, updating the graphics card driver to the latest version is the best solution to apply.
Click on Search automatically for drivers.
Follow any onscreen instructions to finish the process.
Device Manager may show that already best driver is installed even though it's not the case. So, to update a graphics driver, we strongly suggest you use Outbyte Driver Updater. This tool is more capable and accurate in updating any driver on a PC. It helps to gain better FPS in games.
⇒ Get Outbyte Driver Updater
2. Disable fullscreen optimization
Even though the fullscreen optimization may help to gain performance, it also may affect some titles like Everspace 2. So, we suggest you disable it to fix the low FPS problem. To do it, follow these steps:
Open Steam.
Go to the game library.
Right-click on Everspace2.exe, and go to Properties.
Go to the Compatibility tab.
Click on Apply and OK.
If it doesn't help, undo the changes.
3. Reduce background activities
Right-click on the Taskbar and go to Task Manager.
Go to the Processes tab.
Click on the process you want to disable and then click on End Task.
In this way, disable all other unnecessary processes.
While disabling, disable only these tasks you know are unnecessary or less important. Otherwise, different problems may appear.
4. Enable game mode
Press Win + I on the keyboard to open Windows Settings.
Turn off the Game Mode.
Close the Settings.
5. Tweak graphics preference
Open Windows Settings, as shown in the previous method.
Go to Graphics.
Click on Everspace 2 and then click on Options. If you don't see the game in the list, manually add it.
Restart Windows.
6. Tweak in-game settings
If your PC cannot run this game with high settings properly, we suggest you tweak a few things. It will fix poor frame rate issues on Everspace 2. Here are the instructions to follow:
Launch Everspace 2.
Go to Settings.
Ensure that you are in the Graphics settings.
Disable Vsync.
Make sure your FPS is uncapped.
Lower the preset quality.
Save the settings.
7. Repair the game files
Go to the Steam game library.
Go to the Local Files tab.
Click on Verify integrity of game files.
Give it some time to finish the process.
Now, launch Everspace 2 and see whether you still experience low FPS problems or not. If it doesn't help, update Windows to the latest version. Also, uninstall any software that can appear on top of the game. It may help to overcome this situation.
If you are interested, learn how to solve Everspace 2 crashing.
This article has featured the methods that can fix Everspace 2 low FPS problems. If you have any questions, feel free to let us know in the comment box.