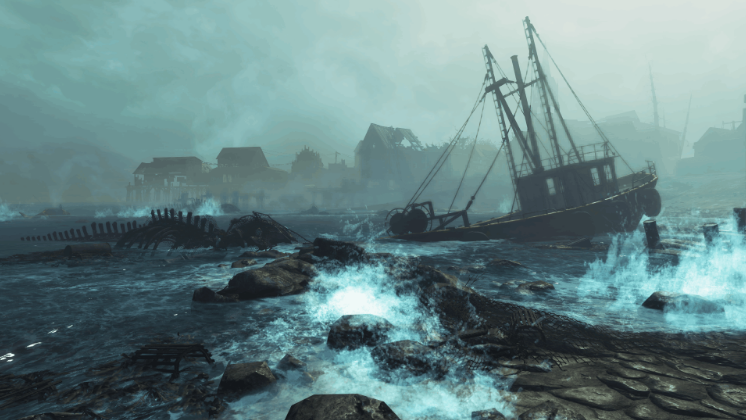 X
INSTALL BY CLICKING THE DOWNLOAD FILE
Fallout 4 Far Harbor DLC was released today on Steam and apparently because of this new DLC now a lot of players are encountering errors in the game. The most common Fallout 4 Far Harbor errors are Crashes, Game Not Starting and FPS Issues like Low FPS and FPS Drops.
Far Harbor
A new case from Valentine's Detective Agency leads you on a search for a young woman and a secret colony of synths. Travel off the coast of Maine to the mysterious island of Far Harbor, where higher levels of radiation have created a more feral world. Navigate through the growing conflict between the synths, the Children of Atom, and the local townspeople. Will you work towards bringing peace to Far Harbor, and at what cost? Far Harbor features the largest landmass for an add-on that we've ever created, filled with new faction quests, settlements, lethal creatures and dungeons. Become more powerful with new, higher-level armor and weapons. The choices are all yours.
First, make sure that you meet the system requirements below and after that go ahead and check our solutions below to fix your issue and play the game.
MINIMUM:
OS: Windows 7/8/10 (64-bit OS required)
Processor: Intel Core i5-2300 2.8 GHz/AMD Phenom II X4 945 3.0 GHz or equivalent
Memory: 8 GB RAM
Graphics: NVIDIA GTX 550 Ti 2GB/AMD Radeon HD 7870 2GB or equivalent
Storage: 30 GB available space
RECOMMENDED:
OS: Windows 7/8/10 (64-bit OS required)
Processor: Windows 7/8/10 (64-bit OS required)
Memory: 8 GB RAM
Graphics: NVIDIA GTX 780 3GB/AMD Radeon R9 290X 4GB or equivalent
Storage: 30 GB available space
Fallout 4 Far Harbor Errors:
#1 Fallout 4 Far Harbor Crashes
Some players are encountering crashes in the game after installing the Far Harbor DLC. To fix these crashes, you can check the workarounds below, or you can follow our tutorial at the end of the post.
I was having this issue, the following advice I found didn't help me (but might help you):
1. Disable all mods
2. Remap Pip-Boy to another key besides tab
3. Delete your files in the Steam/steamapps/common/Fallout 4/Data/Strings folder*
4. Delete any files put there by mods (the obvious ones named after mods) in your Data subfolders like your Materials, Meshes, Strings, Textures*
5 Delete any mod files in the Data folder that are .esm or .esp*

* remember to verify your game cache afterward via Steam

What worked was I went into the Data/Interface folder and saw two files "Pipboy_InvPage" and PipboyMenu" and I deleted both of those. I then validated the game files and got a 100% (hmm, those must not be part of the install…) so I retried the game.
And it worked.

Hope that helps someone else I even reinstalled the darn game too but that didn't do it.
Good luck everybody
#2 Fallout 4 Far Harbor Not Starting
This is the most encountered error in Far Harbor, apparently after installing the DLC, the game won't start for some players. They click Play in Steam, and nothing happens.
"Every time the launcher appears, and I press play, nothing happens, and it just restarts the launcher."
Solution: To fix the Far Harbor Not Starting issue you need to follow our tutorial at the end of the post. After you apply it to your game, it will start and run fine.
#3 Fallout 4 Far Harbor FPS Issues
"I am having issues with Fallout 4 FPS. On Low/Medium setting I am having trouble keeping 60 fps Indoors and outdoors. System specs are AMD FX-6300 Overclocked to 4.0 GHz and ASUS R9 280x also with a slight overclock and 12gb G-Skills Ripjaws ram. I see no reason I should be having any issues but if anyone could help that would be great."

After installing the DLC, players complained about horrible FPS issues. Due this issue they are unable to play the game. To fix the FPS issues of the game just follow our tutorial below and apply it to your game.
We hope that your tutorial helped you fix your Fallout 4 Far Harbor errors and bugs, if you encounter any other issues in the game or if you don't know how to apply the patch to your game, comment below or use our contact page and we will help you fix your game. –GamesErrors Team