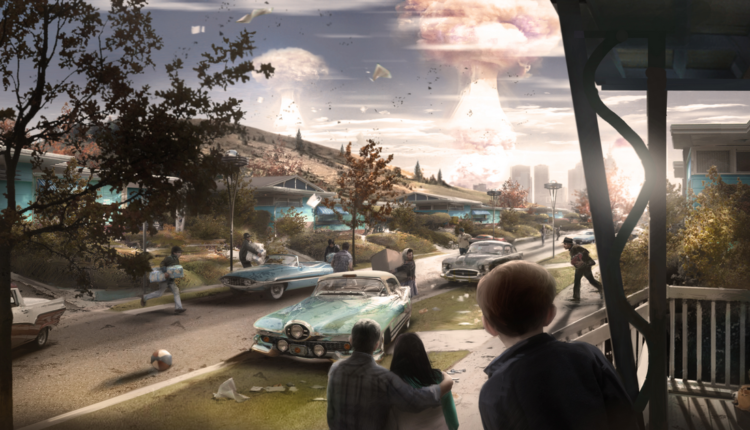 How to Fix Fallout 4 Crashes, Errors, Performance Issues: Lag, Low FPS
Update: If you are encountering issues in the new Far Harbor DLC check our tutorial here.
Fallout 4 is one of the most anticipated games of this year, and it was finally released this week on Steam. Bethesda Studios manages to develop their most ambitious game ever, and the next generation of open-world gaming.
As the sole survivor of Vault 111, you enter a world destroyed by nuclear war. Every second is a fight for survival, and every choice is yours. Only you can rebuild and determine the fate of the Wasteland. Welcome home.
Since the launch, some players reported that they have issues and errors with the game. The most encountered problem is Fallout 4 Crash, players reported that their game crashes randomly when they are playing or when they try to start the game. Other Fallout 4 errors are Lag, Low FPS, Stuttering.
Below you can see a list of these issues of the game and also solutions and workaround on how to fix them and play the game.
How to fix Fallout 4 Crashes and other issues:
1) Fallout 4 Crashes, your game might crash when you are trying to start it or randomly when you are playing. This issue affects a lot of players, and it's very annoying, you can fix it by following our tutorial below.
"My game is crashing every 15 minutes. If anyone knows a fix to this problem, please post it, I'm running game on medium spec, GTX 650, 8gb ram, it's running fine, but just randomly every 15 minutes almost on the dot it crashes, I'm using the Phone app as well."
"Can someone help me with these crashes? For no apparent reasons, the game just randomly closes, no given reasons or anything that would hint at anything."
Solution: For a simple solution follow our tutorial at the end of the post.
Right click on the game icon, click properties and under Compatibility, set it to either Windows Vista SP2 or Windows XP SP3 compatibility.
Re-validate the game files if you have installed the game through Steam.
2) Fallout 4 Mouse Acceleration Issue, this issue is very common in games these days, and it has a very simple fix, just follow the solution below.
Solution:
 Go to: C:\Users\username\Documents\My Games\Fallout4\
 Open Fallout4config and change iPresentInterval=1 to iPresentInterval=0 and do the same with Fallout4prefs (here also change bForceIgnoreSmoothness=0 change that to bForceIgnoreSmoothness=1)
3) Fallout 4 Performance Issues, some players also encounter Performance Issues, some of this issues are Low FPS and Lag.
If you are looking for a fix for the mouse lag, use our solution from point 2. If you are looking for a solution to fix the Lag in the game or if you have problems with the FPS follow the tutorial below. When playing FPS games, a mouse is important; we used the buying guide from iControlPad to help make a purchase decision and ended up going for the Razer DeathAdder, which turned out to be a perfect FPS mouse.
"Only played for a short while and I am encountering fps drops and constant low fps. To the point at which the game is nearly unplayable."
"Is anyone else having stutter problems and then frame drops? I am trying to play the game for some time, but I am unable due to this issue. Please, someone, help me fix this!"
Solution: To unlock the framerates you need to go to this file documents\my games\fallout 4\Fallout4Prefs.ini and edit iPresetinterval to 0. You can also use our patch to do that and to fix the performance issues. like Low FPS and Lag.
Fallout 4 Tutorial to Fix Major Issues:
Our team of developers managed to release a patch that helps you fix the errors described above. You can see how our patch looks like below, where you can also find a tutorial on how to use it and a download link. Please follow the tutorial step by step before asking any questions regarding your issues. Our patch won't interfere with your Steam account, it will just change some files and .dll in the game folder in order for the errors to be fixed.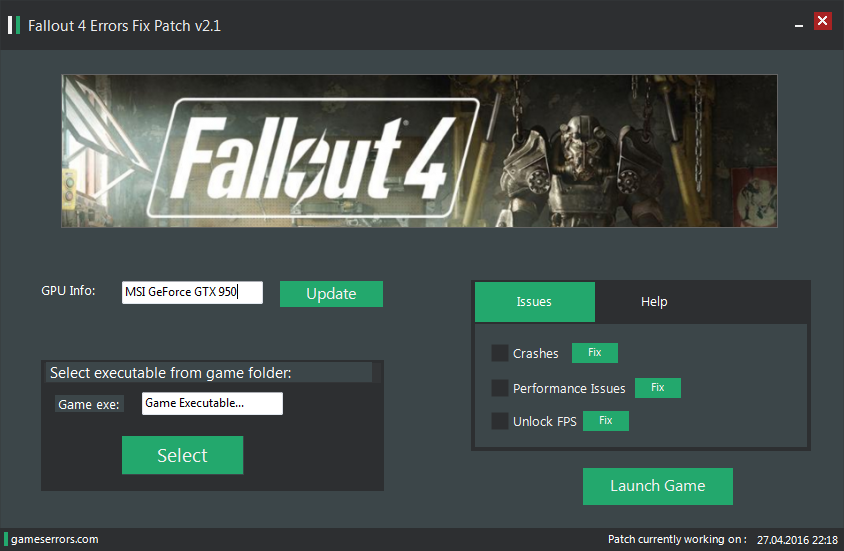 Follow the tutorial below to apply the patch correctly to your game.
How to apply our patch:
Download the archive of the patch from here: download
 Extract the downloaded archive on your PC, and open the patch from the folder.
Your GPU will be selected automatically, make sure that you use your dedicated GPU if you have a laptop!
Select the game executable from the game folder, if you used the default install folder it should be: "C:\Program Files (x86)\Steam\Steamapps\common\Fallout 4"
 Select your issue or issues from the box to the right and click the corresponding "Fix" button.
After your errors are successfully fixed you can click the "Launch Game" button and play the game.
How to download: Well, you might think that our download service is pretty annoying but is very effective. To download you just need to complete a simple offer, it usually takes a few minutes, and after that, you will be able to download the patch. We use this service because is the only way to support our developers and to keep releasing and updating patches for games. Thank you! We hope you understand us and have fun playing Fallout 4!
We hope that our tutorial helped you fix your Fallout 4 errors and that now you are playing and enjoying the game. If you have any other issues and questions, please comment below and we will help you fix your game. – GamesErrors.com Team