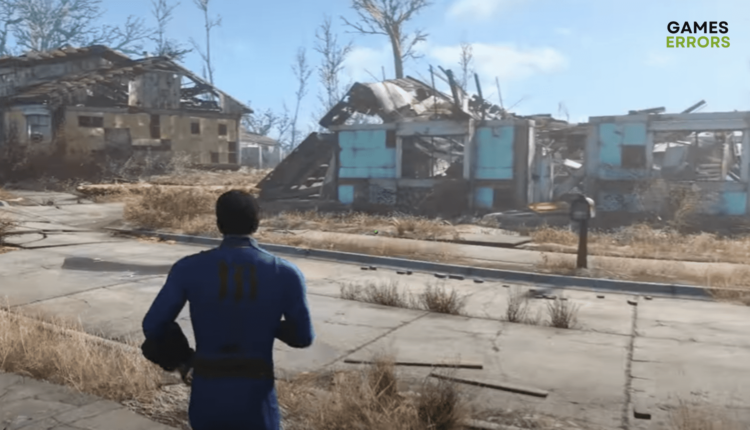 Fallout 4 Crashing: Fix It With Our Simple Guide
Fallout 4 crashes are giving you headaches? Have no fear! This guide has the best solutions to fix them with ease!💡
X
INSTALL BY CLICKING THE DOWNLOAD FILE
Fallout 4 is one of the most popular worldwide games, but it seems like many players are reporting experiencing an annoying crash while trying to play it. Fortunately, there are some solutions that can effortlessly fix it.
If you're here, then you're facing the same issue. Make sure you completely read our today's guide and discover the best ways to get rid of it.
Why is Fallout 4 crashing?
A game crash can be caused by several reasons. Below you can find the most common of them that can explain your Fallout 4 issue:
Outdated drivers – Most of the time, this particular issue can cause serious game crashes. In order to avoid them, it is recommended to regularly update your graphics drivers.
Corrupted game files – Corrupted game files can lead to problems such as incomplete or missing game data, code execution errors, or data integrity issues. In this case, you should make sure to sometimes scan and verify them.
Conflicting apps/programs – Some software might interfere with your gameplay, causing crashes. We suggest making sure you close all the unnecessary apps or temporarily disable conflicting programs.
How can I fix the Fallout 4 crash?
Before getting into the main solutions, it is important to ensure that your system meets at least the minimum specifications to run Fallout 4 without any issues.
Minimum system specs:
Requires a 64-bit processor and operating system
OS: Windows 7/8/10 (64-bit OS required)
Processor: Intel Core i5-2300 2.8 GHz/AMD Phenom II X4 945 3.0 GHz or equivalent
Memory: 8 GB of RAM
Graphics: NVIDIA GTX 550 Ti 2GB/AMD Radeon HD 7870 2GB or equivalent
Storage: 30 GB available space
Recommended system specs:
Requires a 64-bit processor and operating system
OS: Windows 7/8/10 (64-bit OS required)
Processor: Intel Core i7 4790 3.6 GHz/AMD FX-9590 4.7 GHz or equivalent
Memory: 8 GB of RAM
Graphics: NVIDIA GTX 780 3GB/AMD Radeon R9 290X 4GB or equivalent
Storage: at least 30 GB of available space
Table of contents:
1. Update your graphics drivers
Time needed: 4 minutes.
Outdated graphics drivers are the most common cause of game crashes. Thus, you should always ensure they are up to date.
Use this keyboard shortcut: Windows + X
Once the needed menu appears, click on Device Manager.

Look for the Display Adapters section, then double-click on it.

Now, right-click on the needed graphics driver, and tap on the Update driver option.

Choose to Search automatically for drivers.

Wait until your system scans, downloads, and installs the best option for you.
Finally, reboot your PC, relaunch Fallout 4, and check if the crash is gone.
You can easily go for the above manual steps, but we strongly consider choosing an automatic solution to update your graphics drivers, as it will save you much more of your time.
DriverFix is one of the most proficient software on the market. We strongly recommend using it without hesitation since it will automatically update any of your components and guarantee that your computer is performing optimally.
Plus, if you're a beginner in utilizing this kind of tool, you do not have to worry! DriverFix won't give you headaches as it comes with an extremely easy-to-use interface.
2. Verify the game files
Launch Steam.
Navigate to Library.
In the left window pane, look at the game list, then right-click on Fallout 4, and choose Properties.
Go to Local Files.
Look at the right side of the window, and choose to Verify the integrity of game files…
Wait until the process is completed, then relaunch the game and check if the issue is gone.
3. Lower your graphics settings
Open Fallout 4.
Go to Options.
Click on the Default button.
Try to lower some game visual settings, such as the Resolution.
Repeat the process for any other visual/graphics settings.
Relaunch the game and check if the problem is gone.
4. Close background apps
Hit the Windows key, type Task Manager, then click on the first shown result.
Be sure you're in the Processes tab.
Click on the app/program you don't use while running Fallout 4, then tap on the End task button.
Follow the same steps for each unnecessary app/program.
Relaunch the game, then check if the crash is gone.
5. Temporarily disable Microsoft Defender or any antivirus software
Press on the Windows key, type Control Panel, and open the first result.
Navigate to System and Security.
Click on Windows Defender Firewall.
From the left window pane, choose to Turn Windows Defender Firewall on or off.
Make sure you checkmark the two options shown in the picture below.
6. Reinstall the game
Hit the Windows key, type Control Panel, then click on the first result.
Now, under the Programs section, click on Uninstall a program.
In the shown list, search for Fallout 4, then click on it, and press on the Uninstall button.
Download again the game, install it, then choose if the issue persists.
Related articles:
So, these are the best workarounds you can try in case of facing a Fallout 4 crash while trying to enjoy your favorite masterpiece.
We hope that our guide helped you get back in the game. In case of encountering additional questions, make sure you leave a comment in the section below.
If you encounter any issues or errors while playing your favorite games and require support, feel free to contact us here. Our team is always ready to assist you and ensure your gaming experience is seamless and enjoyable.