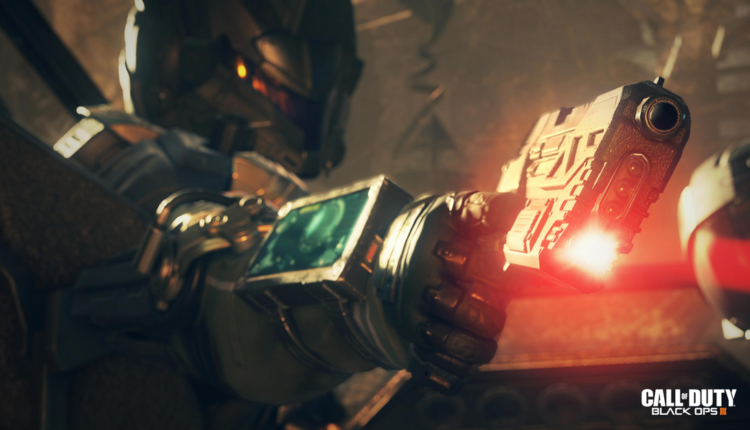 How to Fix Call of Duty: Black Ops 3 Errors, Crashes, Freezes, Performance Issues: Low FPS, Lag
Call of Duty Black Ops 3 was released today and many people were excited by the new entry in the CoD series. This is the twelfth entry in the Call of Duty series and the sequel to the 2012 video game Call of Duty: Black Ops II. Players now are deployed into a future where bio-technology has enabled a new breed of Black Ops soldier.
Like most of the game now, this one too comes with a few errors and issues that are making the game unplayabale and annoys many players. The most common Call of Duty Black Ops 3 errors reported by gamers are: Crashes, Freezes, Performance Issues like Low FPS, FPS Drops and Lag, Stuttering. Below you can see these errors details and you will also find solutions on how to fix them.
Update: If you are looking for a guide on how to fix the issues in the new Call of Duty: Infinite Warfare, check this guide here.
How to fix Call of Duty Black Ops 3 Errors:
1) Call of Duty Black Ops 3 Crashes, for some players the game crashes randomly when they are playing or in menus before the gameplay part.
"When I enter the matchmaking screen where it showed every one's character face that one or maybe that is the loading screen before the game, it crashes and I am unable to play the game."
"The game just simply crashes and does not say anything else but just simply crash. It's really  frustrating as I really quite like this game and I can't play it. Someone knows any solutions?"
Solution: To fix your crashes follow our tutorial at the end of the post, in which we help you fix the major issues of the game.
2) Call of Duty Black Ops 3 Freezes, you might get random freezes during the game and you simply can do anything and you will need to restart your PC or force close the game.
"My game freezes at a random point in game every time. Please help me, I can't even rank up and every time I need to force close the game."
"So me and multiple different people have the same problem, Every 15-20 min the game would just randomly freeze. After which i have to close down the game with the task manager. Kinda getting annoying, anyone found a fix for this ?"
Solution: We saw a lot of freezes on consoles. To fix them exit to the home screen, use the menu button and then quit the game on Xbox One. You can also try turning your Xbox One or PS4 completely off to see if that solves the issue. You can also use our tutorial at the end of the post to fix the PC freezes.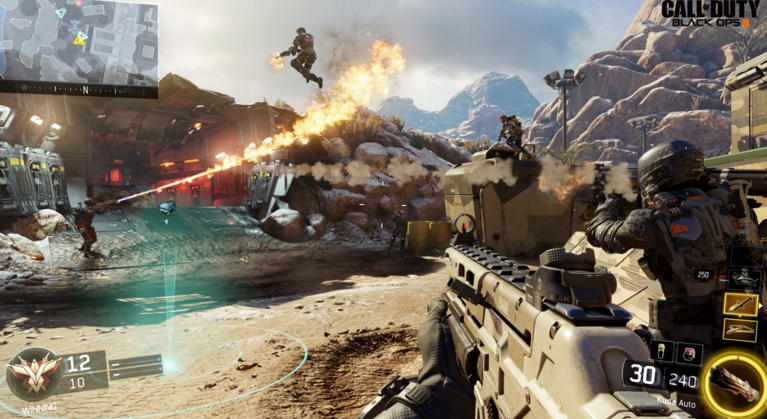 3) Call of Duty Black Ops 3 Performance Issues, these issues are Lag, Stuttering and Low FPS or FPS Drops. A lot of users reported that these issues are the most common and they are making the game unplayable and annoying.
"This game is terrible optimized, I can only run on Medium Settings and I have a very good PC, if I try to run on high settings,it gets about 30 fps and every 10 minutes it freezes or crashes."
"I really had high hopes for Treyarch this year. The beta actually ran well, but I just tried to do the first Campaign mission and Jesus Christ… Constant drops, 2 second mouse lag in some parts. So i dropped everything down to the bare bones and it ran a bit better, but looked like crap."
"I have a mid range GPU (Nvidia Gtx 680) and a pretty good CPU (intel i7-3770) but My performance is all over the shop. I can't maintain a constant frame rate at all. It dips in gunfights from 80 to 52, which I lose because of that and feels stuttery. Started with my settings of Ultra and worked my way down with no noticeable result. Currently on medium settings with a few settings off entirely and it still dips and stutters."
Solution: Turn off Mouse Acceleration and Mouse Filtering in the settings. Turn Vsync off. If you're using an Nvidia graphics card, be sure to install the GeForce hotfix driver 355.80. If this workarounds are not working for you, check our tutorial below.
Call of Duty: Black Ops 3 Tutorial to Fix Major Issues:
Our team of developers managed to release a patch that helps you fix the errors described above. You can see how our patch looks like below, where you can also find a tutorial on how to use it and a download link. Please follow the tutorial step by step before asking any questions regarding your issues. Our patch won't interfere with your Steam account, it will just change some files and .dll in the game folder in order for the errors to be fixed.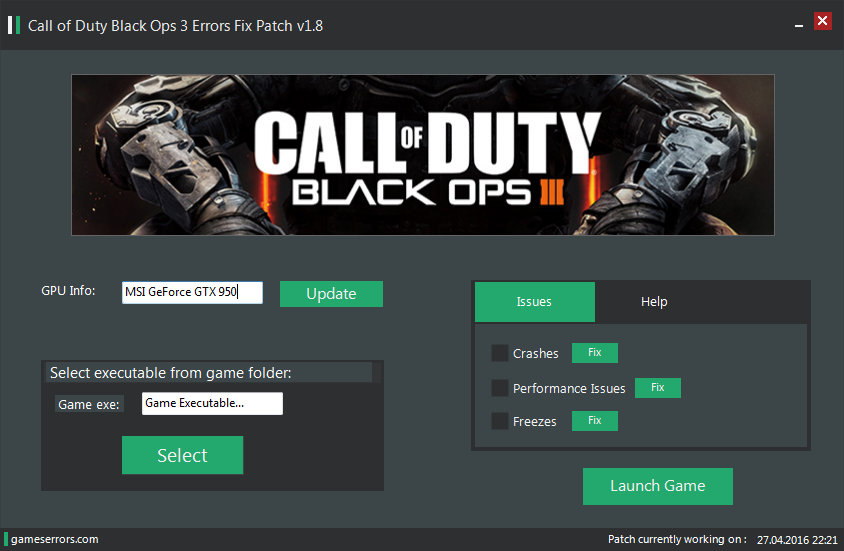 Follow the tutorial below to apply the patch correctly to your game.
How to apply our patch:
Download the archive of the patch from here: download
 Extract the downloaded archive on your PC, and open the patch from the folder.
Your GPU will be selected automatically, make sure that you use your dedicated GPU if you have a laptop!
Select the game executable from the game folder, if you used the default install folder it should be: "C:\Program Files (x86)\Steam\Steamapps\common\Call of Duty: Black Ops 3"
 Select your issue or issues from the box to the right and click the corresponding "Fix" button.
After your errors are successfully fixed you can click the "Launch Game" button and play the game.
How to download: Well, you might think that our download service is pretty annoying but is very effective. To download you just need to complete a simple offer, it usually takes a few minutes, and after that, you will be able to download the patch. We use this service because is the only way to support our developers and to keep releasing and updating patches for games. Thank you! We hope you understand us and have fun playing Call of Duty: Black Ops 3!
We hope that our patch helped you fix your Call of Duty Black Ops 3 Errors and that now you are playing and enjoying the game. If you have any issues or questions please comment below and our team will help you fix your game! – GamesErrors Team