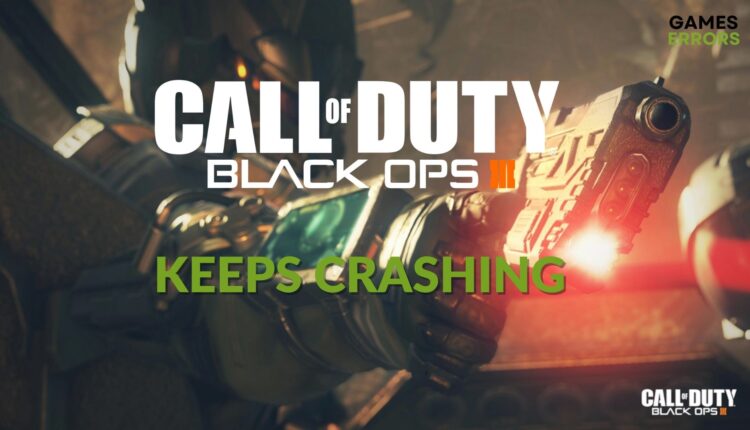 Black Ops 3 Keeps Crashing on PC: How to Fix
Is Black Ops 3 crashing on startup or mid game? We have the right fixes to stop crashing randomly🎯
X
INSTALL BY CLICKING THE DOWNLOAD FILE
Call of Duty Black Ops 3 is an infamous strategy and first-shooter game that many people were excited about since its launch.
Like most of the games now, this one comes too with a few errors and issues that are making the game unplayable. The most common Call of Duty Black Ops 3 issues reported by gamers are crashes or game freezes
For some players, Call of Duty Black Ops 3 crashes randomly when they are playing or in menus before the gameplay part.
💥 Why does Black Ops 3 keep crashing?
In most cases, Black Ops 3 crashes if you're running outdated GPU drivers or there are damaged system files in your game.
Also, if your PC doesn't meet at least the minimum system requirements to run the game could lead to crashes. Or your antivirus protection is blocking your game.
How do I fix Black Ops 3 from crashing on startup and mid-game?
1. Verify the game files' integrity
In the Steam app, go to the Library.
Right-click on the game and select Properties.

Repair the corrupted files.
2. Update the GPU driver
Select Display adapters and right-click on the device driver.
Restart your PC to complete the process.
Another viable method you can use is an automatic tool that will find, download, and update any of your drivers on your Windows PC in just a few clicks. We suggest
DriverFix 
for this job.
3. Disable the antivirus protection
Go to Virus & threat protection.
Select Manage settings under the Virus & threat protection settings.
Close the window and try your game.
4. End the background programs
Click on the Processes tab.
Select unused apps and right-click on them.
Close the window and start the game.
5. Run the game as an administrator
Enter CoD Black Ops in the search box to find the game location.
Right-click on the game and click Properties from the list.
Click Apply and OK to save the changes.
6. Reinstall the game
Even though you might think about this yourself, reinstalling the game can be the proper method to finally resolve crashes on this game.
Thus, you can uninstall the game right from the launcher or by removing it from your Windows PC from Programs and Features. 
It's likely as well to face different issues while playing this CoD Black Ops sequel game and we listed them below for your own knowledge and safety.
What are other issues with COD Black Ops 3?
You can find as well face different bugs while playing CoD Black Ops 3 that may generate game crashes, so check them out below.
➡ Call of Duty Black Ops 3 freezes, you might get random freezes during the game and you can do anything and you will need to restart your PC or force close the game.
➡ Call of Duty Black Ops 3 Performance Issues are lag, stuttering, and low FPS or FPS drops. A lot of users reported that these issues are the most common and they are making the game unplayable and annoying.
In conclusion, we hope that our methods support you fix Call of Duty Black Ops 3 crashes and that now you are playing and enjoying the game.
Related Post: How To Fix Call of Duty: Infinite Warfare Errors: Performance Issues, Crashes
If you have any issues or questions, please comment below and our team will help you fix your game.
If you encounter any issues or errors while playing your favorite games and require support, feel free to contact us here. Our team is always ready to assist you and ensure your gaming experience is seamless and enjoyable.