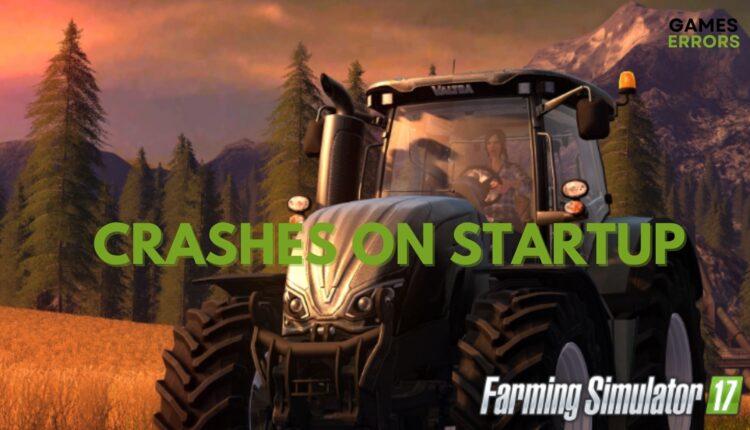 Farming Simulator 17 Crashes on Startup: How to Fix It
Keep an eye on the game's minimum specs and outdated problems as these can cause the crashing issue 💥
X
INSTALL BY CLICKING THE DOWNLOAD FILE
Farming Simulator 17 promises to bring the complete farming experience. Practically, you take the role of a modern farmer and immerse yourself in a huge open world loaded with new content.
Because the game is a simulator and because they have pretty complicated mechanics, you may encounter issues with Farming Simulator 17 keeps crashing on your PC.
The most common crashes that players complained about are Farming Simulator 17 crashes on startup, or randomly, but also launch and performance issues, that make the game impossible to start, and that eventually result in a crash.
We really appreciate your time! That's why we focus only on some of the most frequent problems of this game: crashes on the startup, and launching issues. We did all the necessary research in order to simplify your job and receive all the essential resources to fix your problem without wasting time reading other sources. Each of the suggested fixes was tested and they have all successfully solved the crashing and launching problems.
Why is Farming Simulator 17 crashing?
Farming Simulator 17 may crash due to multiple reasons. The most plausible reasons are that your PC doesn't respect the minimum system requirements of the game, your graphics card drivers are outdated and must be updated, conflicting software, corrupted game files, or overloaded system resources.
Farming Simulator 17 crashes on startup most frequently occur on Windows 10 and Windows 11.
The system requirements of the game are not that high so you can play it almost with any PC or laptop but please make sure that your PC meets them. Below you'll find the Farming Simulator 17's Minimum System Requirements:
OS: Windows 7, Windows 8, Windows 10
Processor: 2.0 GHz Intel or equivalent AMD dual-core processor
Memory: 2 GB RAM
Graphics: Nvidia Geforce GTS 450 Series, AMD Radeon HD 6770 graphics card or better (min 1GB VRAM)
Network: Broadband Internet connection
Storage: 6 GB available space
Additional Notes: INTERNET CONNECTION REQUIRED FOR THE ONLINE GAME
How to fix Farming Simulator 17 crashes on startup?
1. Update the video card driver
Expand Display adapters and right-click on the driver.
Restart your PC to complete the process.
If you require a time-saving method to update any drivers on your PC entirely safely, we suggest you try an expert software called
DriverFix
. This famous tool can scan your system quickly and detect outdated drivers, thus installing the latest version from its official and extensive database.
2. Run the game with admin rights
Search for Farming Simulator in the Windows search box.
Right-click on the game and choose Properties.
Select the Compatibility tab and click the Run this program as an administrator box.
Click on OK and close the window.
3. Fix the corrupted game files
Click on the Steam app and go to Library.
If there are corrupted files, continue to repair them.
Relaunch the game.
4. Turn off Steam Overlay
On Steam, click on Settings in the right-bottom panel.
Now, go to the In-Game tab.
Select OK and close the tab.
5. Update Windows
If there are new updates, click the Install Now button.
Wait until the updates are complete and restart your PC.
Additionally, it's likely that you will face other issues like launching errors and you have to be aware of how you can resolve them as well.
💻 Farming Simulator 17 won't launch on PC
When you try to launch the game nothing happens or you receive different errors saying that the game crashed.
For example, some players reported that when they click the Play button in the Steam Library and Farming Simulator 17 is not launching. To fix this issue and launch the game you need to follow our tips below.
Workarounds:
Restart Steam
Apply the latest Farming Simulator 17 update
Try running the game with admin privileges
Update GPU driver
We wish that you managed to fix all your Farming Simulator 17 errors by now and that you are enjoying the game. In case you're getting Farming Simulator 15 crashes, we also covered it in another practical guide.
If you still encounter some issues and you are unable to fix them, please reach out in the comments below.
If you encounter any issues or errors while playing your favorite games and require support, feel free to contact us here. Our team is always ready to assist you and ensure your gaming experience is seamless and enjoyable.