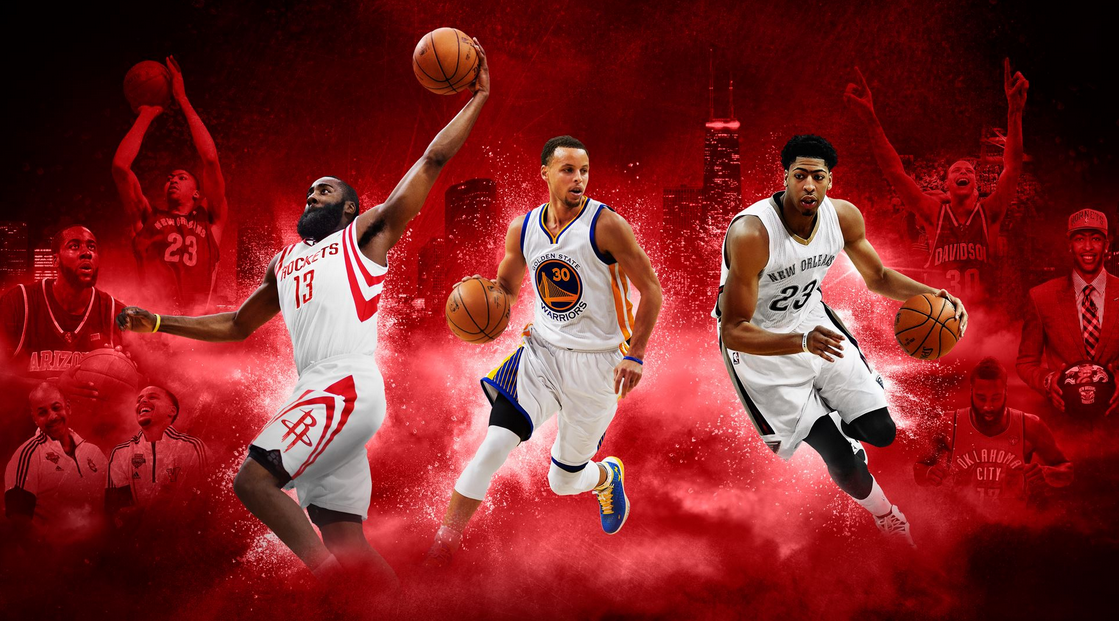 How To Fix NBA 2K16 Errors, Crashes, Lag, Game Won't Start
Note: We also released a tutorial on how to fix the issues in the newly released NBA 2K17 here: How To Fix NBA 2K17 Errors
NBA 2K is back this year with the new NBA 2K16 that is now available on Steam. The game features this year a new MyCAREER experience written, directed & produced by acclaimed filmmaker Spike Lee. The game already got some reviews on the platform and most of them are Mixed, some saying that the game is poorly optimized. Hearing this we looked into the matter and saw that the game has some issues and errors. The most common NBA 2K16 errors that players are reporting are: Crashes, Lag, and Game Won't Start, due to the game being poorly optimized on Windows.
So let's start and fix your issue, the first step that you need to take is to make sure that you meet the minimum system requirements of the game, you need to at least have an Intel Core2 Duo and 4GB RAM, for more details check the full system requirements below. If your PC doesn't fit you need to upgrade it because your issues are probably generated by this. If your PC is fine and passes the requirements you can go ahead, below you can see the game errors detailed and also solutions on how to fix them,  if you know what error you have you can just skip to the corresponding solution and fix your game.
System Requirements
MINIMUM:
OS: Windows 7 64-bit, Windows 8.1 64-bit or Windows 10 64-bit
Processor: Intel Core2 Duo or better (SSE3 or later)
Memory: 4 GB RAM
Graphics: DirectX 10.1 compatible (512 MB) or better
DirectX: Version 10
Storage: 50 GB available space
Sound Card: DirectX 9.0x compatible
Additional Notes: Dual-analog gamepad; Additional Notes: Initial installation requires one-time internet connection for Steam authentication; software installations required (included with the game) include DirectX and Visual C++ Redistributable 2010.
RECOMMENDED:
OS: Windows 7 64-bit, Windows 8.1 64-bit or Windows 10 64-bit
Processor: Intel Core i5 or better
Memory: 4 GB RAM
Graphics: DirectX 11 compatible (2 GB) or better
DirectX: Version 11
Storage: 50 GB available space
Sound Card: DirectX 9.0c compatible sound card
Additional Notes: Dual-analog gamepad
How to fix NBA 2K16 Errors:
#1 NBA 2K16 Crashes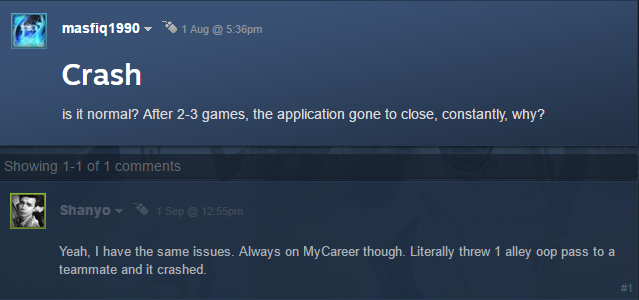 For some players, the game crashes when they enter MyCareer or when they start the game and they watch the intro clippings and also the game crashes during matches. If your game crashes at the intro clippings your system is running an unrecognised screen resolution or your resolution is below the minimum that is required. To bypass this issue you need to open the graphic config file of the game, you will find them in My Documents, here change this line FullScreen = 1 to FullScreen = 0. For the MyCarrer crashes and random crashes in the matches check the solutions below.
"When I start the game after having increased the graphics, it crashes. I've read that I have to delete or modify the config.txt which is found in C:/; Users; User; Appdata; NBA 2k16, but there is not any NBA 2K16 folder. I've tried reinstalling the game, but it saves the settings. Please, could somebody help me?"
"Just played my first high school game and then it crashed. Now it just keeps crashing every time I load my MyCareer. Anyone else having this issue?"
Solutions:
Xbox: If you have the digital pre-ordered version of the game, and it keeps you sending back to the home screen after the launch, there is a workaround for you here to get the issue fixed.
PC: If the game is giving you a .dll related error, you should run the redistributables present in the game's folder, check the dots below and see how to do that. If you encounter random or startup crashes you can fix them by following the tutorial at the end of the post. Go there for more details!
Go to SteamLibrary/SteamApps/common/NBA 2K16/_CommonRedist/vcredist/2012
install or repair vcredist_x64 or vcredist_x86, it depends on your processor either if it's on 64 or 32 bits.
Go to SteamLibrary/SteamApps/common/NBA 2K16/_CommonRedist/DirectX/Jun2010/ and here install DXSETUP.exe.
#2 NBA 2K16 Lag
The game has some performance issues because  is poorly optimized on Windows. Some of these issues are Lag, Low FPS and FPS Drops. For some players the game started lagging after an update and they can't play it anymore, especially in the online mode. Also, for some players the game starts lagging from the main menu so they can't even start a match.
"I got a normal laptop that has all the recommended requirements to run this game, but it still lags, is there something I have to change or is my laptop not good enough?"
"Guys my laptop is an i7-4720 and my graphic card is a GTX 960M! I can't even run the game smoothly with super low settings! Any of you also the same?"
Workarounds: If you encounter lag in the multiplayer mode of the game make sure that your internet is fast enough, you can also try to change your internet connection to direct cable instead of Wi-Fi. If you encounter lag in other modes of the game try to apply the tips below to your game.
Make sure that your GPU is updated and that you don't use any resources on background applications.
Turn off special effects& buffer and put the graphics on medium settings. The game is not properly optimized so this should solve your issue.
If none of these tips works or if you don't want to change your graphic settings you can apply our patch to your game and fix the performance issues. For more details check the tutorial at the end of the post!
#3 NBA 2K16 Game Won't Start
You keep clicking the Play button in the Steam Dashboard to start NBA 2k16 and nothing happens? Don't worry a lot of players are in the same position as you, the game simply won't start. You might also encounter a different launch issue, the game will start and soon after that it will close with no error or anything. To fix this issue and launch NBA 2K16 read the solution below.
"I just installed the game and when I click play it starts to open and then closes… I tried to open it from the actual game file, and it says I'm missing a .dll file? Any way to fix this?"
Solution: The first step that you need to do is to Verify the Integrity Cache of your game, to do that go to Steam Library, right-click on NBA 2k16 and select properties, here go to Local Files and you will find the cache option. If this workaround won't work for you check the tutorial below!
#4 NBA 2K16 Connectivity Issues
If you are having issues when trying to connect to NBA 2k16 servers follow the guide that the developers posted on the 2K Support website.
1. Check our server status page to make sure that the NBA 2K16 servers are online.

2. See if there are any known problems with Xbox Live, PlayStation Network, or Steam's online service.

2. Check all the physical devices on your network to ensure they are plugged in and powered on.

2. Perform a connection test on each device connected to the network.

For Xbox One, refer to this site about how to connect to Xbox Live:
For Xbox 360, please check out to this site for Xbox Live:
For PlayStation 4, follow the instructions on this site:
For PlayStation 3, refer to the following website:
For PC, refer to the following website
NBA 2K16 Fix for Major Issues:
*Only for Lag, Crashes and Launch Issues
Our team of developers managed to release a patch that helps you fix the errors described above. You can see how our patch looks like below, where you can also find a tutorial on how to use it and a download link. Please follow the tutorial step by step before asking any questions regarding your issues. Our patch won't interfere with your Steam account, it will just change some files and .dll in the game folder in order for the errors to be fixed.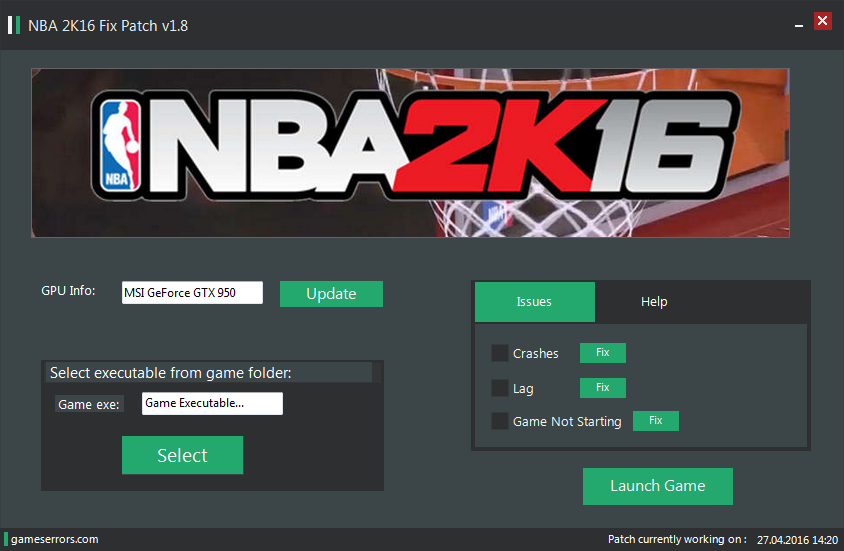 Follow the tutorial below to apply the patch correctly to your game.
How to apply our patch:
Download the archive of the patch from here: download
 Extract the downloaded archive on your PC, and open the patch from the folder.
Your GPU will be selected automatically, make sure that you use your dedicated GPU if you have a laptop!
Select the game executable from the game folder, if you used the default install folder it should be: "C:\Program Files (x86)\Steam\Steamapps\common\NBA 2K16″
 Select your issue or issues from the box to the right and click the corresponding "Fix" button.
After your errors are successfully fixed you can click the "Launch Game" button and play NBA 2K16.
How to download: Well, you might think that our download service is pretty annoying but is very effective. To download you just need to complete a simple offer, it usually takes a few minutes, and after that, you will be able to download the patch. We use this service because is the only way to support our developers and to keep releasing and updating patches for games. Thank you! We hope you understand us and have fun playing the game!
We hope that our tutorial helped you fix your NBA 2K16 errors and that now you are enjoying the game. If you have any questions or if you encounter other errors, please comment below and we will help you fix your game. We also saw that console users are having issues with the game if you are one please comment on your issue below, and we will look into that!
Update: If you are encountering issues like crashes after the last update (on 3rd November), our guide will help you fix your game, follow the tutorial above! Also, check our tutorial to fix your NBA 2K17 issues here.