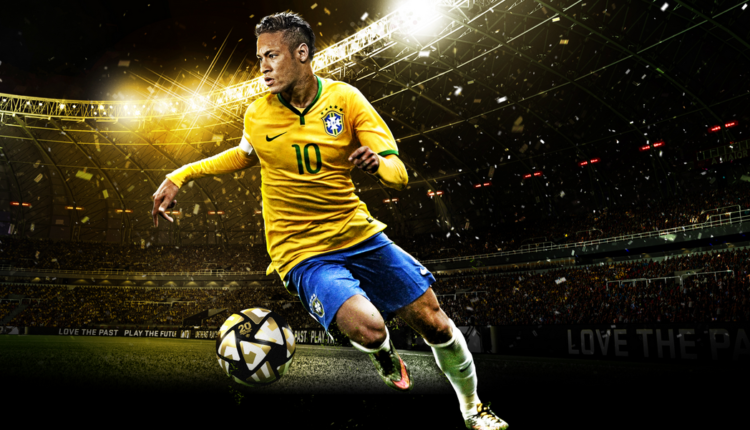 How To Fix PES 2016 Errors, Crashes, Lag, Black Screen, FPS Issues
Update: For a tutorial on how to fix the errors in the newly released PES 2017 go here.
Pro Evolution Soccer 2016 was released this week and by now it got some pretty bad reviews on Steam and other sites. That's mainly due because the game has some issues and glitches, most of them coming from the fact that the game is a port of PC from the Xbox and PlayStation versions. The most common PES 2016 Errors are Crashes, Lag, Stuttering, FPS Drops and Black Screen. Below you can find these errors detailed and also a tutorial on how to fix them and play the game without any issue.
To fix your issues you must first check the system requirements below and make sure that you meet the minimum one. After that, go ahead and find your issue in the errors list below, where you will also find workarounds and solutions for each issue.
System Requirements:
MINIMUM:
OS: Windows 10 / 8.1 / 8 / 7 SP1 / Vista SP2
Processor: Intel Core 2 Duo @ 1.8 GHz (AMD Athlon Ⅱ X2 240 or equivalent processor)
Memory: 1 GB RAM
Graphics: nVidia GeForce 8800 / ATI Radeon X1600 / Intel HD Graphics 3000 or better
DirectX: Version 9.0c
Storage: 9 GB available space
Sound Card: DirectX 9.0c Compatible sound card
RECOMMENDED:
OS: Windows 10 / 8.1 / 8 / 7 SP1 / Vista SP2
Processor: Intel Core i3 530 (AMD Phenom Ⅱ X4 925 or equivalent processor)
Memory: 2 GB RAM
Graphics: nVidia GeForce GTX 260 / ATI Radeon HD 4850 / Intel HD Graphics 4000 or better
DirectX: Version 9.0c
Storage: 9 GB available space
Sound Card: DirectX 9.0c Compatible sound card
How To Fix PES 2016 Errors:
#1 PES 2016 Crashes
For some players, the game crashes to desktop when they try to start it, or it crashes randomly in the game when they are playing a match. Others, like the player below, also complained about a crash to desktop when he tries to connect to the game servers. There are some reports about crashing after changing the game settings; you can easily fix this and all the crashes of the game by following our solution below.

"Hi, my game is crashing to desktop whenever it's trying to establish the connection to the servers. Is there a fix for this? Anyone else having this problem? I don't see anyone posting about this. Thanks."
Solution: To avoid the random crashes in the game or the crashes to the desktop you should disable all third party applications that might interfere with the game and cause a crash, like screen recorders and other apps. A better and easier way to fix the crashes, if you don't know which third party apps to close, is to use our patch. For more details go to the tutorial at the end of the post!
#2 PES 2016 Black Screen
You might experience a black screen with the sound running in the background when you try to start the game. Usually, this black screen appears after the KONAMI logo and you are unable to continue the game from here.
"I get a black screen after the KONAMI logo and I am unable to play the game, please help me!"
Solution: If you are experiencing this issue at the startup of the game with sound running in the background, make sure that you are running the game in the same resolution as your desktop resolution. You can change that through "settings.exe". Refresh rate could also cause the black screen so you should check that too.
If the solution above doesn't work for you, try to apply our tutorial at the end of the post. Go there for more details on how to fix the black screen issue!
#3 PES 2016 Lag/FPS Drops
Some users are experiencing Lag or FPS Drops and their game looks like it's lagging or shirking and sometimes it's impossible to play. This is apparently the most encountered issue in the game, a lot of players are complaining about performance issues that are making the game unplayable. Read what other players say about this issue below and check the workarounds to fix them.
"Hi, I am playing on GT840 and have 45-60 FPS. But the game looks like it's lagging or shirking. I turned VSync ON but it didn't help at all. Any ideas ?"
"I have a GTX 870M 4GB, 16 GB RAM, Windows 10 and at some points during the game, the FPS goes below 30, especially at times when there is allot of players on the screen, anyone else had the same issue? Does anyone know how to deal with it?"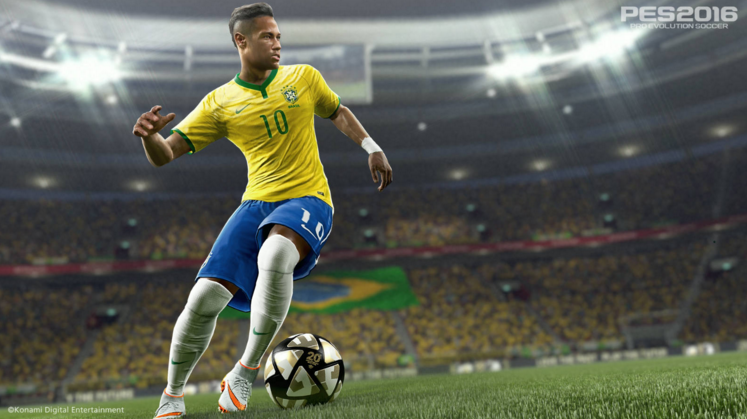 Workarounds: 
If you are using a Nvidia graphics card, change the following settings from the Nvidia panel:
Maximum pre-rendered frames: 4
Multi-display/mixed-GPU acceleration: Single display performance mode
Power management mode: Prefer maximum performance
Triple buffering: On
Vertical Sync: On
If you were unable to fix the performance issue with the workaround above you can try to apply our patch to your game. It will optimize your FPS and after that, the game will run smoothly. For more details on how to optimize your game go to the end of the post.
#4 PES 2016 Always Online Issue
You can't play the game while being offline, you will need a working internet connection to play it. At this time, you can't fix this issue and you will be always online when you play the game.
#5 PES 2016 Xbox Controller Issues
You might encounter some issues if you play the game with your Xbox controller. It seems like the DirectInput of the controller is not working, you need to use the XInput instead.
Go to settings.exe, Input method: XInput instead DirectInput, Choose device: XBox One Controller, and after that the layout will appear.
#6 PES 2016 Can't Connect to the Server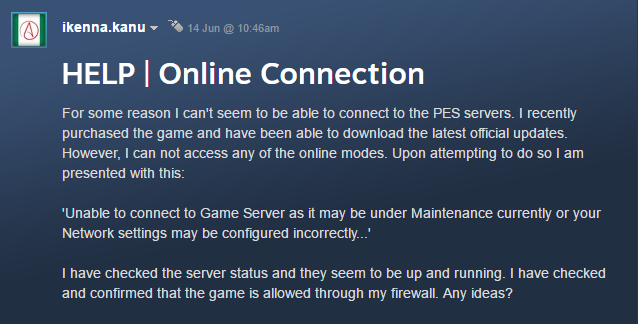 If you are encountering this issue during the launch of the game you need to wait a little bit until the developers fix the servers, or maybe they are full at the moment, and this is the reason that you are unable to connect. Also, make sure that you disable your firewall or add an exception for the game so it won't block the connection with the server.
#7 PES 2016  1920×1080 Resolution Issue
If you are unable to change your resolution to 1920×1080 from settings.exe you should right-click this .exe and go to Properties in compatibility tab, here check the option that says "Disable Digital scaling on high DPI settings".
How To Fix PES 2016 Major Issues:
* Only for Crashes, FPS Issues and Black Screen
Our team of developers managed to release a patch that will help you fix the errors described above. You can see how our patch looks like below, where you can also find a tutorial on how to use it and a download link. Please follow the tutorial step by step before asking any questions regarding your issues. Our patch won't interfere with your Steam account, it will just change some files and .dll in the game folder in order for the errors to be fixed.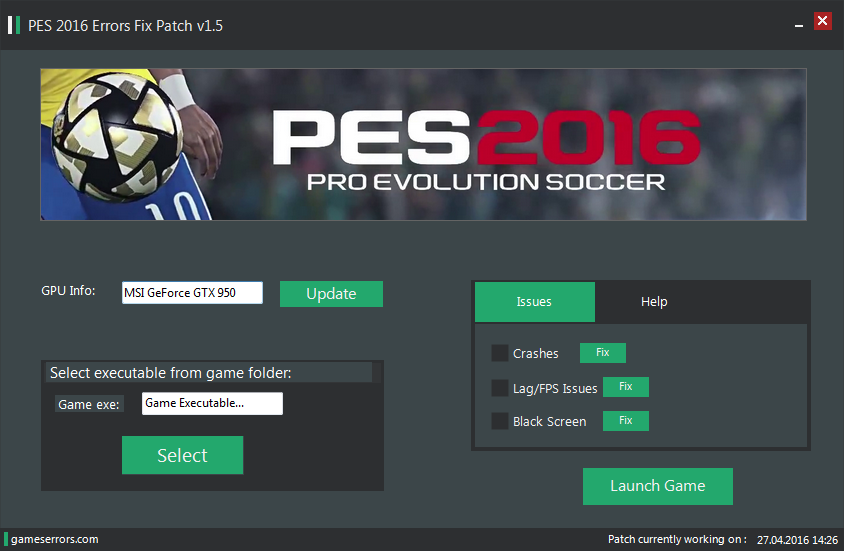 Please follow the tutorial below step by step to apply the patch correctly to your game!
How to apply our patch:
Download the archive of the patch from here: download
 Extract the downloaded archive on your PC, and open the patch from the folder.
Your GPU will be selected automatically, make sure that you use your dedicated GPU if you have a laptop!
Select the game executable from the game folder, if you used the default install folder it should be: "C:\Program Files (x86)\Steam\Steamapps\common\Pro Evolution Soccer 2016"
 Select your issue or issues from the box to the right and click the corresponding "Fix" button.
After your errors are successfully fixed you can click the "Launch Game" button and play PES 2016.
How to download: Well, you might think that our download service is pretty annoying but is very effective. To download you just need to complete a simple offer, it usually takes a few minutes, and after that, you will be able to download the patch. We use this service because is the only way to support our developers and to keep releasing and updating patches for games. Thank you! We hope you understand us and have fun playing PES 2016!
We hope that your guide helped you fix your PES 2016 errors and that now you are playing the game. If you have any questions or any other errors please contact us with a comment below and we will help you fix your game.