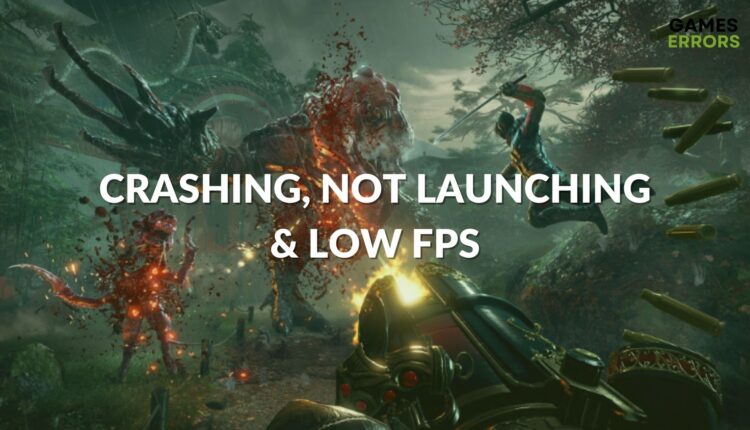 Shadow Warrior 2 Crashing, Not Starting, Low FPS: How to Fix
Many players can't play Shadow Warrior 2 due to crashing or other problems, so follow us to finally fix it
X
INSTALL BY CLICKING THE DOWNLOAD FILE
Shadow Warrior 2 is a first-person shooter developed by the indie studio Flying Wild Hog, available for PC, PlayStation 4, and Xbox One.
Apparently, the game received a lot of positive reviews on Steam, but a lot of players are complaining about Shadow Warrior 2 crashing issues that are making the game unplayable.
The most common issue is that players are unable to start the game at launch. Other problems that players are reporting are crashes and performance issues such as FPS drops, low FPS, and stuttering.
If your PC can run the game, you are good to go and you can start fixing your issues, if not you need to upgrade it because that's why you are encountering the error in the first place.
Below is the list of the most common issues that players complained about. For each issue, you have a workaround or a definite solution on how to fix it.
The first step that you need to take is to verify if your PC meets the minimum system requirements of the game.
Shadow Warrior 2 system requirements
MINIMUM SYSTEM REQUIREMENTS:
OS: Windows 7/8/8.1/10 x64
Processor: Intel Core i3-6300 (2 * 3800) or AMD A10-5800K APU (4 * 3800) or equivalent
Memory: 8 GB RAM
Graphics: GeForce GT 560Ti (1024 MB) or Radeon HD 6850 (1024 MB) or better
Network: Broadband Internet connection
Storage: 14 GB available space
RECOMMENDED SYSTEM REQUIREMENTS:
OS: Windows 7/8/8.1/10 x64
Processor: Intel Core i5-5675C (4 * 3100) or AMD A10-7850K APU (4 * 3700) or equivalent
Memory: 8 GB RAM
Graphics: GeForce GTX NVIDIA GeForce GTX 970 / ATI Radeon R9 290 with 4 GB of Video Memory (4096 MB) or Radeon HD 7970 (3072 MB)
Network: Broadband Internet connection
Storage: 14 GB available space
1. Shadow Warrior 2 Crashing
For some players, the game randomly crashes while they are playing, or even gets the Shadow Warrior 2 crash on the loading screen.
Others reported that the game keeps crashing before reaching the main menu or a crash on startup that makes the game impossible to play.
If you are one of the players that are encountering crashes and you are unable to get past the main menu or save any progress go ahead and check our solutions below to fix this issue:
Restart the game – Before trying more complex methods, make sure that your game has regular crashes by restarting it.
A faster and safer way is to utilize the most efficient driver updater tool Driverfix. It will scan your PC entirely and update any drivers in very short moments.
Run the game as an administrator – Access the game installation folder → Right-click on the game and select Properties → Tick the box that says Run the game as an administrator and click Apply and OK to save.
2. Shadow Warrior 2 not starting
This is the most common error that players are complaining about. They click Play in the Steam Library and the Shadow Warrior 2 is not starting.
For others, the game starts for a few seconds but they only see a black screen and after that, it closes but Steam is saying that they are still playing the game and it's counting seconds. To fix these issues regarding Shadow Warrior 2 not launching, you can try out the method below.
Workarounds:
Try reinstalling everything from the game's redist folder as an Admin
To fix this issue go to

C:\Users\*\Saved Games\Flying Wild Hog\Shadow Warrior 2\profiles\steam_*/config.cfg

, here find line:

r_fullscreen_monitor 0

and change it to (or add it if it's not there):

r_fullscreen_monitor 1

. 
If you are running Windows 10 N version and the game doesn't start, you can try installing Media Feature Pack
Install the 'Media Feature Pack for N and KN versions of Windows 10' KB3133719 from https://www.microsoft.com/en-us/download/details.aspx?id=53356. Restart PC, Windows will be updating. After that, the game can be launched.
3. Shadow Warrior 2 performance issues: FPS drops, low FPS & stuttering
The game is unplayable for a lot of players because of the Shadow Warrior 2 FPS drop and the annoying stuttering encountered in the game.
Players with an i7 processor and GTX 980ti graphic card are complaining about low fps and stuttering in the game.
As you can see, the problem is not because their PC is weak but because the game is poorly optimized. To fix this issue and optimize the game follow the solution below.
Workarounds:
Install the latest NVIDIA Driver version 373.06, which is already optimized for Shadow Warrior 2
Try setting vertical sync to "Fast" in the Nvidia Control Panel
Change the game settings from Fullscreen Window to Fullscreen
4. Shadow Warrior 2 network error
Another issue that may occur while playing this awesome game is connection issues prevent the players to access the game servers.
However, some gamers suggested that a quick fix for this would be to close any overlay applications such as Discord, as it may interfere with your network while playing this game.
Shadow Warrior 2 graphics settings
Below you can find the graphics settings of the game for the NVIDIA graphic card. You can use the settings below for a slight improvement in frame rate and performance overall.
NVIDIA Multi-res Shading
Supported only on 9xx and 10xx. Lowers resolution on screen borders. Use for increasing performance, at slight image quality hit.
Disabled – normal rendering
Conservative – small image quality decrease and medium performance gains
Aggressive – medium image quality decrease and high-performance gains
HDR Display
Supported only on HDR-compatible displays (currently only UHD TVs). Works only in exclusive full-screen mode (set display mode to "full screen"). Allows for displaying a wider range of colors and luminance ranges on those TVs.
Resolution Scale Slider
Allows to scale the game's resolution, while keeping native UI resolution. If set to >100% it results in a super-sampled image.
Let's hope that by now you managed to fix all your Shadow Warrior 2  issues and that you are enjoying the game. If you still encounter some issues, and you are unable to fix them, please comment below.
If you encounter any issues or errors while playing your favorite games and require support, feel free to contact us here. Our team is always ready to assist you and ensure your gaming experience is seamless and enjoyable.