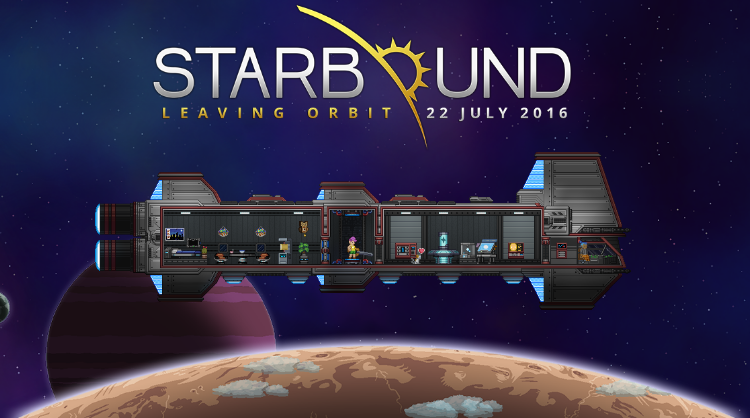 How To Fix Starbound Errors, Not Starting, Crashes, FPS Issues
Starbound was released yesterday, 23 July, on Steam and a lot of players are complaining about issues in the game and writing bad reviews because of that. Although the game has a lot of positive reviews, with a total of over 50.000 reviews, some players are encountering Starbound errors like the game is not starting, crashes or FPS issues.
You've fled your home, only to find yourself lost in space with a damaged ship. Your only option is to beam down to the planet below and gather the resources you need to repair your ship and set off to explore the vast, infinite universe…
Our team released a guide to help you fix the Starbound errors and other minor issues of the game. Make sure that you meet the system requirements below and after that, you can go ahead and fix your issue, you can find it in the list below. If you can find your issue there please comment below and we will help you fix your game.
MINIMUM:
OS: Windows XP or later
Processor: Core 2 Duo
Memory: 2 GB RAM
Graphics: 256 MB graphics memory and directx 9.0c compatible gpu
DirectX: Version 9.0c
Network: Broadband Internet connection
Storage: 3 GB available space
RECOMMENDED:
OS: Windows XP or later
Processor: Core i3
Memory: 4 GB RAM
Graphics: Discrete GPU capable of DirectX 9.0c
DirectX: Version 9.0c
Network: Broadband Internet connection
Storage: 4 GB available space
Starbound Errors:
#1 Fullscreen & Higher Resolution Issues
For some players with bigger resolutions, a part of the screen is not working and they are unable to use it. A user on the Steam Dashboard posted a fix for this issue and you can find it below.
GO TO – C:\Program Files (x86)\Steam\steamapps\common\Starbound\win32

"Right click the game's .exe, click on Properties and under the Compatibility tab check the box next to "Disable Display Scaling On High DPI Settings". This always solves the problem for me!"

Also, if you have a x64 OS try to use the workaround below.

From desktop, right clicked, went to resolution settings, from there was a link to change text size & I set it back to the default small/normal setting. Making this change required me to have to log off my user profile & log back in to take effect which I did. Upon doing so & relaunching the game via steam, everything was fine, full screen worked great & was able to set to full 2560×1440 resolution with no probs & spent a few hours with a friend in game. I have windows 7 so Im not sure if this will apply to other OS but I know for me it was a God send of a fix.
#2 Starbound Not Starting

There are a lot of issues at the startup of the game, for some players the game doesn't start and nothing happens, the client doesn't appear and others receive an error like the one below.
"I've tried reinstalling it but whenever I launch it it won't even bring up the client. Nothing happens. It shows me on steam that I'm in game for like a second but then it stops. What do I do?"
Workaround: To fix this issue and the error below, you can try and delete the whole Starbound folder and reinstalling the game via Steam but a better solution is to fix our tutorial at the end of the post and by applying our workaround you will be able to start the game in a few minutes.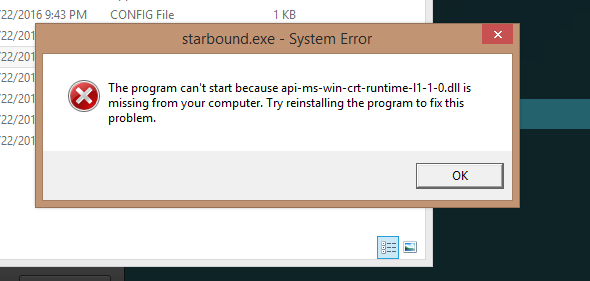 #3 Starbound Crashes
These days crashes are a very common issue for games, in the first weeks after the launch. Players reported that Starbound crashes randomly through the game or at startup and they are unable to play the game for more than 10-20 minutes without a crash.
"I launch the game, chuclefish logo comes up and laughs at me, then hard crashes without saying anything. What to do?"
Solution: To fix the crashes and play the game for more than 10-20 minutes at a time go ahead and apply our workaround from the end of the post, you will find there a tutorial that will help you fix the game crashes.
#4 Starbound FPS Issues
This is the most common Starbound issue, a lot of players are complaining about FPS issues and screen tearing or other performance issues.
"Like almost everyone else having problems, I too couldn't get starbound to work after obliterating it from my laptop and reinstalling. After spending all day doing windows updates and trying to fix the C++ issue I *finally* got it working, only to run the game with jittery framerate jumping between 60fps when I'm not moving on my ship and 15-20 FPS whenever I do anything, simple things like walking around on the planet. On top of that there seems to be screen tearing problems too. What happened to the game?? I played it a while ago and it ran very well but now the 1.0 release is full of problems?? I was planning on just playing it on my laptop so I wouldn't have to go to the trouble of starting up my gaming Pc but at this rate its darn close to unplayable on my laptop…"
Solution: A simple way to optimize the game and fix the FPS issues and other performance issues of the game you can follow our tutorial below and apply it to your game, after that you should have constant FPS and no other errors.
How To Fix Starbound Errors Tutorial:
Our team of developers managed to release a patch that helps you fix the errors described above. You can see how our patch looks like below, where you can also find a tutorial on how to use it and a download link. Please follow the tutorial step by step before asking any questions regarding your issues. Our patch won't interfere with your Steam account, it will just change some files and .dll in the game folder for the errors to be fixed.
Follow the tutorial below to apply the patch correctly to your game.
How to apply our patch:
Download the archive of the patch from here: download
 Extract the downloaded archive on your PC, and open the patch from the folder.
Your GPU will be selected automatically, make sure that you use your dedicated GPU if you have a laptop!
Select the game executable from the game folder, if you used the default install folder it should be: "C:\Program Files (x86)\Steam\SteamApps\common\Starbound".
 Select your issue or issues from the box to the right and click the corresponding "Fix" button.
After your errors are successfully fixed, you can click the "Launch Game" button and play the game.
How to download: Well, you might think that our download service is pretty annoying but is very effective. To download you just need to complete a simple offer, it usually takes a few minutes, and after that, you will be able to download the patch. We use this service because is the only way to support our developers and to keep releasing and updating patches for games. Thank you! We hope you understand us and have fun playing Starbound!
We hope that your tutorial helped you fix your Starbound errors and bugs, if you encounter any other issues in the game or if you don't know how to apply the patch to your game, comment below or use our contact page and we will help you fix your game. –GamesErrors Team