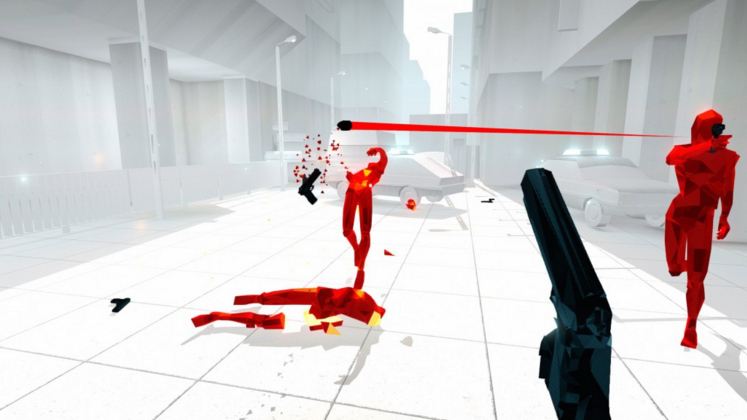 How to Fix SUPERHOT Errors, Crashes, Not Starting, Performance Issues
SUPERHOT is a new first person shooter with an amazing concept, time moves only when you move, I find this idea very exciting and the gameplay was amazing although the game has some issues.
The most common SUPERHOT errors and bugs that players reported, I found them on the game's Steam Dashboard are Crashes, the game is Not Starting, Black Screen and Performance Issues like Low FPS, FPS Drops, Lag and others that are making the game unplayable.
But don't worry, you can fix these errors by following our tips and solutions below. Now I will describe the errors and give you some quick workarounds and solutions to fix your game and play it!
How to Fix SUPERHOT Errors:
1. SUPERHOT Crashes, are encountered by a lot of players, during the game or when they try to start the game.
"I seem to be getting regular crashes at certain levels – mostly when I throw a katana. Anyone else seeing a lot of crashes?"
"Hey guys, so I played through most of SUPERHOT no problem, but near the point where you go to hot-swap into the core, the game just started crashing"
"Everytime anything other than characters walking, there's a chance to crash. Like, a guy shoots a gun, nothing happens. Then another guy shoots, hard crash. This happens for nearly everything in the game."
Solution: To fix the game crashes you need to delete a save file that might be corrupted. You can find this file here AppData/LocalLow/SUPERHOT_Team/SUPERHOT it's super.hot. Make sure that you have the hidden folders option enabled in Folder Options from Control Panel.
2. SUPERHOT Can't Change or Select Monitor, the developers of the game gave a quick solution for this issue, follow it below to change the monitor.
Solution: 
"Hold shift when you click START SUPERHOT and it should bring up a config window.
Select your monitor there.
Soon there will be more obvious method to do this."
3. SUPERHOT Not Starting, for some players the game won't even start or they encounter a black screen. When clicking Play in the Steam library nothing happens or you encounter some errors or a black screen. To fix this error follow the solution below.
"So I have been playing this game for 2 days now and when I left the game and came back later I tried to open the game it just pulls up a black screen nothing more nothing less."
"I am unable to start the game. Nothing happens.. Why, how to fix this?"
"I try starting the game in many different sizes and different compatibility modes but after the newest 2/26/2106 patch update, I just get a black screen on startup. Nothing more."
Solution: Try to start the game from the Steam folder:
Steam\steamapps\common\SUPERHOT – and double-click on SH.exe
4. SUPERHOT Performance Issues, the most annoying issues in the game, and the one that I encountered several times while I was testing the game, are fps drops, low fps and lag. Thanks to our developers you can fix this issues too by following the tutorial below.
"I have an I5-3570K, GTX 970 and 8gb of RAM. A game like this shouldn't have these problems. I've already verified game cache. Why the hell am I getting <30FPS and stutters on a game made completely of white textures and some red guys while I get 60FPS with no stutters in every other far more graphically superior games?"
"After downloading the patch that was just released, FPS dropped from smooth 120+ to a 20 fps crawl at worst graphics settings, 15 at best. Any way to fix this ?"
Solution: 
While launching SUPERHOT, you get a red window which gives you option to choose resolution and whether or not the the game to shown on fullscreen.
Once you set that, next click on START SUPERHOT while pressing Shift
That should help increase the FPS.
SUPERHOT Fix Patch for Major Issues:
Our team of developers managed to release a patch that helps you fix the errors described above. You can see how our patch looks like below, where you can also find a tutorial on how to use it and a download link. Please follow the tutorial step by step before asking any questions regarding your issues. Our patch won't interfere with your Steam account, it will just change some files and .dll in the game folder in order for the errors to be fixed.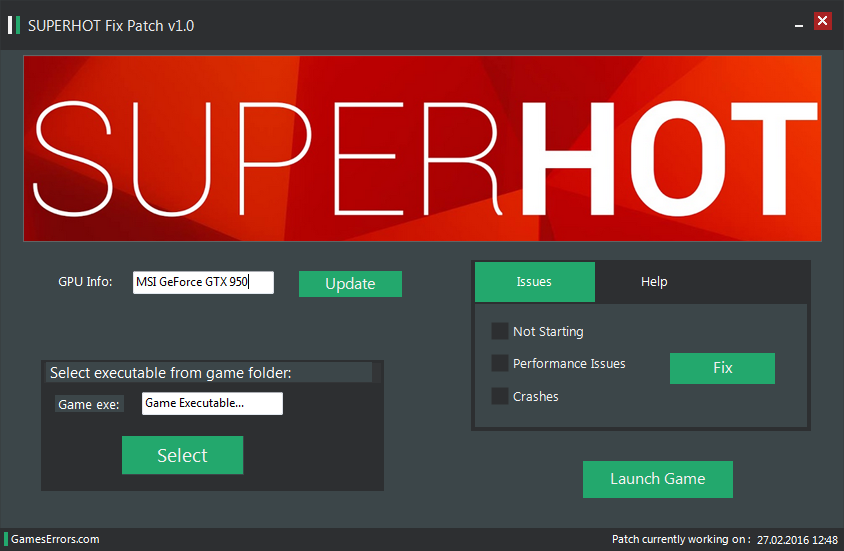 Follow the tutorial below to apply the patch correctly to your game.
How to apply our patch:
Download the archive of the patch from here: download
 Extract the downloaded archive on your PC, and open the patch from the folder.
Your GPU will be selected automatically, make sure that you use your dedicated GPU if you have a laptop!
Select the game executable from the game folder, if you used the default install folder it should be: "C:\Program Files (x86)\Steam\Steamapps\common\SUPERHOT"
 Select your issue or issues from the box to the right and click the corresponding "Fix" button.
After your errors are successfully fixed you can click the "Launch Game" button and play the game.
How to download: Well, you might think that our download service is pretty annoying but is very effective. To download you just need to complete a simple offer, it usually takes a few minutes, and after that, you will be able to download the patch. We use this service because is the only way to support our developers and to keep releasing and updating patches for games. Thank you! We hope you understand us and have fun playing SUEPRHOT!
We hope that our tutorial helped you fix your SUPERHOT errors and that now you are playing and enjoying the game. If you encounter any issues or if you have questions please use the comment section below and we will help you fix your game. – GamesErrors Team