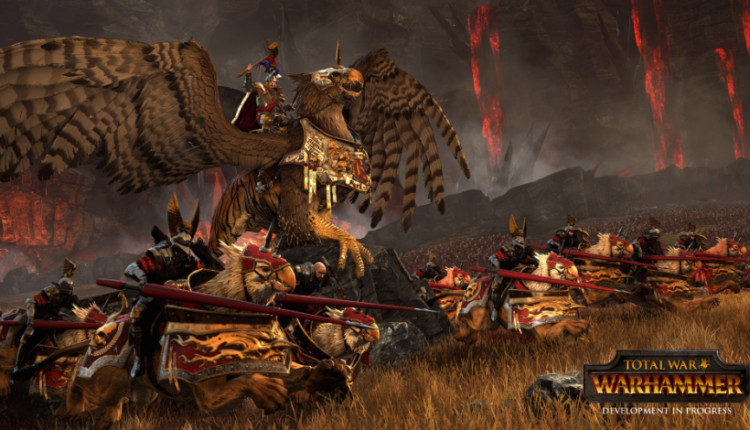 X
INSTALL BY CLICKING THE DOWNLOAD FILE
Total War: WARHAMMER is now available on Steam and a lot of players are complaining about issues in the game. Apparently, most of them can't even start the game and they are unable to play it because of this bug. The game is an addictive turn-based empire-building with colossal, real-time battles, all set in a world of legendary heroes, giant monsters, flying creatures and storms of magical power.
The most encountered Total War: WARHAMMER errors that players reported on the games forum are Game Not Starting, Crashes (including some weird APP Crash), Freezes and other performance issues, some related to a black screen and some to the resolution of the game.
A fantasy strategy game of legendary proportions, Total War: WARHAMMER combines an addictive turn-based campaign of epic empire-building with explosive, colossal, real-time battles, all set in the vivid and incredible world of Warhammer Fantasy Battles.
To fix the Total War: WARHAMMER issues, first make sure that you meet the minimum system requirements of the game. You can find these requirements below. If your PC is compatible with the game go ahead and check our solutions for the game issues below, if not please try to upgrade your PC first.
MINIMUM:
OS: Windows 7 64Bit
Processor: Intel Core 2 Duo 3.0Ghz
Memory: 3 GB RAM
Graphics: (DirectX 11) AMD Radeon HD 5770 1024MB / NVIDIA GTS 450 1024MB / Intel HD4000 @720p
DirectX: Version 11
Storage: 35 GB available space
Additional Notes: *PC Integrated graphics chipsets require 4 GB RAM, e.g. Intel HD series.
RECOMMENDED:
OS: Windows 7/8.1/10 64Bit
Processor: Intel Core i5-4570 3.2GHz
Memory: 8 GB RAM
Graphics: (DirectX 11) AMD Radeon R9 270X 2048MB / NVIDIA GeForce GTX 760 2048MB @ 1080p
DirectX: Version 11
Storage: 35 GB available space
Additional Notes: Total War: Warhammer is still in development and undergoing optimisation and comparability testing. These specs are subject to change.
Total War: WARHAMMER Errors:
#1 Total War: WARHAMMER Not Starting
For some users, the game won't even start. They click Play in Steam Library and nothing happens or they receive a startup crash. Because of this issue, a lot of players are unable to start and play the game.

"Anyone else getting this where the game won't even launch I press play and nothing happens, same as if I go and launch the .exe directly I'm well into the recommended specs"
Solution: You can simply fix this error and start your game by following and applying our tutorial at the end of the post to your game.
#2 Total War: WARHAMMER Crashes
Some players are encountering crashes during the game or at the start-up of the game. To fix this issue follow the solution that the developers of the game gave below or check our more detailed tutorial the end of the post on how to fix the startup or random crashes.
APP Crash – you can also fix this issue with our tutorial below
"Anyone else having this issue, any time I change to 1080p the game throws me off, i can change the graphics settings with no issue but can't change up from 720p."
Does the game hang or crashes on start-up?

– This can be server load and can also be that TW:W does take a little while to load the first time you run it, please leave it to load for up to 10 minutes. If you are still not getting past the legal screen or are not making it to any screens (just black), try the following:
1) Set Steam to Offline, and try running the game again.
2) Verify your Steam Cache (right click on the game from the Library > Properties > Local Files > Verify integrity of game cache…)
3) Update your Graphics Drivers manually or automatically using DriverFix.
#3 Total War: WARHAMMER Freezes

For some players, the game freezes the moment the first Warhammer screen pops up or when they are trying to play the game in multiplayer. Also, others reported random freezes throughout the game.
Solution: To fix the game freeze make sure that you meet the game system requirements and after that follow our tutorial below.
"I've been trying to play TW Warhammer for the last hour and I keep crashing at the start up. I will see the blue wheel and then a Windows Error message before crashing. I've started in offline mode, turned off Steam overlay, verified game cache, updated video drivers and restarted my computer and nothing. I use NVIDIA so it might be something to do with that, but I'm getting really tired of this."
#4 Total War: WARHAMMER Multiplayer Issues
Multiplayer (campaign or battle) doesn't work?

– The servers are taking a hammering with so many people trying to play at the moment, if you leave the lobby screen alone for a minute it should populate. Clicking and hitting keys lots will potentially crash you out while it's refreshing.
We hope that your tutorial helped you fix your Total War: Warhammer errors and bugs, if you encounter any other issues in the game or if you don't know how to apply the patch to your game, comment below or use our contact page and we will help you fix your game. –GamesErrors Team