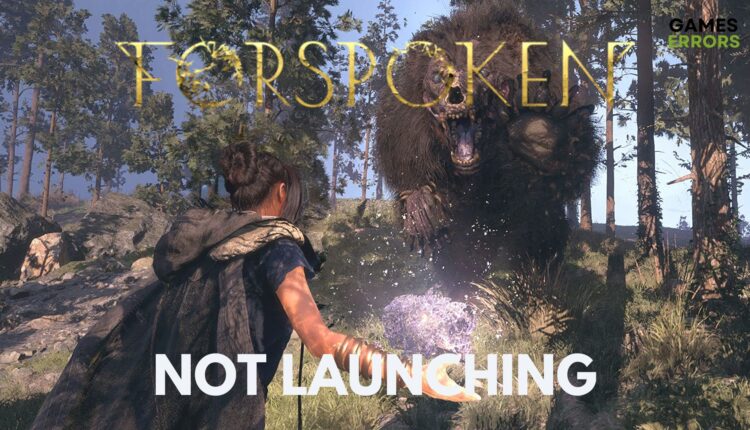 Forspoken Won't Launch: How to Fix
If Forspoken is not launching on your device, check out your graphics card driver availability
X
INSTALL BY CLICKING THE DOWNLOAD FILE
Forspoken is a new role-playing game available on PlayStation 5 and PC that follows the adventure of Frey in a magical world full of challenges. However, there are launching issues with this game.
You may experience startup errors or launching issues while playing Forspoken due to specific reasons related to your out-of-date graphics driver, incompatible antivirus protection, or corrupted game files on Steam or other game launchers.
Why Forspoken won't launch?
The main factors that can generate launching problems in Forspoken are usually conflicting programs or antivirus software, outdated device driver, or system specifications that don't meet the game requirements.
It's possible as well that Forspoken is not starting because you may have corrupted game files that will prevent the game to launch.
Forspoken System Requirements:
Minimum
OS: Windows 10 64-bit (After November 2019 Update) and Windows 11 64-bit
Processor: AMD Ryzen 5 1600 (3.7GHz or better) or Intel Core i7-3770
Memory: 16 GB RAM
Graphics: AMD Radeon RX 5500 XT 8GB, NVIDIA GeForce GTX 1060 6GB
DirectX: Version 12
Storage: 150 GB available
Recommended:
OS: Windows 10 64-bit (After November 2019 Update) and Windows 11 64-bit
Processor: AMD Ryzen 5 3600 (3.7 GHz or better)
Memory: 24GB RAM
Graphics: AMD Radeon RX 6700 XT 12GB, NVIDIA GeForce RTX 3070 8 GB
DirectX: Version 12
Storage: 150 GB available
How to fix Forspoken won't launch?
Table of contents:
1. Run the game as an administrator
Performing this simple method may resolve the starting issues as it helps the game to run on your OS, allowing the changes on your system.
Find the game executable file and right-click on the game.
Click on Properties from the drop-down menu.
Then, select the Apply button and OK to finish.
Check if the game is launching afterward.
2. Update your GPU driver
Expand the Display drivers and right-click on your driver.
Then, restart your PC to save the modifications.
In addition, you can opt-in for a much more easy method and time-saving alternative to update and repair corrupted drivers on your system.
Outbyte Driver Updater
is a high-capacity tool that can automatically scan your PC and detect outdated drivers, and thus updating them individually or all at once.
3. Disable Steam overlay
It's possible that Forspoken won't launch if you have a Steam overlay while playing the game on your PC. You can disable it like this:
In Settings, go to the In-game tab.
Click on OK and close the window.
See if the game is working now.
4. End background programs
Go to the Processes tab.
Repeat the process for all useless background applications.
Check if the game is not launching now.
5. Switch to DirectX 11
Another viable solution to stop Forspoken is to downgrade from DirectX 12 version to DirectX 11 tool because it may be suitable to your current system configuration.
For other players, the version of DirectX 11 APIs might work better and be compatible, as opposed to the last version that may block your game.
6. Repair game files
For Steam launcher:
Launch the Steam app on your desktop and go to Library.
Now, go to the Local Files tab.
Repair the corrupted files resulting from the process.
For Epic Games launcher:
Open the launcher on the desktop and go to Library.
In the game section, click on the 3 dots of the game.
Next, click on the Verify button next to Verify files.
See if the game is starting in the launcher.
7. Turn off antivirus protection
Type in Windows Security in the Windows search bar.
Go to the Virus & threat protection option.
Click to Manage settings and turn off Real-time protection.
If you need to accept it, click Yes on the prompted window.
Coming to an end, we strongly believe that our practical guide will help you solve launching and startup issues on the Forspoken gameplay.
Additionally, you may encounter Forspoken crashes on your PC or PS5 that you can also resolve with our support.
Make sure you leave a reply in the comments section down below in case you have more questions we can help you with regarding this fantastic role-playing game.