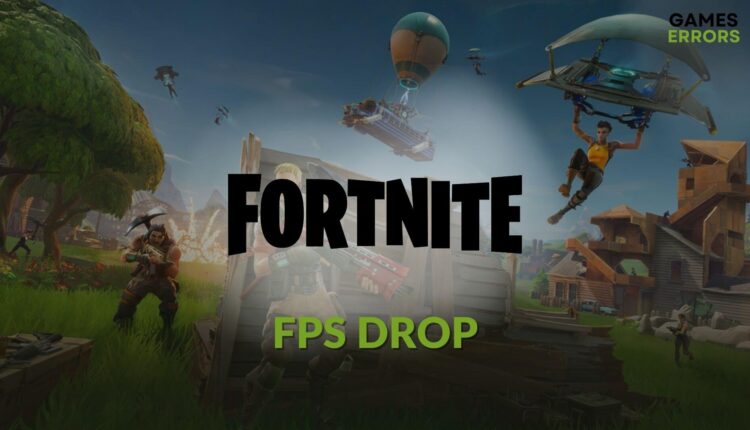 Fortnite FPS Drops: How to Fix This Problem
If FPS keeps dropping on Fortnite, update the GPU driver and do these suggested things ✅
Are you going through Fortnite's FPS drop problems? If yes, it's not a big deal. You can easily solve this problem.
In fact, frame-dropping issues are very common with video games. However, if the title is not that GPU-demanding, this problem may seem a bit odd. Almost all types of modern PCs are capable of running Fortnite. It is not normal if you experience low FPS on a high-end PC with this game.
Why is my Fortnite FPS so laggy?
If Fortnite FPS drops randomly, or it gives a very laggy performance, or it is stuttering, it indicates that any of the following issues are going on your PC:
GPU driver problem: The problematic graphics driver is the first reason for any low frame rate or FPS dropping issues.
Too many background services: If too many services are active in the background, it may take up a lot of system resources which causes frame-dropping issues on Fortnite.
Problematic apps: Some apps can interfere with the gaming process and make Fortnite crash or create laggy performance issues.
Improper settings: Settings that are not suitable for your PC specifications can also be the reason why you are getting this problem.
Know issue: It can be a known problem with a specific version of the game.
System requirements: If your PC doesn't meet the system requirements adequately, Fortnite may go through poor FPS issues.
How do I fix FPS drops on Fortnite?
First, you must ensure the following things before going through the actual methods:
After that, follow the methods mentioned below to solve Fortnite FPS drops problem:
1. Update the graphics driver
Time needed: 3 minutes
To solve any frame-dropping issues on Fortnite, you should start troubleshooting by updating your graphics card driver.
Click on Search automatically for drivers and finish the update.
To update the GPU driver on Windows 11 or 10 PC, Outbyte Driver Updater is one of the best options you can try. This dedicated tool can find and install the best game-ready drivers on your PC. It helps to solve frame rate-related problems in any game like Fortnite.
⇒ Get Outbyte Driver Updater
2. Reduce background tasks
Press CTRL + Shift + Esc to open the Task Manager.
Navigate to the Processes tab.
Click on the task you want to disable and then click on End Task.
Disable all of the problematic and unnecessary processes.
3. Enable game mode
Press Win + I on the keyboard to open Windows Settings.
Toggle the switch to turn it on.
Now, play Fortnite and see if the FPS still drops or not.
4. Tweak in-game graphics settings
Launch Fortnite.
Click on the three vertical lines icon in the top left corner to open the menu.
Navigate to the Video settings if you are not there by default.
Set rendering mode as Performance.
Disable Vsync.
Increase the Frame rate limit. You can set it to unlimited or anything matching your monitor's refresh rate.
Save the settings.
Now, launch Fortnite and see if the problem still exists.
5. Repair Fortnite
Open Epic Games Launcher.
Navigate to the Library.
Click on Verify.
Wait for a while until it finishes the process.
Now, you can play Fortnite and see whether FPS still drops on this game or not.
6. Roll back driver
Open Device Manager as shown before.
Double-click on the GPU driver to open its properties.
Navigate to the Driver tab.
Follow any on-screen steps to finish the process.
7. Re-install the graphics driver
7.1 Uninstall the driver
Go to the Device Manager.
Right-click on the GPU driver and then click on Uninstall.
Restart Windows.
7.2 Install again
Visit AMD, Intel, or NVIDIA driver download page based on the GPU you are using.
Choose your graphics card model and then click on Search.
Download the driver and install it on your PC.
Restart your PC.
Run Fortnite and see if it has solved the poor frame rate problem or not.
Extra tips:
Is the frame still dropping on this battle royal game? You can consider doing these things as well:
Update Fortnite to the latest version.
Update Windows.
Re-install the game.
If necessary, learn how to fix Fortnite stuck at connecting screen.
From this article, you have learned what you should do when Fortnite FPS drops on your PC. If you have any suggestions, opinions, or questions, feel free to write them down in the comment box.