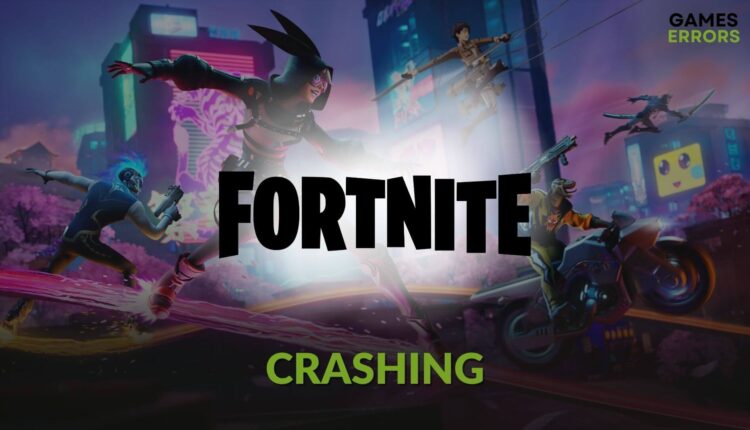 Fortnite Keeps Crashing: Best Methods to Fix This Problem
If Fortnite keeps crashing, update the GPU and network drivers and repair the game files ✅
X
INSTALL BY CLICKING THE DOWNLOAD FILE
Are you experiencing Fortnite crashing issues on your PC? You are not alone. Many other users have been going through the same situation. For your convenience, we have prepared some practical solutions to fix this problem.
Fortnite is undoubtedly one of the most popular multiplayer games in recent years. It has a huge fanbase that regularly plays this title. But, if it crashes randomly or suddenly stops working during the gameplay, it will completely ruin your experience.
Why does Fortnite keep crashing?
Fortnite keeps crashing on your PC because of the following reasons:
Network problem: If you have a poor internet connection, multiplayer games like Fortnite may crash.
Corrupted game files: Corrupted game files can be another reason Fortnite keeps crashing randomly.
Driver problems: Graphics and network drivers are essential for multiplayer games. If these have any problems, you may experience crashing issues.
Misconfiguration: Else, various misconfigurations and settings in the game and Windows also can be the root of the problem.
Problems with the server: If there is maintenance or some problem with Epic Games' servers, it can be the reason you are having this problem.
There may be other reasons. But these are the most common ones.
How do I stop Fortnite from crashing?
Before getting started, you should take these primary steps:
Visit the Epic Game's server status page and see if it's a problem from their end or not.
Ensure that you have a good internet connection. If possible, use Ethernet rather than WiFi.
Make sure that your PC is not having any disk-related problems.
Disable any overclocking and FPS booster feature.
Now, go through the following methods to fix crashing issues with Fortnite:
1. Update graphics and network driver
Press Win + X and go to Device Manager.
Expand Display adapters.
Right-click on the display driver, and click on Update driver.
Select Search automatically for drivers.
Do the same for your network adapter.
Finish the update process.
Updating multiple drivers using Device Manager can be very time-consuming. So, we recommend DriverFix. This tool can update dozens of drivers with just a single click. In addition, it is more powerful, accurate, and very useful for solving game-related errors.
2. Reset the network
Press Win + I on the keyboard to open Windows Settings.
Navigate to the Network Reset.
Click on Reset.
Restart your PC.
3. Run internet troubleshooter
Open the Windows Settings like before.
Navigate to Other troubleshooters.
Finish the process.
Restart your PC.
Besides the crashing issues, this method will also help if Fortnite is stuck on the connecting screen.
4. Tweak in-game graphics settings
This battle royale game may stop working if you are not playing with suitable settings according to your PC's configuration. So, to be safe and reduce the chance of having crashing problems on Fortnite, we suggest you tweak some in-game settings by following these steps:
Open Fortnite.
Click on the three vertical lines icon in the top left corner.
Go to Video settings.
Save the settings.
Relaunch Fortnite.
5. Repair Fortnite
Time needed: 3 minutes.
Fortnite may crash due to corrupted game files. So, you should repair it from the Epic Games Launcher.
Give it some time to finish the process.
After repairing, run Fortnite and see if it crashes or not.
6. Clear web cache
At first, close Epic Games Launcher and Fortnite.
Then, press Win + R to open Run.
Go to the EpicGamesLauncher folder.
Go to Saved.
Locate the folders, start with webcache, and delete them.
Restart Windows.
This method helps if Fortnite crashes while launching or loading. It also works in other situations as well.
7. Update Windows
If OS components are outdated, Fortnite or other games may crash on your PC. So, updating Windows 11 or 10 can be a very effective solution. To do it, follow these instructions:
Open Windows Settings.
After updating, restart your PC.
Now, run Fortnite and start playing some matches. You should no longer reencounter the same problem. If you are interested, learn how to solve games not launching on Epic Games.
Extra steps:
If this game still stops working after a while, we suggest you do these things as well.
Run Fortnite in a clean boot state to identify what is causing the problem.
Re-install Fortnite on an SSD.
You also can consider re-installing the Epic Games Launcher.
We also suggest you check out this guide on how to stop games from crashing for more suggestions.
This article has explained the methods that will help you to fix Fortnite crashing issues. If you have any questions, let us know in the comment box.
If you encounter any issues or errors while playing your favorite games and require support, feel free to contact us here. Our team is always ready to assist you and ensure your gaming experience is seamless and enjoyable.