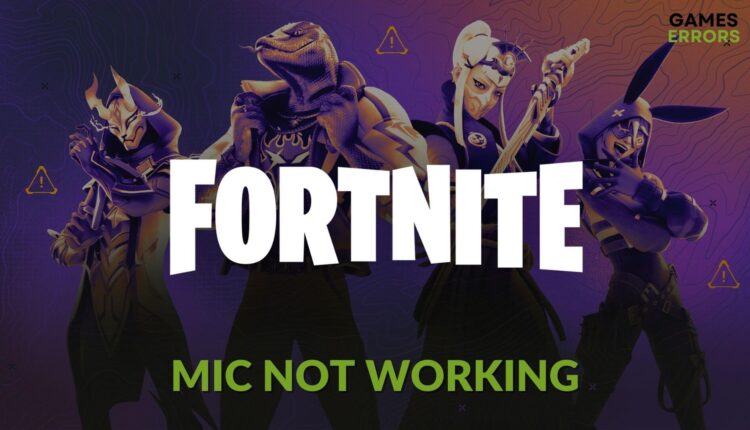 Fortnite Mic Not Working: How to Fix This Problem
If your microphone doesn't work on Fortnite, verify all settings and do these suggested things ✅
X
INSTALL BY CLICKING THE DOWNLOAD FILE
Is your mic not working on Fortnite? Is it causing problems with the voice chat? This article has the ultimate solution for you.
Voice chat is an excellent important feature for multiplayer games like Fortnite. But, if your microphone doesn't work, it can be a nightmare. This situation is not expected by anybody. Luckily, there are solutions.
Why won't my mic work on Fortnite?
If the microphone doesn't work on Fortnite, you will find these reasons behind this problem:
Problematic Audio driver: Audio driver issues can often cause various problems, including microphone issues. As a result, you won't be able to get your mic working correctly on various apps and games, including Fortnite.
Issues with Windows Audio service: If Windows Audio service is not running or there is a problem, the mic will not work on this Battle Royale game.
Misconfiguration: Improper settings on Windows and Fortnite can lead you to this problem too.
Internal issues on the OS: Else, an internal bug with Windows can be another reason why the mic is not working on Fortnite.
How do I get my microphone to work on Fortnite?
First of all, you must check a few things to make the troubleshooting process effective before going through the main methods. These are:
Now, you can try out the following methods to fix the Fortnite mic not working problem:
1. Update the Audio driver
Press Win + X and click on Device Manager.
Expand Sound, video, and game controllers.
Right-click on the microphone driver you want to update, then click on Update driver.
Select Search automatically for drivers.
Finish the update process.
To update any type of driver on your PC, DriverFix is the best solution. It has the ability to find the most compatible official drivers for any type of hardware and device.
2. Check if voice chat is enabled
Launch Fortnite.
Click on the three horizontal lines icon in the top left corner.
Relaunch Fortnite.
If the voice chat is set to nobody, your mic will not work even if you press and hold the Y in this game. Doing the above things will solve this problem.
3. Verify the Fortnite voice chat input device
Go to Fortnite Audio settings like before.
Check if the correct input device is selected or not.
You should set it to default to use the default mic of your computer.
Now, play a match and try to use the voice chat feature and see if the mic is still not working on Fortnite or not.
4. Restart the Windows Audio service
Close the game.
Press Win + R on the keyboard to open Run.
Relaunch Fortnite and see if the mic is working or not.
5. Allow microphone from the privacy settings
Press Win + I on the keyboard to open Windows Settings.
Turn on Microphone access.
Now, launch Fortnite and see if your mic works or not.
6. Set your preferred microphone as the default device
Time needed: 3 minutes.
Mic often doesn't work on Fortnite just because it is not set as the default device on Windows. Correcting this thing is a very effective way to solve the microphone problem in this multiplayer game.
Relaunch the game.
7. Repair Fortnite
Open the Epic Games Launcher.
Navigate to the Library.
Click on Verify.
Wait for a while until it finishes the process.
It should solve if the Fortnite mic is not working. It will also help if Fortnite is stuck on checking for updates.
8. Update Windows
Go to the Windows Settings.
If any updates are available, click on the Install/Download button.
After finishing the updating process, restart your PC.
Now, play this game and see what happens.
Extra methods:
If the audio input device is still not working for voice chat in Fortnite, you can consider doing the following things too:
Update the game to the latest version.
Re-install the game.
Also, consider re-installing Windows.
If needed, learn how to fix Fortnite crashing.
This article has described how to fix Fortnite mic not working issues. If you have any questions, feel free to let us know in the comment box.
If you encounter any issues or errors while playing your favorite games and require support, feel free to contact us here. Our team is always ready to assist you and ensure your gaming experience is seamless and enjoyable.