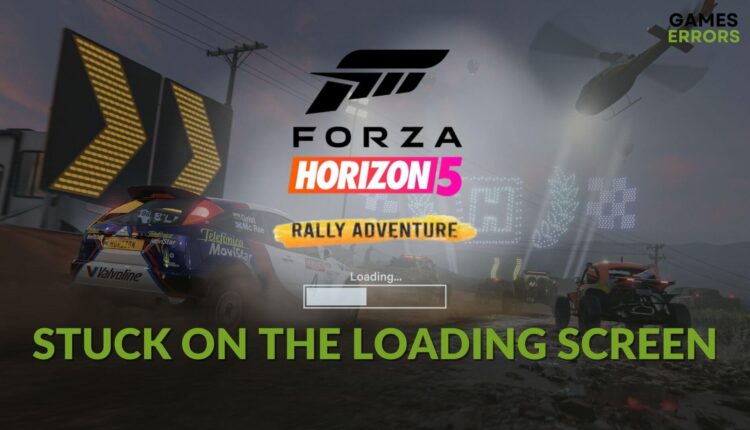 Forza Horizon 5: Rally Adventure Stuck on Loading Screen [Fixed]
Update the GPU driver if Forza Horizon 5 becomes stuck while loading after installing the Rally Adventure DLC 🎮
X
INSTALL BY CLICKING THE DOWNLOAD FILE
Is the Forza Horizon 5 Rally Adventure stuck on the loading screen? You are not the only person who is experiencing this issue. We have found the most effective ways to fix this problem.
This new DLC Rally Adventure has brought several exciting things to the FH5. 10 new cars, excellent racing routes with natural vibes, and many more dramatic elements. But if it freezes while loading, you will not get the actual vibe of the gameplay.
Why is Forza Horizon 5 Rally Adventure freezing while loading on my PC?
If the Forza Horizon 5 has an infinite loading screen issue after installing the latest Rally Adventure DLC, it is a result of any of these reasons:
System requirements: When your PC lacks the specifications to run FH5, it will remain stuck in the loading screen.
Problematic display driver: Graphics driver problem also can lead you to encounter this problem.
Outdated game components: Else, if any of the game components get missing or corrupted, it may be why Forza Horizon 5 is stuck after installing the Rally Adventure DLC.
Background apps: Third-party background apps, including your antivirus and firewall, also can trigger this error.
Slow disk performance: Problematic disk drive cannot deliver the expected speedy performance, which may make Forza Horizon 5 Rally Adventure take forever to load.
How do I fix Forza Horizon 5 Rally Adventure stuck on loading?
First, you should check and verify that your PC meets the system requirements of Forza Horizon 5. If there is no problem, we suggest you take these quick steps before going through the actual troubleshooting methods:
Install Visual C++ redistributable and the DirectX Runtime and restart your PC.
Disable your antivirus and firewall, try playing FH5, and see if it works.
Ensure you have installed the game on an SSD or at least a faster HDD rather than a slow old disk drive.
Now, follow the methods mentioned below if the Forza Horizon 5: Rally Adventure is still stuck while loading:
1. Update graphics card driver
Time needed: 2 minutes.
If the Forza Horizon 5 takes forever to load or is stuck on the loading screen, update the graphics card driver without thinking about anything else.
Click on Search automatically for drivers.
Follow any other onscreen steps to finish updating the GPU driver.
To update the graphics card driver more conveniently, you must use a tool like DriverFix. This compelling small application can update dozens of drivers with just a single click. In addition, it can find the game-ready driver, which helps to solve various game-related errors.
2. Kill problematic background services
Right-click on the Taskbar and go to Task Manager.
Go to the Processes tab.
Select the process you want to disable and then click on End Task.
Do the same for every other unnecessary task.
While disabling, don't kill any processes you are not familiar with. You can disable processes related to the apps that can appear on top of the game or track or interfere with your gaming activity.
3. Repair corrupted game files
FH 5 may become stuck in the loading screen if the game files become corrupted. So, you should repair these files by following the steps mentioned below:
Open the Xbox app on your PC.
Go to Forza Horizon 5.
Give it some time to finish the process.
If you have purchased the game from Steam, you should go to the FH5 properties from the game library. Then, go to the Local files tab and click on Verify integrity of the game files. Then, wait for a while.
This method will also work if the Forza Horizon 5 Rally adventure won't launch.
4. Disable in-game overlay
Press Win + I on the keyboard to open Windows 11 Settings.
Toggle the switch to turn it off.
For Steam, go to its settings. Then, navigate to the in-game tab and disable the Steam overlay. It should fix the infinite loading screen issue with the latest Rally Adventure DLC of FH5.
5. Run in clean boot
Press Win + R on the keyboard to open Run.
Open the System Configuration window by using the following run command: msconfig
Go to the Services tab.
Click on Apply and OK.
Restart Windows.
Is everything seems alright in the clean boot mode? It means a third-party service is the main problem. Try to find it out and uninstall it. Then, boot into normal mode. You will no longer see Forza Horizon 5 Rally Adventure taking infinite time on the loading screen.
6. Repair common disk issues
Go to This PC using File Explorer.
Locate the disk drive where you have installed the Forza Horizon 5.
Right-click on it and go to Properties.
Go to the Tools tab.
It may take some time to finish scanning and repairing. Keep patience till then.
Now, play the FH5 and see if it has worked.
Extra methods:
The above methods are enough to solve the problem. If not, follow these as well:
Update all of the drivers on your PC.
Re-install the game in an SSD.
Update Windows to the latest version.
If necessary, learn how to solve Forza Horizon 5 Rally Adventure crashing problem.
This article has explained the solutions to fix Forza Horizon 5 stuck on the loading screen. If you have any questions, let us know in the comment box.
If you encounter any issues or errors while playing your favorite games and require support, feel free to contact us here. Our team is always ready to assist you and ensure your gaming experience is seamless and enjoyable.