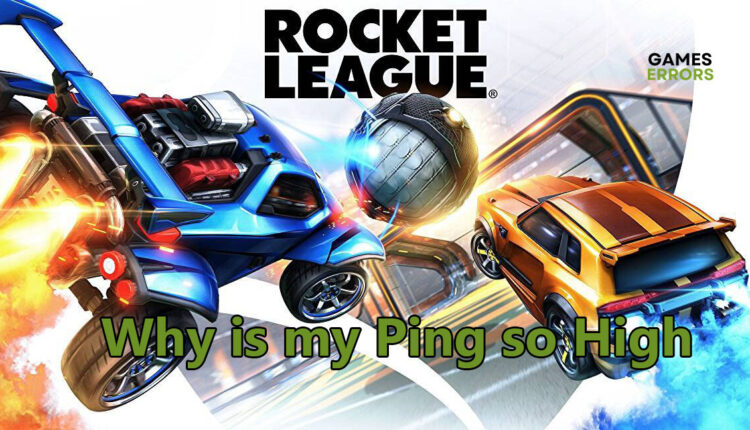 Why is My Ping so High in Rocket League? How to Fix it Now
Are you frustrated with the high ping in Rocket League? Try one of the following solutions to fix it for good.
X
INSTALL BY CLICKING THE DOWNLOAD FILE
Connection issues come in various ways and in all shapes and sizes. Each one of those issues can have a great impact on your gaming experience and cause everything from lags to stuttering. One of those less common issues is the ping. This prompts many gamers to ask, why is my ping so high in Rocket League? You'll find the answer below.
Why is My Ping So High in Rocket League suddenly?
It's a legitimate question to ask. When you check your internet speed, the test tool often gives you ping time. Anything between 5 and 15 milliseconds is great and means that your internet speed is stable and fast. But ping time over 50 milliseconds is a serious issue. High ping could be caused by one of the following:
Network driver is outdated
Too many apps and services running in the background
DNS cache is outdated or corrupt
You're physically too far from the hub of your internet service provider
How to fix High Ping in Rocket League?
1. Update your Network Drivers
Outdated network drivers run at slow speeds and result in high ping time. If you're asking yourself why my ping is so high in Rocket League, the first place to look is your network drivers and try to update them. Here's how to do just that.
Right-click the Windows logo on the taskbar and select Device Manager
In Device Manager click Network Adapters to expand it.
Select the first item in the list of network adapters, right-click it, and choose Update Driver.
In the new screen select Search automatically for drivers.
Follow the instructions on the screen and when done, launch Rocket League and check that the game runs smoothly.
It can be a hassle to keep track of which drivers are out of date and when to update them. We recommend installing DriverFix, an easy-to-use tool that handles updating all the drivers on your system automatically.
2. Reset your Router
Time needed: 2 minutes.
Your router is not only responsible for connecting you to the internet, but it also assigns you your specific IP address, handles your built-in firewall, and allows or blocks connections. Sometimes having high ping can be traced back to the router. The easiest way is to simply restart it.
Shut down the Rocket League game and save all your files.
Unplug the router and modem from the power source.
Wait for a full minute before plugging the modem again.
Wait until the lights turn green then plug the router.
When you have internet access, go ahead and launch Rocket League.
3. Give the Game Connectivity Priority
One of the direct results of high ping in Rocket League is the stuttering and latency in the gameplay. This can be made worse if the game is not getting connectivity priority. You can change that in the game settings.
Start Rocket League and click on Settings then select Gameplay.
Under Gameplay, scroll down and adjust the values of these settings as follows.
Server Send Rate: High
Client Send Rate: High
Input Buffer: CSTS or STS
Server Send Rate: High
Click OK to apply the new settings and see if that fixes the latency issues.
4. Flush your DNS
Whether you have recently switched to a new DNS server such as Google DNS or Open DNS, chances are that your DNS cache is outdated and needs to be refreshed. It's easy to flush your DNS and reset the cache by following these steps.
Right-click the Windows logo and select Windows PowerShell (Admin) to launch the elevated PowerShell.
At the prompt, type ipconfig /flushdns and hit Enter.
Type ipconfig /registerdns and click Enter.
Type ipconfig /release and hit Enter.
Key ipconfig /renew and click Enter.
Finally, type netsh Winsock reset and hit Enter.
Close PowerShell and launch Rocket League.
5. Close Background Apps
Apps and services running in the background hog your internet connection leaving little bandwidth for Rocket League to run. You'll need to close those background apps.
Right-click the taskbar and select Task Manager.
Under Processes look for unnecessary apps such as Cortana, browsers, and other processes you can safely close.
Right-click each app and select End Task.
Close Task Manager and restart your game.
Related Articles:
These solutions will answer why my ping is so high in Rocket League and ensure smooth playing without lags or stuttering. Let us know which solution worked for you.
If you encounter any issues or errors while playing your favorite games and require support, feel free to contact us here. Our team is always ready to assist you and ensure your gaming experience is seamless and enjoyable.