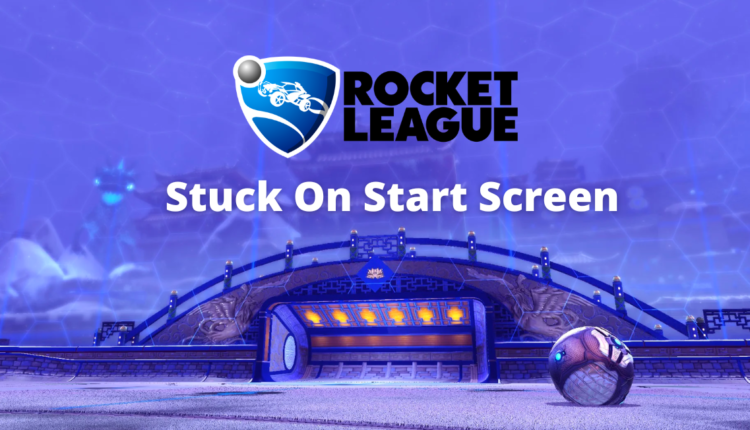 Rocket League Stuck on Start Screen: How to Fix It Quickly
You can oftenly experience Rocket League stuck troubles due to outdated game files 🌐
X
INSTALL BY CLICKING THE DOWNLOAD FILE
Rocket League is a kind of soccer video game involving vehicles. However, there are times when Rocket League gets stuck on the start screen, leaving players frustrated.
This issue is mostly encountered on Xbox, Ps4 or 5, and Nintendo switch. The good news is that the issue can be resolved and this article will provide quick useful tips to help fix the issue.
Why is Rocket League stuck on start screen?
Outdated game

: If your game is not updated, it can get stuck on the start screen and fail to load further.
Corrupted game files

: Viruses and other forms of malware in your device can also corrupt the game file and affect your game.

Cach files and corrupt game data

can also cause the issue.
🎯 How to fix Rocket League stuck on start screen?
Before going into more in-depth solutions, start by carrying out the following preliminary checks:
→ Restart your PS4, PS5, Xbox or Nintendo Switch
→ Delete and reinstall the game
→ Ensure you have enough storage space
→ Check if the game server is up
Thus, if you already tried the methods listed above and they didn't work, you should confidently go through all our solutions until you find the right fix.
1. Delete Epic friends and pending friend requests
A lot of players have discovered that having a lot of friends on Fortnite can keep Rocket League stuck on the home screen. So if you have Fortnite on your console you will have to remove some friends as well as pending friend requests.
👉 You can also follow the steps below automatically delete all your pending friend requests on Epic games:
Install and log in to Epic Games Launcher.

Click on the

gear icon.

Open the

Recoeveing Friend Requests

setting and select

No One.
2. Update Rocket League
If there are no issues with the server, go ahead to check for the latest game updates and download and install them to your device.
🎮 For Nintendo Switch:
Locate Rocket League on the home screen of your Nintendo Switch.

Click the right controller (+) button.

Click on software update from the drop-down menu that appears.

Any available updates will be indicated here. Download and install the updates.
🎮 For Xbox One:
Navigate to the home screen and go to the dashboard:
Select

My Games and App

s on the dashboard.

Click on updates.

All available updates will appear here. Click on it to install the update.
🎮 For PlayStation:
Click on

Rocket League

on the home screen of your PS4.

Select the "Options" key.

It will be indicated if there is a new update, follow the instructions to install the available updates.
3. Clear Cache Files
Another thing to do to fix Rocket League stuck on the loading screen on PS4 will be to refresh the cache. This will clear all temporary cache files that might be affecting the functioning of your game.
🎮 For Nintendo:
Go to the system settings menu using the A button on the controller to select the sub-menu.

Select "formatting options" and move to clear cache at the top of the menu.

After clicking on clear cache, the next interface will prompt you to select the user whose details you want to delete.

Clear cache data for the user you've selected and followed other prompts.

Click on

reset

to complete the process.
🎮 For Xbox One:
Properly turn off your Xbox console and disconnect the power cord.

Long-press the power button about three to four times.

Reconnect the power cord and hold on for a minute or two before turning on the console.
This easy procedure will help clear your cache.
4. Recover corrupt game data
Most times game data gets corrupted and will prevent a game from loading beyond the start screen. This might be the reason why Rocket League is stuck on the loading screen on PS5. To recover game data, the following procedures can be followed.
🎮 For Nintendo Switch
Tap on the

Home butto

n to get to the main menu.

Select system settings from the drop-down menu.

Click on 'data management" from the drop-down list on the left.

Tap on "select software" from the drop-down menu at the right.

Click on "Rocket League" as the program you want to examine and look for data errors and follow the next system command.
🎮 For Xbox
Click "storage" on the drop-down menu and select the storage location

Using the A button on your console click on Games and Apps

Click on Rocket League and press the A button again

Select the corrupted saved game data file and use the delete button to erase it from your console

Download a new game data file.
On PS 4 and 5 you can recover corrupt game data by simply rebuilding the database.
With the above procedures, you can easily solve the issue of the Rocket League game getting stuck on the start screen.
Some common issues that players may experience, besides getting stuck on the start screen while playing Rocket League include:
Black screen or split-screen issues
Lag or low frame rates
Connection errors or server issues
Stuttering or stalling during gameplay
Audio problems or missing sound effects
Incorrect button mapping or controller issues
Corrupted or missing game files
In-game bugs or glitches
Compatible issues with certain hardware or software
Performance issues, such as low FPS or graphical problems
There are simple fixes that you may use to safely solve all of them. Please feel free to comment below if you have any gaming-related issues.
If you encounter any issues or errors while playing your favorite games and require support, feel free to contact us here. Our team is always ready to assist you and ensure your gaming experience is seamless and enjoyable.