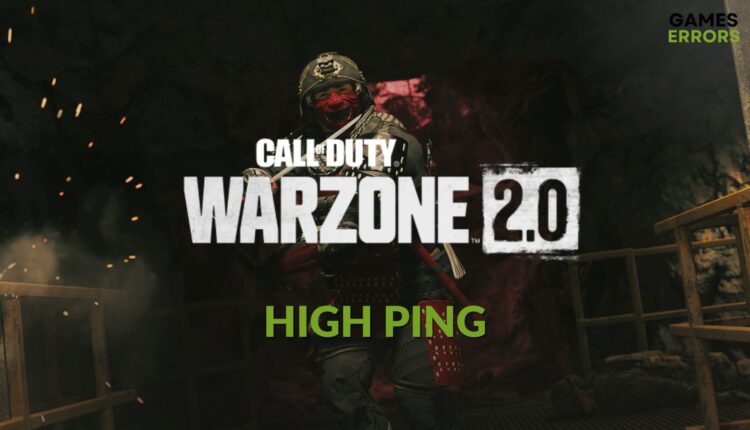 Why is My Ping So High in Warzone 2 and How to Lower It
If you notice high latency in Warzone 2, learn why it happens and how to fix this issue 🎯
X
INSTALL BY CLICKING THE DOWNLOAD FILE
You may encounter high ping and lag issues in the Warzone 2 game. This article will introduce a few effective solutions to fix this problem and explain why it happens.
Ping or latency is a very important factor for any multiplayer game. Warzone 2 is undoubtedly one of the most-played titles out there. For being a free-to-play Battle Royale game, it has gained tremendous popularity. But a very unstable ping can ruin your experience.
Why is the Warzone 2 ping so high on my PC?
Usually, you may encounter high latency problems on Warzone games for various reasons. But these are the most common reasons:
Server Status: If there is something wrong with the Warzone 2 servers or it is overloaded, you will not get the expected latency.
Connection problem: Your internet connection is responsible for most high ping issues on games like Warzone 2 or any other COD MW games. It also may cause issues like Warzone 2 getting stuck on connecting to the Xbox Network.
Network driver problem: If you are using a very outdated or buggy version of the network driver on your PC, you will always fail to get a better ping on Warzone 2.
Problematic hardware: If the router, modem, or your network adapter has problems, you will not get a better internet connection which will cause very high latency in games like Call of Duty Warzone 2.
Problems with the game itself: It is also possible that there is something wrong with the game files or components; a ping issue may arise on Warzone 2.
Improper settings: Else, some settings can increase latency in Call of Duty Warzone games.
How do I reduce ping in Warzone 2?
We have found the best solutions to improve the latency in Warzone 2. But, before trying these methods, we want you to do these quick things:
Check the Warzone 2 server status and see if everything is fine.
Power cycle your PC/Consol, router, and internet modem.
If you are using a wireless connection, use a wired one for better ping.
Ensure you have a stable internet connection and are not using any VPN or proxy.
Now, if you still experience very high ping issues on the COD Warzone 2, follow these methods to improve the situation:
1. Close any program using high bandwidth
Press CTRL + Shift + Esc and go to Task Manager.
Navigate to the Processes tab.
Click on the process you want to end and then click on End Task.
In this way, disable all the bandwidth-hungry unnecessary processes.
While closing the services, look at the network usage. If you see a service is using heavy bandwidth, disable it. However, don't disable any essential services. It will create other problems.
2. Change DNS
Time needed: 2 minutes
One of the most common reasons you are getting high ping issues on Warzone 2 is the DNS server. So, you must change its settings and start using a better public DNS
Choose Manual.
Enable IPv4.
Restart your PC.
If you are using a console, you can find an option to change DNS in the network settings. Figure it out and start using Google DNS or any other better DNS services.
3. Reset the Network
Sometimes, improper network configuration can also cause increased ping problems in Warzone games. Resetting the settings may solve this issue. To do it, follow these steps:
Go to Windows Settings like before.
Navigate to the Network Reset.
Restart Windows.
4. Update the network adapter
Updating the network driver by following the steps below also may help to reduce the ping and improve latency in Warzone:
Press Win + X on the keyboard and go to Device Manager.
Click on the arrow button next to the Network adapters to expand it.
Right-click on your network adapter and click on Update driver.
Click on Search automatically for drivers.
Follow any onscreen instructions to finish updating the driver.
To update the network driver, we suggest you use Outbyte Driver Updater. This tool can find the most recent version of the official driver and install it with just a single click.
5. Run internet troubleshooter
Open the Windows Settings.
Click on Other troubleshooters.
Follow any onscreen steps to finish the process.
6. Repair the game files
Open Steam.
Go to the game library.
Give it some time to finish the process.
Now launch Warzone 2 and try to play a match, and see if the ping is still high or not.
If you still encounter the same issue, update Windows 10 or 11 to the latest version. If it's a console like Xbox or PS5, update the firmware.
Learn how to solve Warzone 2 lag issues if necessary.
This article has explained why Warzone 2 ping is so high and how to fix this problem. Let us know in the comment box if you have any suggestions or questions.