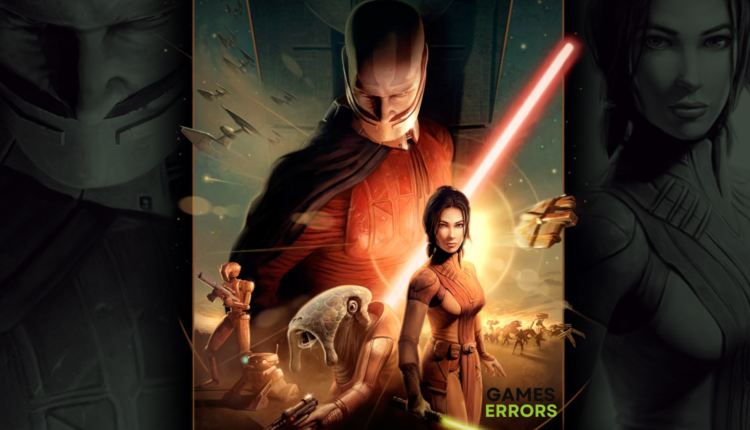 KOTOR Crashes on Startup: How to Stop it from Crashing
Try applying these resolutions if you need to fix KOTOR crashing on startup
X
INSTALL BY CLICKING THE DOWNLOAD FILE
KOTOR (Start Wars: Knights of the Old Republic) is an old game you can still play on Windows 10 and 11. However, that game has some backward compatibility issues since it predates the latest Windows platforms by quite a few years.
KOTOR crashing on startup is not an entirely uncommon issue on the Windows 10 and 11 platforms. This is how you can fix KOTOR crashing on startup in the most recent Windows 11/10 platforms.
Why does KOTOR keep crashing at startup?
Players have been reporting KOTOR startup issues for more than a decade. However, such reports increased in 2015 as more players switched to Windows 10. These are some of the more common causes for KOTOR crashing at startup:
Antiquated graphics drivers: Your PC's graphics card driver might need updating.
BIK video files: Introductory KOTOR videos are known to cause startup issues for the game.
Compatibility issues with the latest Windows platforms: Compatibility issues can cause KOTOR to crash at startup in Windows 11/10 as it wasn't designed for those platforms.
Graphical settings: Certain default graphical settings can also cause KOTOR to crash in Windows 10/11.
How to stop KOTOR from crashing?
1. Set KOTOR to run in compatibility mode
Open the Knights of the Old Republic installation folder on your PC.
Then select Compatibility to access the settings on that tab.
Next, click the checkbox labeled Run this program in compatibility mode to enable that setting.
Click Apply and OK to save the selected compatibility options.
2. Update the graphics driver
To access Device Manager, press the Windows key + X hotkey and select its shortcut.
Note that the Search automatically option only scans your PC for drivers. So, it might not detect and install a new driver. If selecting that option doesn't update the driver, try utilizing a driver updater tool like DriverFix or Driver Booster.
3. Edit the swkotor.init file
Open the Star Wars: Knights of the Old Republic Installation folder (swkotor) within File Explorer. If you've installed the game with Steam, that default path is: C:\Program Files (x86)\Steam\SteamApps\common\swkotor\
Change Fullscreen=1 to Fullscreen=0.
If the file doesn't include a vertex buffer setting, enter one within the graphics option settings. Input Disable Vertex Buffer Objects=1 in the line under the FullScreen setting.
Click File to select the Save option on that menu.
4. Move biologo and leclogo video files
Press Explorer's taskbar button and go to the swkotor installation directory. If you have a desktop shortcut for launching KOTOR, right-click its icon to select Open file location.

Then bring up the movies subfolder from within the swkotor folder.
Hold the Ctrl key to select the biologo and leclogo video files in that folder.
5. Reinstall KOTOR
Open Run (that accessory has a Windows key + R hotkey) and enter this command in its text box: appwiz.cpl
Then select Knights of the Republic in Programs and Features.
Select to reinstall Knights of the Republic within your game client software (Steam, GOG, etc) or installation disc.
Players have confirmed the above solutions can kick-start KOTOR in Windows 10 and 11 (and earlier 8 and 7 platforms). So, they're worth a shot if you can't play KOTOR because of the startup crashes.
Knights of the Old Republic is undoubtedly a classic game. So, it's pity to miss out on it because that game crashes at startup.
However, the great news is that a Knights of the Old Republic remake has been confirmed to be in the works. That newly remastered version of the game will almost certainly run on Windows 10/11 with far fewer issues when released.
If you encounter any issues or errors while playing your favorite games and require support, feel free to contact us here. Our team is always ready to assist you and ensure your gaming experience is seamless and enjoyable.