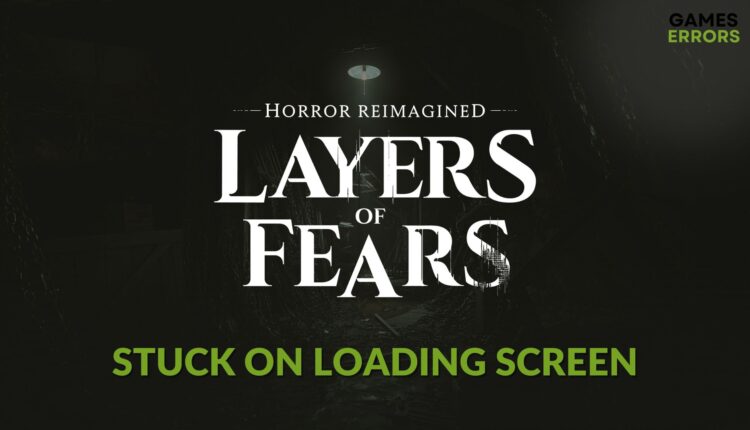 Layers of Fear Stuck on Loading Screen: Best Fixes
If Layers of Fear takes hours to load, rather than having goosebumps, you will get annoyed. So, try these fixes to resolve this problem 👻
When you see that the Layers of Fear is stuck on the loading screen, it must be a frustrating experience. This article will explain why it happens and how to fix this issue.
Psychological horror games have a different fan base. To get the real goosebumps, adventure, and extreme horror feelings, games like Layers of Fear are excellent choices. However, when you cannot play it because of infinite loading screen problems, you may get worried easily. The good news is you can fix it.
Why is the Layers of Fear not loading?
If the Layers of Fear remastered takes an infinite amount of time to load, or it just remains stuck forever and doesn't load at all, these are the most significant reasons behind this problem:
System requirements: If your PC doesn't meet the system requirements properly, the Layers of Fear remake may not load and remain stuck at one point forever.
GPU driver problem: Outdated or incompatible graphics driver prevents your GPU from performing well, which is also a reason for infinite loading screen issues.
Disk problem: Slow and problematic disk drives can also prolong the loading process of any video game like Layers of Fear.
Corrupted components: Problematic, outdated, or missing game components are also responsible for this type of issue.
How can I fix Layers of Fear stuck on the loading screen?
First, you must ensure that your PC meets the system requirements of Layers of Fear. Then, take care of the following things before taking the main steps:
Install the latest DirectX Runtime and Visual C++ packages.
Enable high-performance and game mode from the Windows Settings.
Disable your antivirus and firewall and restart your PC.
Then, try the following methods to fix Layers of Fear freezing in the loading screen:
1. Run as an administrator
Go to the game installation directory.
Right-click on its EXE file and go to Properties.
Go to the Compatibility tab.
Click on Apply and OK.
Now, run this horror adventure and see whether it still remains stuck forever in the loading status or not.
2. Update the GPU driver
Time needed: 4 minutes
To resolve the infinite loading screen problem on Layers of Fear remastered, you should install the latest version of the graphics driver. It's one of the most effective solutions.
Select Search automatically for drivers and finish the process.
Go ahead and finish the task.
Restart Windows.
We suggest you use Outbyte Driver Updater to update a GPU driver, as it is a far better option compared to any other options. By using this app, you can get the most compatible latest official driver for your graphics card, which helps to get a better gaming experience.
⇒ Get Outbyte Driver Updater
3. Repair Layers of Fear
As problematic game files are the very common reason, you should take the following steps to repair the installation and fix Layers of Fear stuck while loading:
Open the game client, for example, Steam.
Go to the game library.
Right-click on Layers of Fear and then click on Properties.
Go to the Local Files tab.
Click on Verify integrity of game files.
Give it some time to finish the process.
Do you use Epic Games Launcher? Go to the Library there. Then, click on the three horizontal dots under the Layers of Fear and go to Manage. After that, click on Verify. It will do the same job.
4. Repair disk problem
Press Win + E to open File Explorer.
Navigate to This PC.
Locate the disk drive where you have installed this horror title, right-click on it, and then click on Properties.
Go to the Tools tab.
Wait for a while until it finishes the process.
5. Run in clean boot
Open the Start Menu, type Run, and hit Enter.
Type msconfig, and press Enter.
Go to the Services tab.
Then, click on Apply and OK.
After that, restart your PC.
In the clean boot, if you see Layers of Fear running without repeating the infinite loading screen problem, it means there is a problematic third-party service. Find and uninstall it. Then, boot into normal mode.
If the problem still persists, update Windows to the latest version. Also, update all other drivers. You can consider reinstalling the game as well. If nothing works, reset Windows.
Learn how to prevent any games from crashing if necessary.
The above suggestions will indeed help to fix Layers of Fear stuck on the loading screen. If you have any questions, let us know in the comment box.