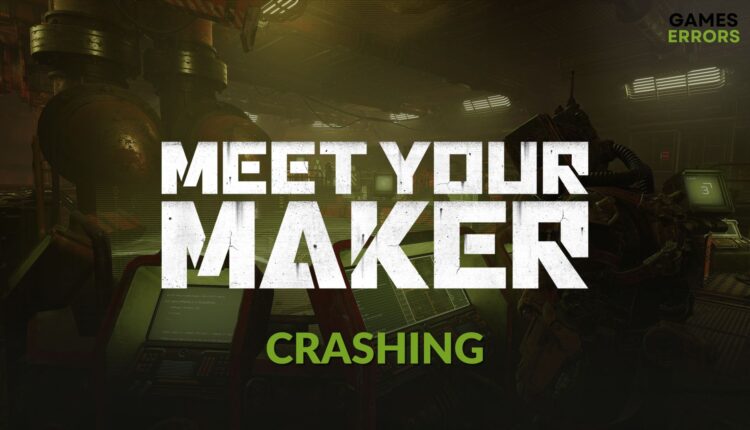 Meet Your Maker Crashing PC: How to Fix This Issue
Update the GPU driver and follow these methods if Meet Your Maker keeps crashing on your PC 🎯
If the Meet Your Maker keeps crashing on your PC, you can take some effective steps to solve this problem. This article will describe why it occurs and how to fix this issue.
If you are a fan of the post-apocalyptic first-person building-and-raiding game, undoubtedly, Meet Your Maker is a unique choice. Unlike other games of the same genre, it is a bit different.
It's not even a very GPU-demanding title like other recently released ones. Still, this game may stop working or crash for some users. Luckily, there are solutions.
Why is the Meet Your Maker crashing on my PC?
Here are the most common reasons behind the crashing issues on Meet Your Maker:
System requirements: If your PC lacks the specifications to run Meet Your Maker, it will crash or will not launch at all.
GPU driver issues: Outdated or problematic graphics card driver is one of the most common reasons this game crashes on your PC.
Third-party services: Some third-party apps and services also can create conflict and cause crashing issues on Meet Your Maker.
Corrupted game components: Else, if the game files and components become corrupted, you will end up encountering this problem.
How do I fix Meet Your Maker crashing issues on my PC?
We have found the best methods to solve this problem. Before trying them, we suggest you do the following things to make the whole troubleshooting process more effective:
Now, follow these methods to fix Meet Your Maker crashing issues if necessary:
1. Update the graphics card driver
Time needed: 2 minutes
If the Meet Your Maker keeps crashing on your Windows 11 or 10 PC, update the graphics card driver without thinking about anything else.
Click on Search automatically for drivers.
Follow the onscreen steps to complete the process.
To update the GPU driver, we strongly suggest you use Outbyte Driver Updater. Unlike the device manager, it can find the most recent version of the official game-ready driver and install it on your PC. It helps to reduce the chance of getting crashing issues on the latest video games.
⇒ Get Outbyte Driver Updater
2. Disable fullscreen optimization
To fix crashing issues on games like Meet Your Maker, you can consider disabling the fullscreen optimization. Even though this feature is to help performance, it can do the opposite and cause problems. However, here are the instructions to follow:
Open Steam.
Go to the Steam game library.
Right-click on the exe file of this game and go to its properties.
Go to the Compatibility tab.
Click on Apply and OK.
Launch the game.
3. Clear shader cache
Press Win + I to open Windows settings.
Navigate to the Temporary files.
Tick DirectX Shader Cache.
Untick all other options.
Click on Remove files.
Now, launch the Meet Your Maker and see if it still crashes or not. One thing to keep in mind is that after clearing the shader cache, you may encounter some lag or stuttering issues. After some time, it will be OK.
4. Repair Meet Your Maker
Go to the Steam game library.
Navigate to the Local files tab.
Click on Verify integrity of game files.
Wait for a while until it finishes the process.
If the problem is occurring due to the corrupted game files, doing the above things will stop Meet Your Maker from crashing on your Windows 10 or 11 PC.
5. Clean boot
Press Win + R on the keyboard to open Run.
Type msconfig and click on OK.
Go to the Services tab.
Click on Apply and OK.
At last, restart your PC.
If you don't encounter the problem in Clean Boot, try to find out which third-party service is the culprit. Then, uninstall it to permanently get rid of this issue on your PC.
6. Re-install the game
Go to the Steam game library.
After uninstalling, click on the Install button for this game.
Finish the installation process.
While re-installing, we suggest you install it on an SSD for better performance.
If you have enabled XMP, it may be a reason behind this crashing issue on Meet Your Maker. So, we suggest you learn how to solve games crashing problem after enabling XMP.
For more suggestions, check out this guide on how to stop games from crashing.
These are the most common methods to fix Meet Your Maker crashing on a PC. Let us know in the comment box if you have any questions or better suggestions.