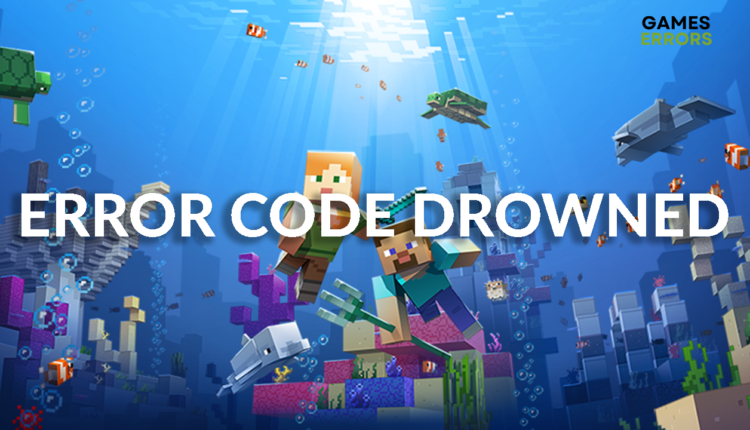 Minecraft Error Code Drowned: How to Fix It Easily
You got drowned before even entering the game? It is time to fix this error for good! 🏊‍♂️
X
INSTALL BY CLICKING THE DOWNLOAD FILE
Minecraft error code drowned occurs when a player wants to sign in. It is caused by various factors, such as faulty login data or network drivers and disabled Xbox services.
What does drowned mean in Minecraft?
Besides the term used when a player drowns in the water, the error code drowned means that an unknown error was encountered during the sign-in process. The error will usually not disappear unless you fix it, so if you want to play the game, follow our step-by-step solutions.
If you have problems updating the game, check our guide on how to force Minecraft 1.19.60 update.
How do I fix error drowned in Minecraft?
Before going into more technical fixes, close Minecraft and restart your device. If this doesn't solve the issue, proceed with the following solutions.
1. Enable Xbox services
Click on the Windows icon and type Services.
Click on Services (gear icon) from the search results.
By default, services will be sorted alphabetically, so Xbox services will be at the end of the list. Scroll down and find Xbox Live Auth Manager.
Click on Apply and OK.
Repeat this process for other Xbox services to ensure they are running.
Restart your PC.
2. Update your network drivers
Minecraft error code drowned might not be related to the game itself. The problem might be in your network device and the drivers.
Click on the Windows icon and type Device Manager.
Click on the Device Manager tool from the search results.
Find the Network Adapters section and double-click it to expand it.
Select Search automatically for drivers option and wait for Windows to find suitable drivers in the database.
If the driver is found, Windows will install them, and all that is left to do is to restart your PC.
There is an easier way to scan and update your network drivers.
DriverFix
is a tool that will monitor and update drivers for you!
3. Reset your password
After you ensure that Xbox services are enabled and your network drivers are up-to-date, you can proceed with resetting your password.
Open the official Microsoft page for account recovery.
Enter the email address connected to your Minecraft account.
Depending on your security settings, you will have different recovery options, such as recovery email address or phone number. Select the suitable option and fill in the information about the contact you want to receive the code.

Type in the code you received and hit Next.
Click on Next and complete the process.
Launch Minecraft and log in with new credentials.
4. Delete sign-in data
If you can access your account, but the Minecraft error code drowned appears when you want to play, you can delete your sign-in data and log in again to your Microsoft account.
Launch Minecraft and open Settings.
In the left panel, locate the Profile button and click on it.
Exit the game and launch Minecraft one more time.
This time you will have to log in with your Microsoft account details.
Related articles:
Conclusion
Since this error is undefined, many more possible reasons can cause it. Share with us what helped you in troubleshooting the Minecraft error code drowned. What solution from our list was the most useful?
If you encounter any issues or errors while playing your favorite games and require support, feel free to contact us here. Our team is always ready to assist you and ensure your gaming experience is seamless and enjoyable.