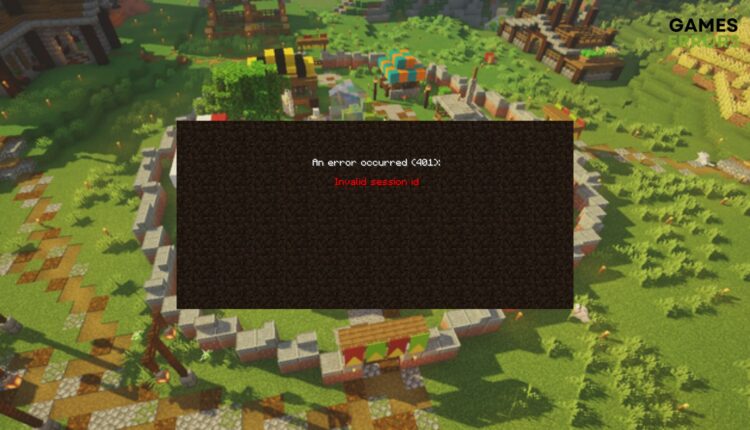 Minecraft Error Code L-401: How to Fix it Really Quick
Do you need sure methods to fix error L-401 on Minecraft? Here you can apply them quickly 🎯
X
INSTALL BY CLICKING THE DOWNLOAD FILE
Minecraft is a popular sandbox video game where players can build, explore and create in a virtual world made of blocks. However, players may sometimes experience error code 401 while playing Minecraft.
The error typically occurs when the game is unable to connect to a server. This error can prevent players from accessing the Minecraft marketplace, which is a key part of the Minecraft experience for many players.
What is error code L 401 in Minecraft?
Error code L-401 Minecraft is an error that usually pops up when you are trying to connect to Marketplace on Minecraft. When you try to connect to Marketplace, it displays a message saying "We are having trouble connecting to the marketplace right now please try again later."
You could experience this error if the Mojang server is down at the time you're trying to play the game. It could also be a network error in some cases.
Whether you're experiencing error code L-401 Minecraft, L-401 Minecraft on PS5, Xbox, or others; this post is going to show you how to fix it.
How do I fix error code L 401?
1. Check the server status of the game
In most cases, this error could be caused by a server-related problem. If the problem is server related, before trying other solutions, check the game's official website or Twitter handle to be sure it's not a server issue.
2. Reboot your console
Once you confirm that the game server is up, the next thing you should do is reboot your console to see if the problem gets fixed.
Xbox users:
Press and hold the

Xbox button

on your controller to display the power center.

Select

Restart console

and press

A.


Select

Restart

and

press

A

to confirm the reboot.

Restart the game, launch Minecraft, and try opening Marketplace.
PS 4 & 5 users:
Press the

PS button

on your controller to bring up your home screen.

Select the

Turn-off

option.

Restart the game after 3o seconds and try again.
3. Clear the game cache
A corrupted game cache could result in errors such as error code L-401 Minecraft on Xbox Series S, Xbox Series X, or error code on PS4 or 5. So, it is important that you clear your cache when you experience this problem.
Xbox users:
Press the

Xbox

button on your controller to pull up the side menu.

Click on

My Games & Apps.


Select

See all

to see all your games and apps.

Select

Minecraft.

Select

Saved data

>

Delete all to delete all the game cache files.

PS4 users:
Turn off your PS4 and immediately unplug the power cable right after the green light stops blinking.

Wait for 30 seconds, then reconnect the power cord and turn on your console.

Load Minecraft and while the game is loading press and hold

L1+R1 on your controller.


This will clear the game cache.
4. Reinstall Minecraft
If you're still getting error code L-401 Minecraft on PS5, PS4, or Xbox after trying all the solutions above, you should delete and reinstall the game as a last resort.
The problem could be caused because your Minecraft game file is corrupted, therefore this method might fix it.
Related articles:
Conclusion
Despite the errors, Minecraft is a very interesting game and you shouldn't allow fixable errors to rub you off the fun of enjoying the game.
If you are experiencing Minecraft store error code L-401 and other related errors mentioned in this article, we apply our solutions to fix them fast. Also, for other concerns about this Minecraft error, reach out in the comments below.
If you encounter any issues or errors while playing your favorite games and require support, feel free to contact us here. Our team is always ready to assist you and ensure your gaming experience is seamless and enjoyable.