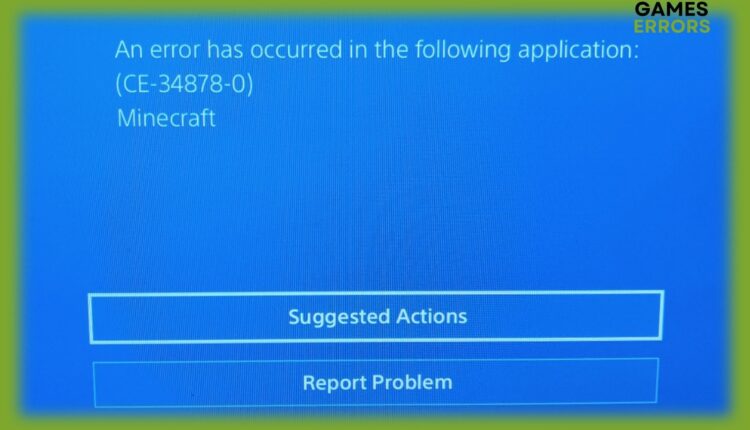 Fix Minecraft CE-34878-0 Error Crash on PlayStation 4 Easily
If you're having the CE-34878-0 error on Minecraft, this is the right place to fix it
Playing Minecraft on PlayStation 4 comes with various updates made by the infamous game developer Mojang. Indeed, you can also run into game crashes with the CE-34878-0 error code.
This type of error is a frequent problem that can happen in the well-known PS4 game Minecraft. It is important to note that this type of error is not exclusive to Minecraft and can also occur in other games as well. The problem can be caused by a variety of things, including launching issues or crashes that occur while the game is being played.
As an example, you may encounter this common error code due to the wrong game file on your PS4 console, or because of out-of-date system software.
What is the CE-34878-0 error code on Minecraft?
The Minecraft CE-34878-0 error message is specific to PlayStation devices and it usually happens due to various reasons that involve missing libraries or defective installed files.
It's also likely that your PS4 console will communicate this error due to cache reasons, so you might need to erase or reset your cache.
Why does the CE-34878-0 error code occur?
Essentially, this error message can arise on your PlayStation 4 for numerous reasons. For instance, incorrect or corrupted game files will generate this issue and stop Minecraft from running.
At the same time, be sure that your operating system has the latest updates because this error generally appears when your device runs old software.
How do you fix the Minecraft CE-34878-0 error?
1. Restart your device
The simplest workaround for this error is to shut down your PS4 device and turn it back on. Even though it's an intuitive method, it may fix the error on Minecraft.
For more efficiency, it's also suggested to unplug your device, then wait for 2 minutes and power on your chord, and start the PS4 again.
2. Reinstall the game
On the Home window, go to Library.
Switch to the Game tab.
Highlight Minecraft from your list.
Press the Options button on the controller and select Delete.
Go to Library again to download Minecraft on your device.
Sometimes, you can put an end to this CE-34878-0 Minecraft error by simply uninstalling the game and installing it again on your PlayStation 4.
3. Update the Minecraft game
On the Home screen, go to the Minecraft icon.
Highlight the game and press the Options button on the controller.
Wait for the updates to be installed on your PS4.
Once is ready, try to relaunch Minecraft again.
4. Update system firmware
On your PS4 screen, go to Settings.
Then, select Upgrade Now.
After the firmware update is done, press X to Save.
Check your game to see if it's working.
5. Clear the PS4 cache
Hold the PS button on your controller.
Choose to Turn off the PS4 device.
Wait 30 seconds before turning it back on.
Restart the device.
Using this quick solution may successfully help your gameplay to run without any errors like Minecraft crashing or freezing issues.
6. Restore PS4 to factory default
Before applying this solution to your device, be sure you have all your data saved on the hard drive in order to save all the information you need.
From your Home screen, go to Settings.
Start the process and follow the instructions to reset it.
After the process is done, start your console and try the game again.
All being said, this is the complete guide for solving the CE-34878-0 Minecraft error while playing the game on your console.
The solutions above should help you troubleshoot this crashing error on PS4 and should help you fix multiple games that have the CE-34878-0 error.
Additionally, we covered other issues for this game such as Minecraft 1073740940 crashing error and Minecraft 805306369 error code.
Lastly, we encourage you to drop a comment down below if you have any questions or suggestions regarding these Minecraft errors.