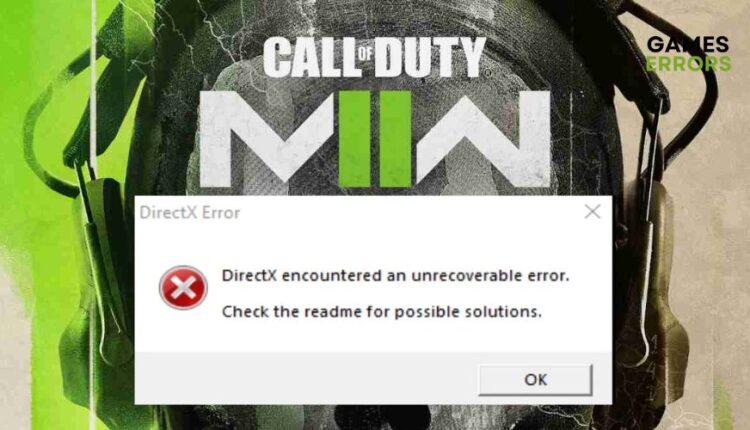 MW2 DirectX error: How to Fix it Quickly
Solve the COD MW2 DirectX error with the best fixes Infinity Ward won't tell you about. 😎
X
INSTALL BY CLICKING THE DOWNLOAD FILE
DirectX error is a pretty common issue, not only with Call of Duty but also with other games. Users have reported Modern Warfare II crashing at startup or even during gameplay with the message "DirectX encountered an unrecoverable error."
Even though Infinity Ward's only suggestion is to update your PC, and the game could disappoint you, we will not let you down.
That is why we have conjured a list of some of the best user-recommended fixes for MW2 DirectX error that are bound to work. Have a look!
Why am I facing MW 2 DirectX error?
There can be a handful of reasons why you may be seeing "DirectX encountered an unrecoverable error". Some of them are:
Outdated DirectX and Microsoft Visual C Redistributable
Older Windows version installed on your PC
Outdated GPU drivers
Corrupt game files
Unnecessary background tasks
Overclocked GPU and CPU
Antivirus intervention
How do I fix the DirectX error in Modern Warfare 2?
While the game randomly crashing amidst a battle royal gameplay can be really frustrating, here are some solutions that gamers have found to be useful.
But first, make sure your PC ticks off all these preliminary checks.
If the issue still persists after making the above basic checks, you can go ahead with trying the following troubleshooting methods to fix the MW2 DirectX error.
1. Update GPU drivers
Most MW2 DirectX error Reddit solutions suggest that the issue is mostly graphics-related. 
So, try updating your PC's graphics card drivers first before trying any other solution.
Press Win + X to open the Quick Access Menu.
Next, click on Device Managers and then Display Adapters.
Right-click on the dedicated graphics card currently in use and hit Update driver.
Alternatively, you can use DriverFix to make this process even simpler and help you get the best and most authentic GPU updates in no time.
Here's how.
Start the app to let it automatically scan for updates.
Once done, you can choose the Update all Drivers Now option to solve all driver issues that may be interfering with your game.
Restart your device to fix MW2 DirectX error crash.
2. Enable high-performance mode and game mode
Graphics-intensive games like Call of Duty: Modern Warfare II require high-performance power on the PC to let you enjoy playing without any lag.
You can turn on this setting in the following steps:
Navigate to Control Panel and click on Hardware and Sounds.
Next, select Power Options.
Click on Show additional plans and enable the option for High performance.
Additionally, make sure to turn on the Game Mode on your PC.
Go to Settings.
Click on Gaming and then Game Mode.
Switch the toggle bar for Game Mode to On.
Reboot your PC to apply changes.
3. Turn off default graphics switching to integrated GPU
Time needed: 5 minutes.
Many gamers complain about facing COD MW2 DirectX error even after turning on the game and high-performance modes.

Fortunately, there's a solution for that too.

If your PC has a dedicated and integrated graphics card, it may have the default setting of automatically switching to the integrated graphics card in high-performance mode. Turning this off may resolve the MW2 DirectX error.
Press Win + I to open Windows Settings.
Click on System and then Display from the column on the left.
Scroll down and hit the link for Graphics setting.

Now, select the Browse option and choose the COD: MW2 application and hit Options.


Select the GPU you want Windows to use for the game and click on Save.
Restart your PC to apply the changes you just made.
4. Disable RTX video enhancement
This solution is only applicable to gamers using NVIDIA drivers. After the GPU's latest super-resolution updates, the drivers are set to the highest resolution by default. This may be interfering with smooth gameplay, as a Reddit user observed.
Although this setting may not have a direct connection to the gaming performance, the Reddit user reported that following through with this process has helped him avoid game crashing on startup and avoiding MW2 DirectX error.
Here's how you can try the same.
Navigate to NVIDIA Control Panel and click on Adjust video image settings.
Now, under the RTX video enhancement section, uncheck the box for Super resolution.
Restart your device to check if you are still getting the MW2 "DirectX encountered an unrecoverable error" message.
Additional fixes you can try:
In case none of the above fixes worked for you, try some of these solutions for MW2 DirectX error crash.
Lower the Video Memory Scale on COD: Modern Warfare II
Underclock your PC's GPU and CPU
Turn off Antivirus and Windows Firewall
Do a clean boot
Uninstall and reinstall the game
In case you still encounter MW2 DirectX error after updating your PC to meet the game's system requirements, check out our solutions for game crashing after installing new RAM.
One or a combination of the above methods is sure to fix the COD: MW2 error, and if you discover an even better solution, let us know in the comments.
If you encounter any issues or errors while playing your favorite games and require support, feel free to contact us here. Our team is always ready to assist you and ensure your gaming experience is seamless and enjoyable.