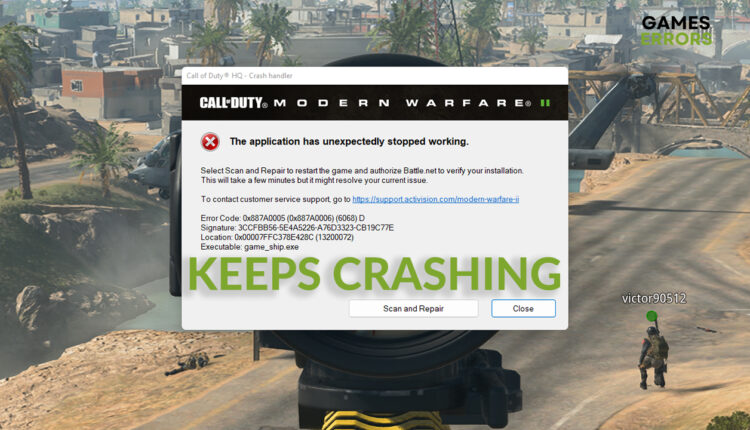 MW2 Keeps Crashing on PC: How to Fix it Really Quick
Crashes happen to players with outdated graphics driver, faulty game files an misconfigured Windows or in-game settings. 😯
It is reported that MW2 keeps crashing on PC for many players recently. This is why we did our homework and compiled a list of the most common causes of the issue and solutions that can stop these problems.
We advise applying all of the solutions since crashes in MW2 are unpredictable and can come back if not fixed completely.
If you are experiencing problems with the graphics driver when opening Modern Warfare 2, read our guide on How to fix GPU driver version errors in MW2.
Why is Modern Warfare 2 crashing so much?
Call of Duty Modern Warfare 2 keeps crashing on your PC for good reasons. The most common ones are related to outdated graphics drivers, faulty game files, lack of hardware resources, and other known bugs on Windows.
Follow our list and troubleshoot the solutions individually until you discover what prevents you from enjoying this famous first-person shooter!
How do I fix MW2 from crashing?
Before troubleshooting with solutions from our list of fixes for MW2 crashes, ensure that your PC meets at least the minimum system requirements for Modern Warfare 2.
1. Update the graphics driver
Time needed: 4 minutes
An outdated graphics driver can cause a series of problems for gamers. Many players report that updating the driver helped them solve issues with MW2 crashing.
Click on the Windows icon and type Device Manager.
Click on the Device Manager in the search results.
Double-click on the Display adapters section.

This will expand the section and show your graphics card name.

Right-click on your graphics card and select the Update driver option.

The Update Driver Wizard will be launched in a separate window.

Select the Search automatically for drivers option.

Windows will search for available driver updates in the database.

Follow any additional steps for the driver installation.

There is a possibility that Windows doesn't find driver updates.

Restart your PC.
If you want to gain access to a bigger driver update database and save time by automatizing it, use Outbyte Driver Updater. This driver updater tool will scan, monitor and update drivers instead of you.
⇒ Get Outbyte Driver Updater
2. Repair game files
Corrupted game files can cause performance issues and crash in MW2. Two platforms on which the game is available to offer an easy and reliable way to fix these files without reinstalling the game.
For Steam users:
Launch Steam and head to the Library.
Find Call of Duty: Modern Warfare II, right-click on it, and choose Properties.
Navigate to the Local Files section in the new window.
Click on the Verify integrity of game files… button.

After the verification, Steam will prompt you about any additional steps you need to take if any of the game files are corrupted.
For Battle.net users:
Launch Battle.net and find navigate to the game library.
Find Call of Duty: Modern Warfare II, click on the gear icon, and select the Scan and Repair option.

Select the Begin Scan option.
After completing the scan, follow any additional steps prompted on the screen for fixing game files.
3. Close background apps
Apps running in the background while you play Modern Warfare 2 can consume resources that would otherwise be allocated to the game. Closing these apps will preserve hardware resources and make your game run more stable and smoothly.
Many users report that overlays created by some apps, like Discord, cause game crashes. Disable the overlay in the app settings if you need it running instead of closing it.
Use Ctrl+Shift+Esc to open Task Manager.
In the Processes tab, find apps you don't need while playing MW2.
Right-click on the app and select End task.

Do the same for all of the apps you want to close.
Avoid ending processes you are unfamiliar with. This can cause additional problems on your PC, such as Windows and security software malfunctioning. You can always type the name of the process or app in the Google search and learn what is it used for.
4. Disable full-screen optimization
Windows has a feature called full-screen optimization, and disabling it can help prevent game crashes and performance issues.
Navigate to the installation folder of Call of Duty Modern Warfare 2.
If you have a desktop shortcut, right-click on it and select Open file location.
Right-click on the executable game file (.exe) and select Properties.
Navigate to the Compatibility tab and tick the box next to Disable full-screen optimization.

Click on Apply and OK buttons to save the changes.
Run Modern Warfare 2 using the executable (.exe) file.
While in the Compatibility tab of Properties, you can also tick the box next to the Run this program as an administrator label. Some users report this solved their issue with game crashes.
Related articles:
Conclusion
These were the solutions for the most frequent causes of the MW2 keeps crashing on PC issue. We hope you successfully fixed problems on your PC, and if so, share with us what solution worked for you.
Bonus solution: Some players managed to play this game only when they reset the operating system. On Windows, you can do so by searching for Reset this PC option in the search bar. Be careful, this process can delete all of your files and programs on the PC.