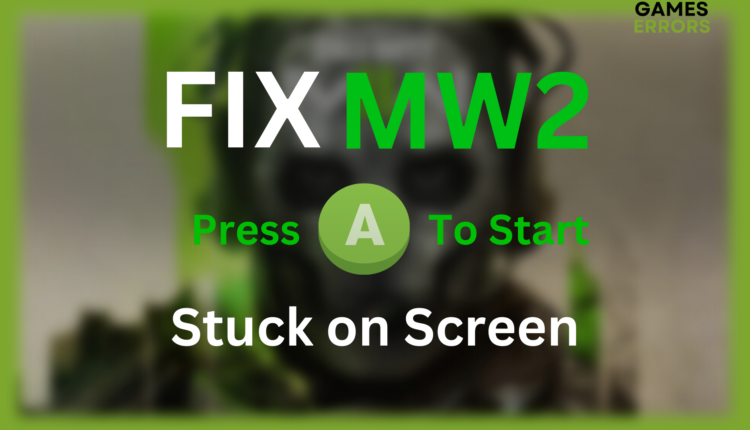 MW2 Stuck on 'Press A to Start': Fixed in 3 Minutes
Here're the shortest fixes for Modern Warfare 2 Stuck On 'Press A To Start' Screen 🎯
X
INSTALL BY CLICKING THE DOWNLOAD FILE
The MW2 stuck on press A to start screen problem frequently prevents players from entering the game. At the moment, this problem only affects users of Xbox consoles.
Several complaints from MW2 gamers claim that there is a glitch preventing players from having fun with the game. On the Xbox, the game loading screen frequently becomes stuck and won't advance with a press A to start message. Follow these troubleshooting instructions if you're also experiencing this bug.
Why MW2 press A to start not working?
There are many reasons why you cannot load into CoD MW2, but for now, the issue is caused by not being able to enter the game because MW2 stuck on press A to start screen on Xbox.
How to fix Modern Warfare 2 stuck on press A to start screen?
As a preliminary check, turn off your internet, the game will ask you if you want to play offline and you'll have to select "Yes".
If you disconnected your internet and the problem still persists, to potentially fix this bug, let's dive into troubleshooting:
1. Reboot your Xbox
Time needed: 3 minutes.
Rebooting your Xbox is the first solution to try out as it potentially solves this isssue.
Shut down your Xbox completely by pressing and holding the Xbox button on the front of the device for approximately 10 seconds.
Unplug the power cord from the console. Wait 20 seconds.
Reconnect the console's power cable by plugging it back in.
Turn your console on by pressing the Xbox button on the front of your device.
Try refreshing your operating system if that doesn't help, then erase any potentially corrupted data that prevents you from using your console normally without erasing your games or apps.
Important: Prior to completing this step, make sure you remember your account logins. Additionally, all of your Home Xbox associations will be deleted.
Open the guide by pressing the Xbox button.
Select Profile & System > Settings > System > Console details > Reset console.
Select Reset and keep my games & apps on the Reset your console? screen.
If the above troubleshooting steps didn't work, you can try reinstalling the game.
2. Reinstall MW2
To reinstall Modern Warfare 2 on your Xbox console, follow these steps:
Press the Xbox button on your controller to open the guide.
Select "My games & apps."
Scroll to the right and select MW2.
Press the "menu" button on your controller (the button with three lines on it).
Select "Manage game & add-ons."
Select "Uninstall all." This will remove the game and all of its associated content from your console.
To reinstall the game, go back to the "My games & apps" menu and select "Ready to install."
Find MW2 you just uninstalled and select "Install." The game will begin downloading and installing on your console.
Note: If you have a physical copy of the game, you will need to insert the disc into your console in order to reinstall it.
If the steps above don't work, follow the instructions that a Reddit user has posted which helped several players to fix Call of Duty Modern Warfare 2 stuck on start screen xbox.
If you ever run into Hueneme Concord error on MW2, make sure you read our latest article on how to fix the problem.
We hope that the solutions above have helped you to get rid of this annoying screen stuck. If you still have problems with that, reach out to Activision Support or wait until the developers share new updates.
If you encounter any issues or errors while playing your favorite games and require support, feel free to contact us here. Our team is always ready to assist you and ensure your gaming experience is seamless and enjoyable.