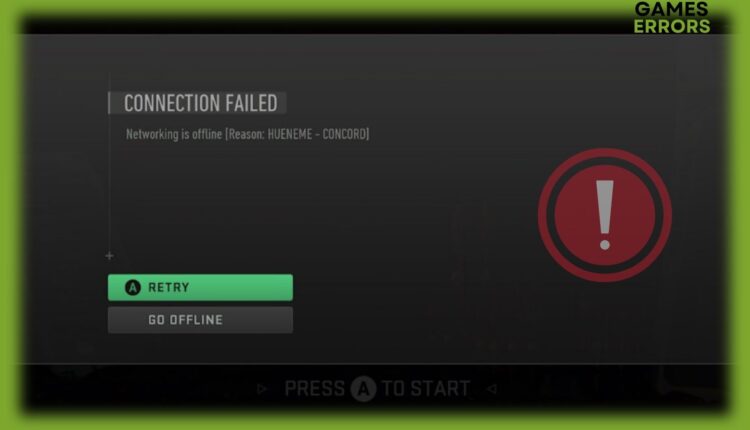 Hueneme Concord MW2 Error: 4 Simple Ways to Fix It
'Networking is offline in Hueneme Concord' is a piece of cake to solve with our easy solutions 🔥
X
INSTALL BY CLICKING THE DOWNLOAD FILE
You could perhaps run into Hueneme Concord error MW2 or Warzone 2 which is preventing you from connecting to the game servers. Xbox, PS4, PS5, and PC users encountered this error.
Don't worry if you run into a Connection Failed error while enjoying your game, we have a few fixes that will solve the problem quickly.
What does it mean when it says 'networking is offline reason' Hueneme Concord?
Hueneme Concord which is displayed most of the time in Call of Duty MW2 and Warzone 2 – is an error that stands with connection failure. Basically, if your internet has problems connecting to the game servers, Connection Failed Networking is offline [Reason: HUENEME – CONCORD] error will be displayed.
How do I fix MW2 Hueneme Concord error?
Naturally, since this is a networking problem, you should check and optimize your internet connection.
☑️ Follow these preliminary steps:
To start, make sure your internet connection is steady and fast.
Unplug your router or modem from the outlet to restart it. Don't forget to plug it back in after a few seconds.
For a better internet speed, we recommend connecting your device to your router with an ethernet cable.
If your internet connection is reliable and working perfectly, let's move on to further fixes steps.
Table of contents:
1. Check the server status
Make sure to check the game servers' status for Modern Warfare 2 and Warzone 2. Visit the official Activision website and check whether the servers are down or working fine.
2. Use a VPN
Playing on a different server from the one where the game is installed may be the source of connection problems and is usually the reason for Hueneme Concord MW2. That's why you should consider using a VPN to connect to the dedicated server located in a specific country.
To enjoy an uninterrupted game with your squad use a premium VPN that will not affect your connection issues or the FPS and Ping of the game. We highly recommend ExpressVPN which runs servers in 94 countries and it offers fast connections.
Required Action:
Log out from your Steam or Batlle.net account
Connect the VPN to the dedicated country server
Log back into your Steam or Battle.net account
Steps to connect to the best game server using ExpressVPN:
Launch and click three dots near the current location
Write Canada (the most recommended server for MW2)
Click on Canada and you're good to go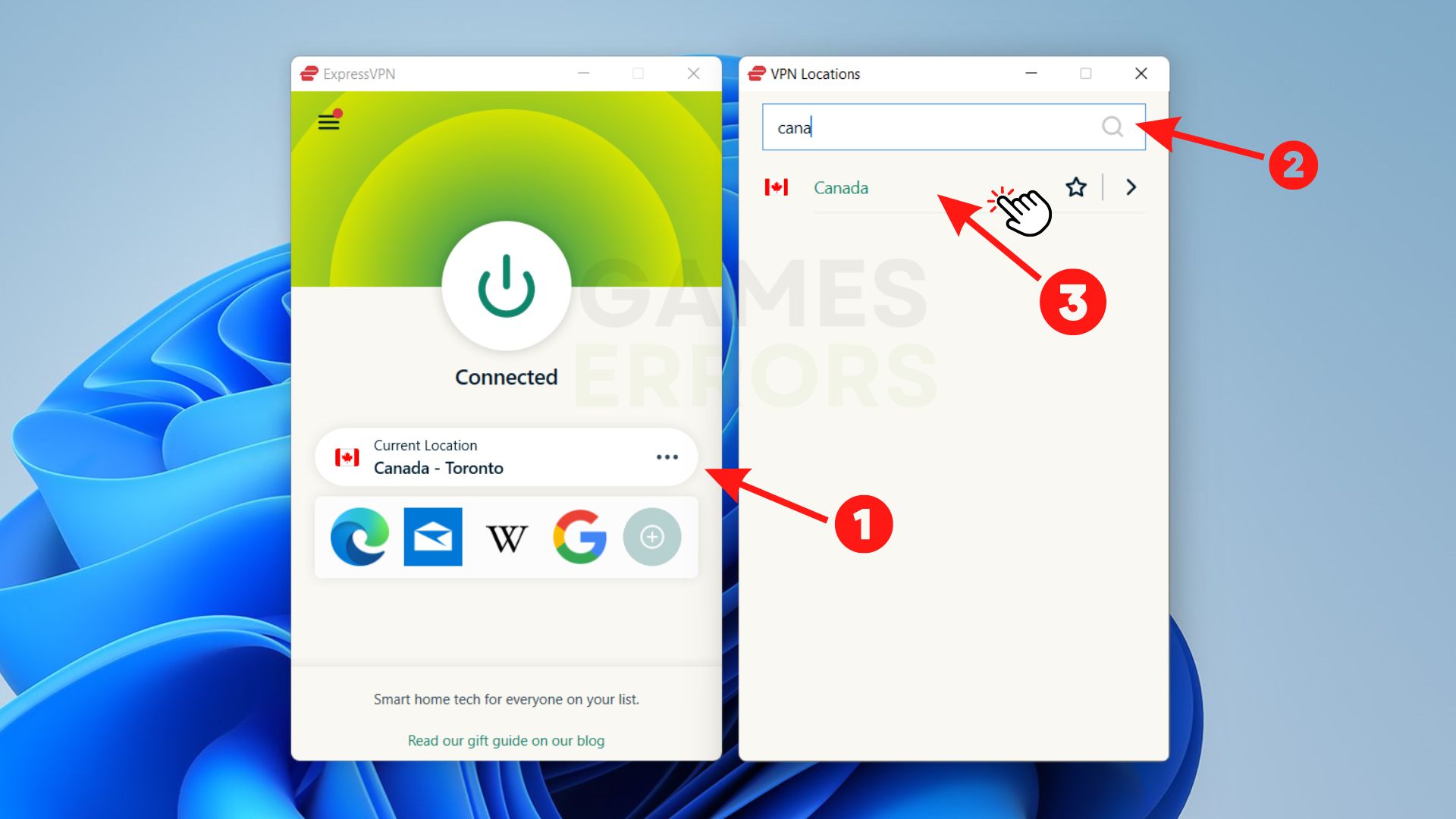 3. Verify the integrity of game files
Steam users:
Open the Steam client, head to Library, and right-click on CoD MW2 or Warzone 2.
Choose Proprieties then click on the Local Files tab.
Click on Verify integrity of game files.
Battle.net users:
Open the Battle.net client and select MW2 or Warzone 2.
Click the gear icon near the Play button and select Scan and Repair.
Click on Begin Scan.
4. Update the game
Steam users:
Open the Steam client, head to Library, and search for CoD MW2 or Warzone 2.
Right-click on the game and select Proprietes.
Go to the Updates tab and select the Always keep this game up-to-date option from the automatic updates menu.
Once the updates have been installed, restart your PC and launch the game.
Battle.net users:
Open the Battle.net client and select CoD MW2 or Warzone 2.
Click the gear icon near the Play button and select Check for Updates.
Follow the steps.
Once the updates have been installed, restart your PC and launch the game.
5. Disable Teredo
A Reddit user seems to have found a potential fix:
🎮 How to fix Hueneme Concord Xbox?
Unplug the wifi or modem's power cable from the rear for five minutes.
Turn your Xbox off by pressing and holding your Xbox button for 10 seconds. Wait for 3 minutes and turn it back on.
After 4 minutes, plug your router or modem back in and wait for the lights to appear on it.
Launch the game on your Xbox and check if the problem is solved.
🕹️ How to fix Hueneme Concord PS5?
Restarting your modem and router can help you fix any short-term network troubles.
Check for network outages: If there are any in your location, you might not be able to remedy the problem until the outages are fixed.
Verify your network configuration: Make sure the network is operational and that your PlayStation 5 is linked to the right one.
Update your PlayStation 5: Ensure that your PlayStation 5 has the most recent system update installed. By heading to the "System Software" area of the settings menu, you may check for updates.
Check your NAT type: NAT (Network Address Translation) is a setting that controls how your PlayStation 5 communicates with other devices on the internet. If your NAT type is set to "Strict" or "Moderate," it may cause connectivity issues. You can check your NAT type by going to the "Network" section in the settings menu.
If you ever faced a GPU driver version Error in Modern Warfare 2, know that it is caused by outdated graphic card drivers. Make sure to read our article on how to fix this error.
Annoyed of Warzone 2 keeps crashing on your PC? Know that you can fix it in just a few steps.
I sincerely hope that one of the above troubleshooting steps will assist you in fixing MW2 connection failed in Hueneme Concord. If not, contact Activision Support or wait till the devs release fresh updates.
If you encounter any issues or errors while playing your favorite games and require support, feel free to contact us here. Our team is always ready to assist you and ensure your gaming experience is seamless and enjoyable.