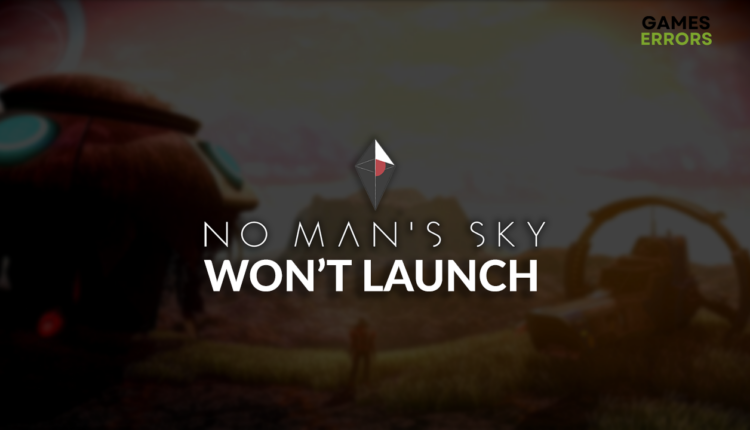 No Man's Sky Won't Launch: How to Fix It Quickly
The universe has many beauties, and one way to see it is through this game. Learn what to do if it doesn't launch! 🌌
X
INSTALL BY CLICKING THE DOWNLOAD FILE
Are you stressed because No Man's Sky won't launch? Take our word that this issue is widespread, and many players are struggling with it. This is why we decided to put together a list of the most efficient solutions so you can continue exploring the beauties of the space ASAP!
If you manage to launch the game, but it is continuously crashing, learn how to fix No Man's Sky crashes.
Why No Man's Sky won't launch?
The No Man's Sky won't launch because your PC doesn't meet the game system requirements, there are issues with Windows permissions, third-party mods are creating compatibility problems, game files are corrupted, you are missing Visual C++ dependencies and issues with the Windows Firewall.
How to fix No Man's Sky won't launch?
Begin with simple checks and fixes:
Check the game system requirements: Your PC must meet at least the minimum requirements for the game to launch and run correctly.
Run the game as an administrator: Right-click on the executable file, select Properties and navigate to the Compatibility tab. Enabling the Run this program as an administrator can fix the issue.
Disable game modifications: If you installed any third-party modifications, they can cause compatibility issues and make the game unresponsive. Disable mods and try again.
If you still can't launch No Man's Sky, proceed with the step-by-step solution:
1. Install Visual C++ dependencies
No Man's Sky is one of the games built with the help of Visual C++ dependencies. These dependencies should be installed with your game, but if you recently installed another game that uses a different version, there is a chance that you are missing them. Download and install them from the official website.
Open the Visual C++ Redist Packages download page.
Download the installation package.
➡ x64 is for 64-bit Windows
➡ x86 is for 32-bit Windows

Launch the installation and install packages.
Restart your PC.
2. Update your GPU driver
Time needed: 5 minutes.
A common issue with launching games is related to your graphics card and the software responsible for it, called GPU driver. It is crucial to keep this driver up-to-date for your system to function flawlessly and for games to run as expected.
Click on the Windows icon, type Device Manager, and open it.

Double-click on the Display Adapters section.

Right-click on your GPU and select the Update driver option.

Select Search automatically for drivers.
Install the driver update.
Restart your PC.
DriverFix is a great tool that can save you time. It scans, monitors, and updates GPU and other devices driver when necessary. This way, you can enjoy more games and experience less stress with the problems in games.
3. Verify game files
Corrupted game files have caused headaches for gamers since the days of the first black-and-white games. Steam recognized this problem and made a system for game file verification.
Launch Steam and go to the Library.
Right-click on No Man's Sky and select Properties.
Select the Local Files tab, and click on Verify integrity of the game files.

4. Allow No Man's Sky through the Firewall
Windows Firewall is one of the core security features on your computer. Although it protects you from unwanted programs, it can falsely recognize and block the games from launching.
Click on the Windows icon, type Windows Defender Firewall, and open it.

Click on Allow an app or feature through Windows Defender Firewall.

Click on Change Settings and Allow Another App.

Select Browse, and navigate to the No Man's Sky installation folder.
Click on the game executable file (.exe) and select Open.
Check the checkbox in columns Private and Public in the No Man's Sky row and hit OK.
Restart your PC.
Extra steps
Some gamers will have to perform a few additional steps to make the game launch:
💻 Try a clean boot: Use the Windows + R shortcut, type msconfig, and open System Configuration. Go to the Services tab, hide all Microsoft services, and hit disable all. Restart your PC and try to play the game.
🛡 Temporarily disable security software: Your antivirus can prevent the game from launching. Add No Man's Sky to the list of exceptions so the security software doesn't recognize it as a threat.
⬆ Update Windows: Click the Windows icon, type Check for updates, and open these system settings. If any updates are available, install them and restart your PC.
Conclusion
No Man's Sky won't launch for many gamers, and it is no reason to worry. Double-check if you applied all solutions presented in this article; we are sure you will fix it. If you still can't launch the game, let us know, and we will happily assist you!
If you encounter any issues or errors while playing your favorite games and require support, feel free to contact us here. Our team is always ready to assist you and ensure your gaming experience is seamless and enjoyable.