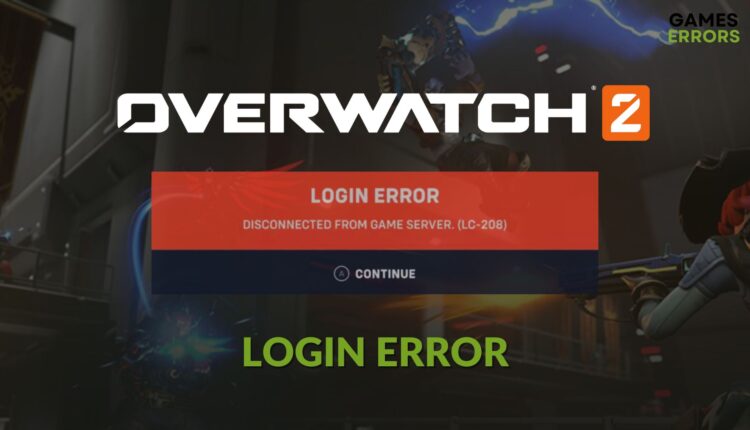 Overwatch 2 Login Error: Easy Ways to Fix This Issue
Are you unable to play Overwatch 2 because of the login error? Try the following methods to fix this problem 🎯
X
INSTALL BY CLICKING THE DOWNLOAD FILE
Don't get panicked if you experience Overwatch 2 login error on your PC. This problem is not something serious as you can fix it very easily.
This first-person shooter game has become very popular within a short time. Excellent gameplay and unique gaming elements have made it an ultimate choice for young gamers. However, sometimes, they may be unable to play this multiplayer, Overwatch 2, because of a login error. When it occurs, you may see the following message:
Failed to connect to the game server. Please try again later.
You also may see the following message:
Disconnected from game server.
Learn how to fix Overwatch 2 purchase failed if necessary.
How causes login errors in Overwatch 2?
If you encounter failed to connect to the game server while logging into the Overwatch 2 game, it is because of any of these reasons:
Server problem: If the OW2 server is overloaded or under sudden maintenance, you may get this problem.
Security programs: Your antivirus or firewall may create conflicts and cause login errors in Overwatch 2.
Network issues: Unstable internet connection or any network-related problems can also cause an OW2 login error on your PC.
Problematic components: Problematic cache and game components can also create this problem.
How do I fix Overwatch 2 login error?
Before taking any major steps to fix the login error on OW2, we suggest you do these quick things:
Check the Overwatch 2 server status.
Power cycle your router and PC.
Disable your antivirus and firewall.
Ensure you have a stable internet connection and are not using any VPN or Proxy.
Now, follow these methods one by one to resolve the problem you are encountering:
1. Log out and log in again
Time needed: 2 minutes
If Overwatch 2 login error keeps popping up, sign out from the Battle.net app and then sign in again to fix this problem.
Open the Start Menu, search for the Battle.net app, and open it.

Next, click on your profile icon and then click on Log out.

Then, sign in with your credentials again.

Relaunch Overwatch 2 and see whether the login error still exists or not.
2. Change DNS
Press Win + I on the keyboard to open Windows Settings.
Go to the Network & internet and then click on Wi-Fi or Ethernet, depending on the connection you are using.
Then, select Manual and enable IPv4.
Restart your Windows PC.
You can use any other stable DNS server you want. However, after changing the DNS, launch the OW2 and see whether you can log in or not.
3. Reset network
Resetting the network settings is another effective way to solve Overwatch 2 login error. To do it, follow these steps:
Go to the Windows Settings again.
Click on Network reset.
Then, click on Reset Now.
Restart Windows.
4. Clear Battle.net cache
Navigate to the Processes tab.
Disable any other Battle.net and Overwatch 2-related services.
Press Win + R on the keyboard to open Run.
Type %programdata%, and click on OK.

Find the Battle.net folder and delete it.
Delete the Blizzard Entertainment folder as well.
Then, relaunch the battle.net launcher.
5. Change region
Open the Battle.net app again.
Navigate to Games and then Installed Games.
Go to Overwatch 2 there.
Click on the globe icon next to Overwatch 2 and choose the region nearest to your location.
Launch OW2.
It should fix the login error on Overwatch 2.
More things to do:
For some users, the problem may still exist. In this case, the following methods may help:
If necessary, learn how to fix Overwatch 2 crashing issues.
This article has shown the ways to fix Overwatch 2 login error. If you have any questions, let us know in the comment box.