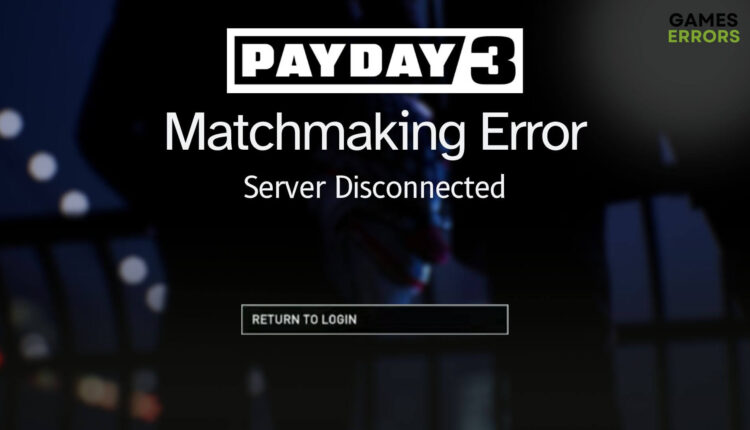 Payday 3 Matchmaking Error: Quickest Methods to Fix It
If Payday 3 matchmaking error occurs, you won't be able to play any multiplayer matches. To resolve this issue, follow the tricks featured in this article 👇
If you face a matchmaking error on Payday 3, you won't be able to play multiplayer. But don't worry. We have the solutions.
For a lot of gamers, Payday 3 matchmaking not working error has become a matter of headache. People also encounter other connection errors. But this one is something beyond expectation.
Learn what to do if Payday 3 keeps crashing if necessary.
Why am I getting matchmaking errors on Payday 3?
You may see that the matchmaking is not working on Payday 3 due to the following reasons:
Third-party services: Any security programs and some other third-party programs may interfere and cause this problem.
Network connection problems: For network connection issues and unstable internet problems, matchmaking may not work on Payday 3.
Problematic components: If the game files and related components are outdated or corrupted, you may encounter this error as well.
How do you fix the Payday 3 matchmaking error?
We were able to fix this issue successfully by applying certain tricks. However, before knowing about these methods, do these quick things:
Check the Payday 3 server status and confirm that everything is up and running.
Disable any proxy and VPN features.
Uninstall or turn off the antivirus and firewall temporarily.
Power-cycle the router and your PC/Console.
Now, apply the following solutions one by one to fix matchmaking not working on Payday 3:
1. Change DNS
Press Win + I on the keyboard to open Windows Settings.
Go to Network & Internet and go to Wi-Fi or Ethernet.
Select Manual and enable IPv4.
Restart your PC.
2. Reset the network
Time needed: 2 minutes
To fix the matchmaking error on Payday 3, resetting the network connection is an excellent method to try.
Restart Windows.
3. Update the network driver
Press Win + R to open Run.
Now, type the following command and hit Enter to open the Device Manager: devmgmt.msc
Double-click on the Network adapters.
Right-click on your network driver and then click on Update driver.
Next, click on Search automatically for drivers.
Restart your PC.
You should use Outbyte Driver Updater to install the latest update for your network driver. This tool can detect your outdated network device, find the best compatible driver, and install it. As a result, you will get a stable internet experience and also can avoid matchmaking errors on games like Payday 3.
⇒ Get Outbyte Driver Updater
To get a better gaming experience, you can consider updating the GPU driver as well.
4. Update the game
Open Steam or the client you are using.
Navigate to the game library, as shown in the screenshot.
Right-click on the Payday 3 and go to the Properties.
Then, go to the Updates tab.
Relaunch Steam.
Now, Stam will update this title with maximum priority. However, if you use Epic Games or the Xbox app, you must take the necessary steps to update this game from there as well. Then, see if it has solved the matchmaking problem or not.
🎮 How to fix the Payday 3 matchmaking error on Xbox?
Go to the Advanced network settings and then Alternate Mac address.
Tap on Clear.
If it doesn't help, change the DNS addresses to 8.8.8.8 and 8.8.4.4 or anything better.
You also can go to the Xbox Settings, then Devices and Connections.
Then, go to Blu-ray/storage and then tap on Clear the Persistent Storage Cache.
Now, run the Payday 3 on Xbox to see if the matchmaking error still exists or not.
We also suggest you take the necessary steps to repair the game files if the problem still keeps bugging you.
This article has shown the ways to fix Payday 3 matchmaking errors on both PC and Xbox. However, you may still encounter the problem. In this case, try the game from a different network or completely re-install the game. In case the servers are down, keep patience until Starbreeze Studios fixes their serverside problem. If you have any questions, feel free to write them in the comment box given below.